July, the seventh month, is the middle of summer and the hottest period of the year. For some, it is the perfect time for holidays and entertainment; for others, it can become the right time to start working on yourself and setting new goals.
However, is it possible to stay organized and goal-oriented under the scorching rays of the July sun? Definitely, yes, if you work with a free printable July 2023 calendar by Bordio.
Printable July 2023 calendar templates
Bordio prepared a number of printable yearly calendar 2023 templates. Here you can choose a free printable July 2023 calendar to your taste, download the chosen template and start effective planning.
But before that, we advise you to review all accomplished goals for the previous two months (May 2023 and June 2023) to see how much you have achieved and boost your motivation to reach further goals for July 2023.
Digital vs. printable calendars: what to choose?
Along with the printable July calendars, Bordio offers a digital calendar planner that is very helpful in monitoring daily and weekly tasks.
If you are very busy and can hardly find free time to keep track of your plans, you can install a digital July 2023 calendar on your gadget. Start filling each page of your July calendar planner and manage your day effectively.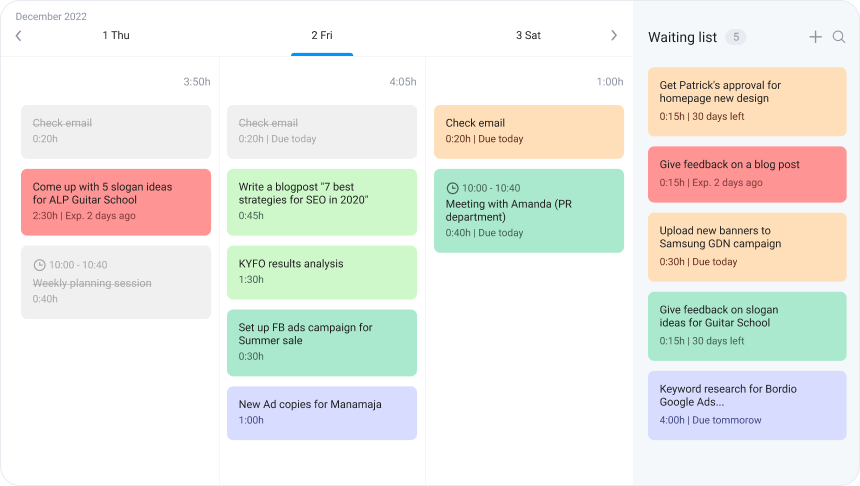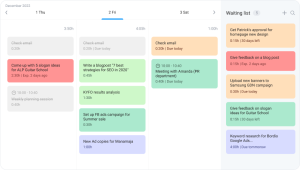 Why do some people prefer a digital calendar to a printable one?
Stationery lovers will certainly make their choice in favor of printable calendar planners because, in addition to planning, they also pay great attention to the visual design of their schedule: a beautiful cover, pages that are pleasant to the touch, and which can be decorated with stickers or multi-colored markers.
Nowadays, a digital calendar is not inferior in popularity to a printable one since it offers several advantages that a printable calendar doesn't have:
Multifunctional
This means that the digital alternative can serve you not only as a monthly calendar but also as a planner, where you can switch between pages and keep track of your weekly or monthly activities, make a to-do list, organize appointments, create projects, make notes for each day, or insert important dates, such as birthdays or national holidays. Plus, you can set reminders on your digital calendar to stay organized and focused on your deadlines.
Portable
Wherever you are, you can always have your online calendar at your reach. For example, you are in a taxi, and no paper and pen are at hand, but you urgently need to make changes to your plans for the week. In that case, you will have no trouble quickly switching on your phone and browsing your online calendar notes. What's more, all of your daily and weekly tasks can fit on one page. That's why it is advisable to download an online calendar planner.
Cost-free
The printable calendar, sooner or later, has to be replaced by a new one at the end of each planning period. Moreover, when keeping a paper planner, there is always a risk that you will write something wrong and just smudge the page. But the digital calendar requires no money; it can be kept for a long term and easily edited.
Time-saving
Writing manually seems a grueling process for some. Bordio's online calendar helps you save time and arrange your tasks with one click.
Horizontal July 2023 calendar templates
Here you can choose printable calendars for July 2023, either in landscape or portrait orientation. Bordio provides multiple styles of July 2023 calendar templates which you can download in PDF format and print for free.
July holidays
There are 2 major July holidays in the US. Remember that you can convert your monthly calendar template into an event calendar.
Canada Day on July, 2
Independence Day on July, 4
Cute July 2023 calendars for print
Choose the July 2023 calendar template that will catch your eye, download it for free, and plan your July.
Planner tips for printable July calendar
Here are some interesting ways how to organize your printable blank calendar for July 2023:
Dates and events. July 2023 will definitely be rich in events, so download the blank calendar, print it, and highlight important dates, or use an online weekly planner and fill it out right away.
Daily habit tracker. If you have developed a new habit but found it challenging to follow, then use your July 2023 calendar template as a habit tracker and mark each day with different colors, for example, green – if your day was productive, red – if you wasted your day. If you want to enhance your productivity, check out our Bordio website, where you can find relevant articles in our blog: bordio.com/blog/productivity-tips.
Daily water intake. July 2023 promises to be hot, so don't forget to stay healthy and drink enough water. You can print a free July 2023 calendar template for water intake tracking or just keep a record in your daily planner.
Sunday notes. Sunday shouldn't be spent in idle rest. Devote your Sunday holidays to self-development. Read books, do sports, yoga, start learning a new language, meet new people, enjoy this day and make the most of it! Print July 2023 calendar and fill your Sundays.

 

Add week numbers. July 2023 has 4 weeks and three days, and there is not as much time as it seems at first. Don't put off important tasks until next month. Instead, schedule your 2023 calendar weekly to pop your productivity.

Wrap-up

July is coming to an end, the goals have been achieved, and the tasks have been completed. If so, you are doing great! When you are done filling out the printable July calendar, praise yourself and rest properly because you will need some more motivation and energy for the upcoming August.

By the way, don't forget to review all the activities for July 2023 and go on to make plans for August 2023. If you missed these months, don't worry. You can always download Bordio's free printable July 2023 and August 2023 calendars.

Plan with Bordio and stay productive for the rest of the calendar year!