February is the second month of the year taking its name from "Februa", the ancient festival celebrated in preparation for warmer times.
It is the only month that is less than 30 days. It is thanks to February too that we have a leap year every four years when February is not 28 but 29 days long.
February often goes unnoticed with all the attention focused on planning out the December calendar to finish up before the year ends, and the January calendar with its New Year resolutions and everyones' spike in motivation to plan and get better.
Yet February is a critical month that lays a foundation for the remainder of the year. It is the month when many of us get bored of the goals that we've just set up 31 days before, so an extra bit of help is essential to stay on track.
That's where the printable February 2023 calendar comes to save the day!
Free printable February calendars for 2023
Pick and choose the template of the February 2023 calendar that fits your style and aesthetic the most.
To give you even more choices, you can print the calendars in landscape or portrait orientation to fit into your space.
Tip: Don't wait for the new month to start to get on with planning. You can download March and April 2023 printable calendars already today and start working with them slowly, figuring out your long-term goals.
Make February 2023 special with Bordio's online calendar
Download Bordio's printable February calendar to upgrade your monthly planning, goal setting, and overall organization. We also recommend trying the online solution tool for project managers if you need a convenient online planner for your work.
Want to take it up a notch? Sign up for Bordio's online calendar planner too!
The digital productivity calendar will always be there for you, sending convenient notifications and reminders to your phone screen, helping you log new ideas and tasks on the go, and sharing the goals and progress with your colleagues and friends instantly.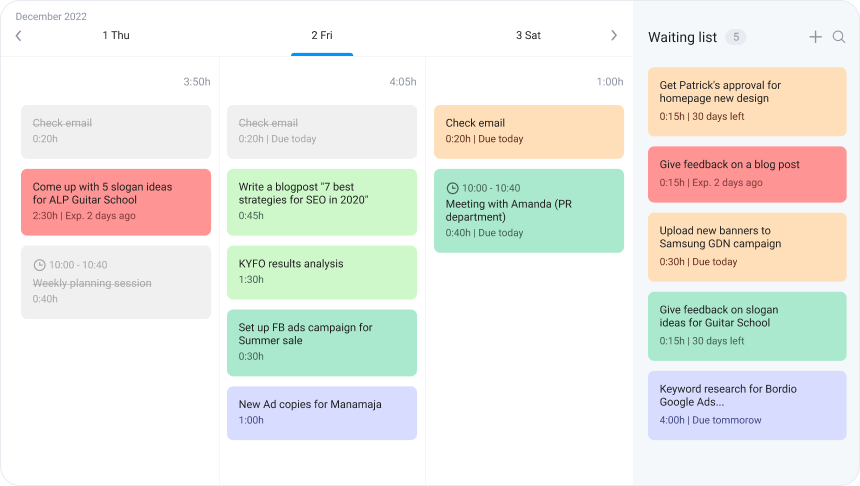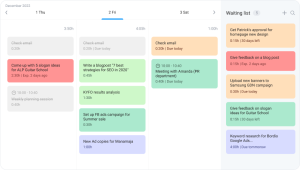 Bordio's online calendar allows you to:
Switch from a monthly to a daily planner view and back.
Instantly see your week and estimate your workload.
Have a single online to-do list for work and personal tasks.
Accommodates all tasks that are yet to be scheduled on the waiting list.
Choose unique colors for different activity types.
Create time blocks to reserve the time for important work.
Horizontal February 2023 calendar templates
Here are the horizontal calendar templates that the Bordio team created to help you stay productive and organized.
Cute February 2023 Calendars for print
If you prefer cute calendars, we have you covered too.
How to use your February 2023 calendar
Free printable calendars are great because they can let you do what you want with them. Below are some examples of how you can fill in your monthly calendar and rock this February.
Event calendar
Perhaps, the most common and traditional way of working with a calendar template is by logging upcoming events.
Parties with friends, birthdays, important exams, – all that can and should be logged to help you stay on track.
Holiday calendar
There are two major February holidays in the US:
Valentine's Day on February, 14
President's Day on February, 20 (the third Monday in February)
Wherever you are, there are holidays. Mark the most important dates on your calendar and consider including the major holidays that are significant for your friends, extended family, or business partners.
Corporate calendar
There is no limit on how many calendar templates you can download with Bordio, so why not dedicate one to your work?
We recommend using Bordio's task tracker app for all your personal and work-related tasks, goals, and plans. However, the printable February calendar has limited space, so dividing those parts of your life can work, especially if you have a dedicated working space or work away from home.
Mark your colleagues' birthdays, board and team meetings, new product launches, and project milestones in monthly calendars to maximize productivity and plan ahead. This is very handy for proper online team management, and you can also use best remote collaboration tools if most employees work from home.
Tips for using your February calendar
Working with a printable February calendar is not rocket science. However, if you don't have a habit of using paper calendars, you might take time to adjust and make the most of it.
In the name of sparing you time, here are the tips for using your monthly calendar:
Less is more
Start small and only add top-priority stuff to the calendar. It gets messy quickly, and you don't want to clutter your calendar to the point when it's not usable anymore.
Check your monthly calendar regularly
Humans tend to forget and ignore things they're not constantly reminded of. So, if you want to achieve the targets you set up for yourself at the beginning of the month, you better look at your February 2023 calendar at least once a day. It will give you a sense of time passing and remind you of all the things you were so eager to accomplish.
Learn from your mistakes
How did your work with previous months' calendar template go? Was there anything that you were particularly proud of? Or maybe something you'd rather not repeat? Incorporate your experience and insight into the next month's calendar and make the most of it!
Consider adding week numbers
A month is not a terribly long period of time but it can feel like a lifetime. Set up a weekly planner within your February 2023 calendar by assigning week numbers to the template to add a sense of urgency and help you stay alert.