April, the fourth month of the year, can be tough for productivity because nature starts to wake up and flourish, and many of us anticipate warmer days in excitement. If you are looking for a tool to keep you organized in this confusing period, then look no further – Bordio's printable April calendar has got you covered!
Printable April 2023 calendar templates
Our free printable April 2023 calendars come in multiple styles, so you can find the calendar template that would match your personal aesthetic.
Complement printable April templates with a digital calendar
If you're an experienced printed calendars user, you know about the limitations that they have:
Limited space
Issues with erasing logs
Risk of spilling something on it
No notifications on your smartphone
Despite our own fondness for printable calendars, we can't ignore that it lacks some features that a digital monthly calendar can display.
What we'd recommend is to combine both calendar types and make the most of them:
Log key events and tasks in the printable April calendar. Leave less important to-dos for the digital calendar.
Create recurring tasks and set up reminders to pop on your phone's screen.
Customize your notifications to have them pop up at the right moments, such as one day before an important meeting, instead of the standard 15 minutes.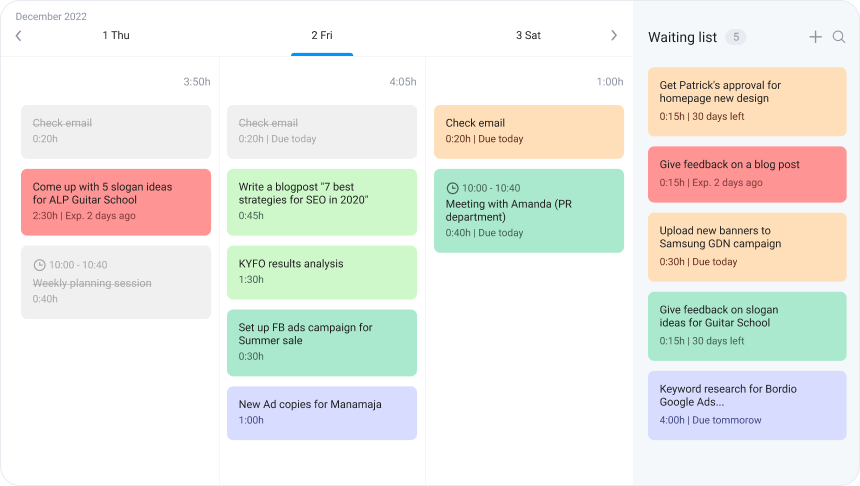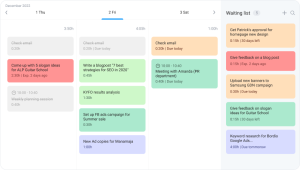 Try Bordio as your digital alternative – it's user-friendly, has a variety of tools to boost your productivity, and it's fun to use too!
Horizontal April 2023 calendar templates
Here are the April 2023 calendar templates in horizontal orientation. Print them out and hang them on your wall by the desk, on the fridge, or anywhere else you fancy.
Cute April 2023 calendars for print
Download for free any of our calendars and use it to increase your productivity!
What to log in your printable April 2023 calendar
We are not going to tell you how to use your monthly calendar – that's up to you to decide. But here are some ideas that can get you started if you're stuck.
Event calendar
Not exactly groundbreaking, but it's a great way to use your calendar template. The king of April holidays is definitely Easter which falls on Sunday, the 9, and Monday, the 10. Besides that, add your personal events, such as birthdays, parties, and anniversaries.
Important dates
Got any work or personal deadlines coming up in April? Make sure to mark them, so you can see them every day and stay motivated.
It could be a scheduled personal performance review in your team, summits, exhibitions, visits to the doctor, or visa applications.
Habit tracking
Say you want to stretch your body daily in April to become leaner and more flexible. Mark every day that you exercised green, and when you didn't – red. You'll soon be able to tell how you're doing, and, hopefully, will get a little competitive about it, leading to greater results.
Here's what you can track:
Daily water intake
Daily movement
Eating fruits and veggies
Reading a book
Why planning with calendars is good for you
If you've never used digital or printed calendars before, you might ask yourself – is it really necessary for me? Does it benefit my personal life and career?
The answer to all of these questions is – yes, absolutely! Here is why.
Taking the time to plan out your tasks, goals, and dreams makes you more organized. It sucks to remember about an important to-do right before the deadline because you were so occupied with urgent stuff. Having a calendar in front of you will help remember everything well in advance, allowing you to finish the tasks before the deadline.
When you are organized, there is significantly less stress and anxiety. Often, we feel overwhelmed and out of control. But more often than not a bit of meticulous planning and long-term thinking could have easily saved us from most of the trouble.
When we are organized and relaxed, creative ideas start to come through and help us find new solutions to the problems we had before. Additionally, we start to have more energy to pursue our hobbies, side projects, or anything else that we'd been postponing because we were seemingly too busy.
Of course, you can do all the planning with a to-do list and a Waiting List in Bordio, but having your monthly plan in a calendar format is even better. With a simple to-do list, the concept of time shifts and we can think that there's plenty of time to work on everything, and we postpone and procrastinate until the very last moment.
Or the opposite, you might look at your list of tasks and get discouraged. But with a calendar that visualizes the entire month, you are able to see that there are many days ahead, and there's nothing you cannot do.
So, the calendar template creates an objective perception of the time, helping us plan better, balance the workload smarter, and live happier lives as a result.