Need a free printable calendar for 2022? Look no further! Bordio's printable calendars in PNG or PDF format have you covered.
You can download our calendar templates for monthly and yearly calendars and use them to organize your personal and professional lives.
Tip: Сhoose landscape or portrait format in your printer depending on your needs.
Why use a printable calendar?
We at Bordio are obviously huge fans of digital solutions to productivity, time management, and organizing your daily lives.
Here is what a digital Bordio calendar looks like: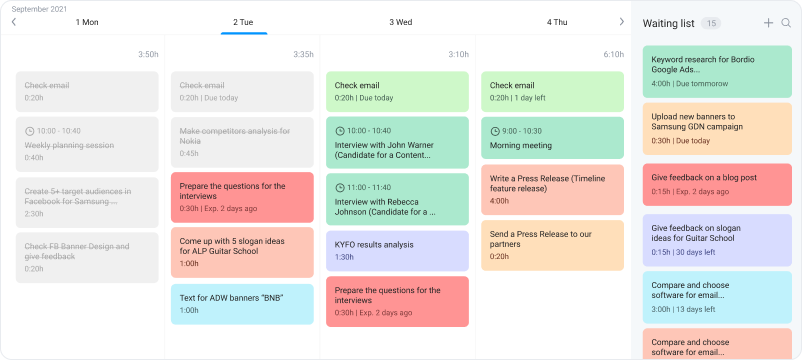 You get a fully functioning calendar plus a waiting list – a spot to log all your tasks and backburners with no specific deadlines.
However, there is a special magic in printable calendars that you put on your wall and have a peek at every once in a while.
You can use Bordio's remote team softwares and free task trackers to track absolutely all tasks, to-dos, and deadlines. Free printable calendars can be, in turn, reserved for most important commitments and events.
Printable calendars are also great for habit tracking. Say you want to work out more but struggle with squeezing extra workouts into your days. If you get a printable calendar and decide to color each day when you exercised green, soon the progress (or lack thereof) will nudge you to go to the gym more.
There is something special about paper calendars that serve us as great reminders because they are physically in our spaces. The electronic task planner app is in turn more convenient if you need for example to include reminders.
Download printable calendar 2022 templates
What to track and log in your yearly 2022 calendar
We urge you to download our free printable calendars and make them your own. Log whatever you want, track the habits you personally want to build and work on the goals that will elevate your life.
Here are some of the suggestions of what you might want to log to your printable 2022 calendar:
Federal holidays
Important birthdays
Exams and major university deadlines
Your kid's school calendars
Work projects' start and finish
Work performance reviews
Insurance contract updates
Vacations
How to use your printable calendars
Here is a quick guide to how to use your 2022 calendar.
Think about your goals
Download your copy of the custom calendar. Think about key goals, commitments, and dreams.
What would be the important milestones? Come up with several key points that you will log or track in your calendar.
Keep it minimalistic
Try not to clutter your calendar too much, or you'll risk not noticing the key stuff and missing the whole point of the calendar. You could have a minimalistic planner and some time management tool for more detail.
Display it somewhere you will see it
Place your 2022 calendar by your desk or somewhere it can be seen on a daily basis. Filling in the calendar with your own events and tasks is the first step. Working with it as the days go by is a whole different story.
Combine printed and digital calendars
For best results, combine your digital Bordio calendar with a free printable copy. A Digital calendar can contain 100% of your tasks, events, and deadlines, and it can be easily edited and updated. Keep the key points on your printable version and use Bordio reminders for the best results. In addition, Bordio also offers team management software and work management software for working in teams.
Use a single calendar for all your tasks
We are strong believers in keeping both your work and personal lives logged and tracked in a single calendar. It's too easy to miss something and forget about a commitment if you don't have it in front of your eyes.
How many times have we agreed to a late afternoon meeting only to remember last minute that we've already scheduled a family dinner on that time and date?
It's more efficient to have tasks and events from all areas of your life tracked via a single calendar. This is the best way to see your real workload and availability, and it's a powerful tool to create a work-life balance.
To sum up:
dentify your goals first
Log the most important stuff
Review your calendar daily
Combine digital and printed calendars
Use one calendar for everything
Monthly printable calendar
If you feel like yearly calendars are a bit too much for you, try a monthly calendar instead!
Download Bordio's free printable calendars for different months and experiment with their use. One month can be for habit tracking, the next one focused on studies, and the third month can be dedicated to working, for example, if you have a busy end-of-quarter month.
And if you feel like it, download more printable calendars than just one and use them separately for various goals and habits.