The year 2023 is already here, and it means it's time to dream, plan, set goals, and organize yourself.
But don't worry if you haven't found this calendar in December! While the first of January seems like the ultimate time to start reviewing and improving your life, any day of any month works perfectly too. What matters is your intention and perseverance, which, coupled with powerful printable calendars, will get you to your goals.
Download printable 2023 calendars with a minimalist design
Think of these printable calendars as blank canvases. The structure you need is there, but everything else is up to you. Add stickers, paint, or leave notes. The calendar is not cluttered with decorations that distract you from your targets, and it doesn't interfere with your style.
There are two formats available – starting with Sunday or Monday, so pick the version that you're used to.
Enhance your free printable 2023 calendar with a digital planner
Printable calendars are very fun to work with:
It's satisfying to write with your pen
You can hang it as a wall calendar for room decor
It makes you feel nostalgic
Yet, free printable calendars are undeniably impractical when you need to make changes to your logs, share them with friends or colleagues, or carry them around.
At Bordio, we created a weekly planner in the calendar view that is available 24/7 in your browser or as an app on your phone.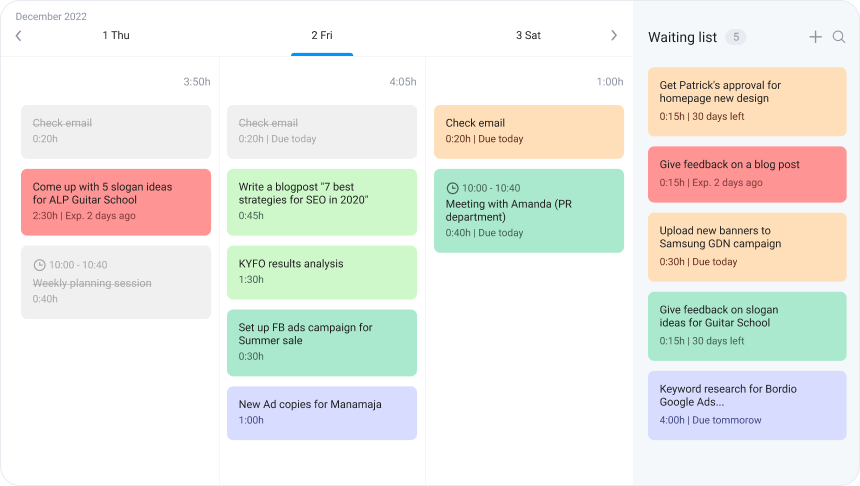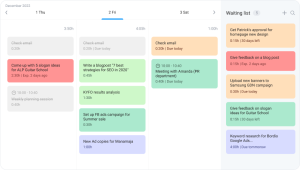 With Bordio's online calendar planner, you can schedule tasks and meetings instantly, track your workload, and create time blocks to reserve time for important work. What is more, a digital calendar planner is very editable – you make changes as many times as you'd like without creating a mess.
In addition to the main online to-do list, Bordio users get a waiting list – a special place for all unscheduled tasks. That's where all ideas and thoughts can do before you have time to really think about them.
One-page printable calendars 2023
If you are looking for a single-page calendar specifically, Bordio has you covered. Pick a one-page printable 2023 calendar that you prefer, download and print it, and start visualizing your future.
Ideas for your printable calendar 2023
Looking at a new yearly calendar can be daunting. You have so much time and even more potential, but what do you do with your 2023 calendar?
Here are some ideas for you.
#1 National holidays of your friends and clients
This one is a no-brainer. If you have friends and partners overseas, it's a good idea to remember holidays that are important to them. It shows respect, and that you care too.
#2 Important deadlines
You are unlikely to forget about an important deadline, so putting it on the calendar might seem like an overkill. However, if it's on your printable calendar and you see it every day, it will subconsciously make you focus on the tasks more, helping you reach the deadline confidently and 100% ready.
#3 Key milestones
In project management, they often create project milestones and follow them vigorously, just like all other deadlines. Milestones symbolize achieving a certain critical point that is worth celebrating. Yet it's not a goal itself, so the pressure is off. Use milestones to keep yourself motivated throughout the year. Expose milestones in our project management tool from Bordio, and for personal use will be convenient time management tool online.
#4 Work and personal events
You can use your calendar for work or personal life only, it's up to you. However, we recommend combining both parts of your life into a single calendar. It won't be messy if you're careful, but it will enhance your time management skills and make you more productive. At the end of the year it is important for a manager who has a team and for a team member to review the results of the year – it is convenient to do it via remote team software and for remote teams there are also remote collaboration solutions.
Why everyone needs a yearly printable calendar in 2023
Let's say you have a daily planner where you write down all your pressing tasks, scheduled meetings, and notes.
It's great because it keeps you somewhat organized and helps you meet upcoming deadlines.
However, with daily or weekly planning, you might fall victim to tunnel vision, where you are dealing with urgent tasks, but the essential things are pushed back and ignored.
With the yearly printable 2023 calendar, you get a bird's eye view that is so different from when you're working with a single week or a month. A long-term perspective helps us stay motivated, and focused, and not waste our days away on irrelevant tasks that keep us busy but get us nowhere.
And if you'd like to have a calendar that's in between the weekly and the yearly focus, there are always free printable monthly calendars available for download. And you can always try the online task tracker from Bordio.
Many successful people plan their days using calendars, allowing them to stay in control but stress-free at the same time. Join them by signing up for Bordio's digital calendar planner and downloading the yearly and monthly printable calendars.