March has an interesting history going back in the day.
Many centuries ago, March was the first month of the year because it was the month when the weather was finally starting to warm up and everything was coming back to life.
The name of the month March originates from the name of Mars – the Roman God of War.
There are different theories about the nature of the name, one of them being that March was the first month when the weather was warmer, so it was possible to resume the wars that were paused for the winter period.
Printable March 2023 calendar templates
Here are the free printable calendars for the month of March in multiple styles.
You can easily download them and there is no limit on how many you can print, plus the printing itself is very easy.
If you know someone who would benefit from our monthly calendars, feel free to print a copy for them too!
Try digital calendars along with the printable march calendar template
At Bordio, we love organizing, planning, and tracking things and you can do it with our work management systems, time managment tools and tools for managing remote employees. But using printable calendars is arguably one of the most enjoyable ways to do that! You get to write things on the paper, keep it by your desk, and carry it around with you in the bag.
However, using an online calendar can complement the printable version in many ways:
Get notifications on your phone.
Erase and edit tasks or events easily.
Add notes without limits.
Bring it with you anywhere you go.
Keep it safe as it won't tear like paper.
Schedule a monthly reminder.
Bordio has an advanced digital calendar built into its productivity and task management solution. You get a digital Waiting List for unscheduled tasks that you can use for brain dumps.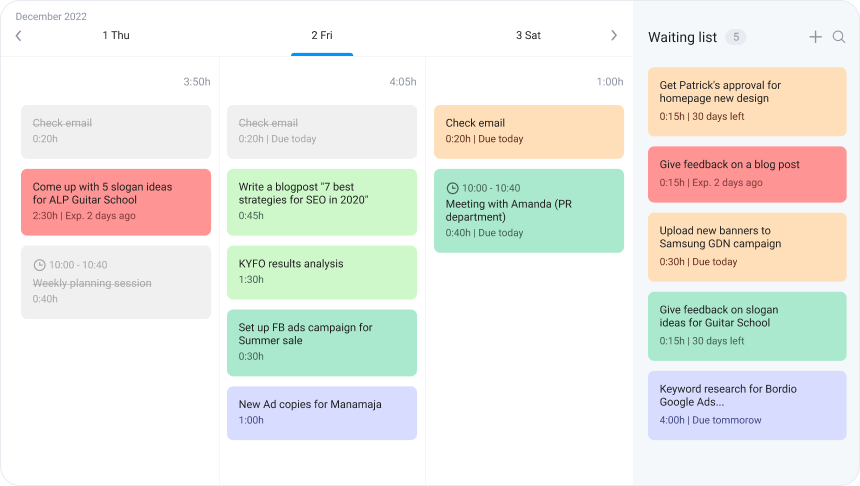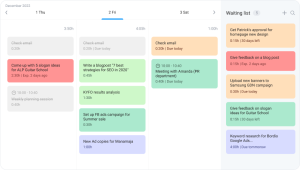 The time blocks assigned for each task will ensure you have enough time to work on all things planned.
Horizontal March 2023 calendar templates
Here are March printable calendars in portrait orientation. Put them up on the wall, keep them inside your notebook, or leave them at your desk.
Cute March 2023 calendars for print
In case you want to print beautiful calendar templates.
Ideas for March 2023 calendar
March is the third month of the year and an exciting time!
Nature starts to wake up from the wintertime in the Northern Hemisphere, and it's finally starting to cool down in the Southern Hemisphere.
Wherever in the world you are, March is a wonderful month to set yourself new goals, or actively work on the things you've already started in January and February. Here are some theme-based ideas for using your printable March calendar template.
Holiday calendar
Holidays are not just fun, but they can also motivate and inspire us. For example, you can log some of the most important dates for your country and plan your work and projects around them. There's nothing quite as satisfying as going on a holiday knowing you've done all the work.
One of the most notable March holidays is St.-Patrick's Day on March 17. Look for local major holidays and add the holidays that your friends celebrate. We love a thoughtful friend who doesn't forget about our holidays!
Event calendar
As the temperature starts to go up, we tend to agree to more events and gatherings. It's easy to forget about a commitment in the swing of things, so you can use March 2023 calendar to keep up with your social life.
School calendar
If you're a student, use the printable March 2023 calendar for your own studies.
If you're a parent, work on the calendar together with your kids and make it a fun bonding session. Afterward, you can check the calendar periodically and keep the important tests and extracurricular activities in mind.
Tips to using your free printable March
There are ways to use your calendar that will maximize your productivity and outcome. Here are two tips for you.
Daily scheduling
Have a daily schedule in addition to your monthly calendar. A monthly calendar cannot accommodate all little daily tasks because the space is limited. Leave monthly calendars for key things, and use a daily or weekly schedule for the rest.
Add week numbers
You can plan using weeks to make sure you're not wasting time, thinking that a month is such a long period that you can postpone getting to work.