June, perhaps, is the most anticipated month of the year. In the northern hemisphere, people await summer with those long, warm days to finally kick in. The southern hemisphere population can't wait for the weather to cool down a bit.
No matter where you live, and what you do, June is likely to be a busy month for you. And what better way to tackle busy months than with a printable June 2023 calendar by Bordio?
Printable June 2023 calendar templates
We prepared several printable June calendar options, so you will find the monthly calendar that fits your aesthetic.
And if you're planning for the future now and missed our previous printable calendars, make sure to check April 2023 calendar and May 2023 calendar.
What about digital instead of printable calendars?
Before we dive deep into printable June calendars, have you considered a digital alternative?
In addition to printable June calendars, Bordio also has an online calendar planner that boosts productivity and increases your efficiency. With it, you can easily swap between weekly and monthly calendars, create and plan projects, list your to-dos, and so much more.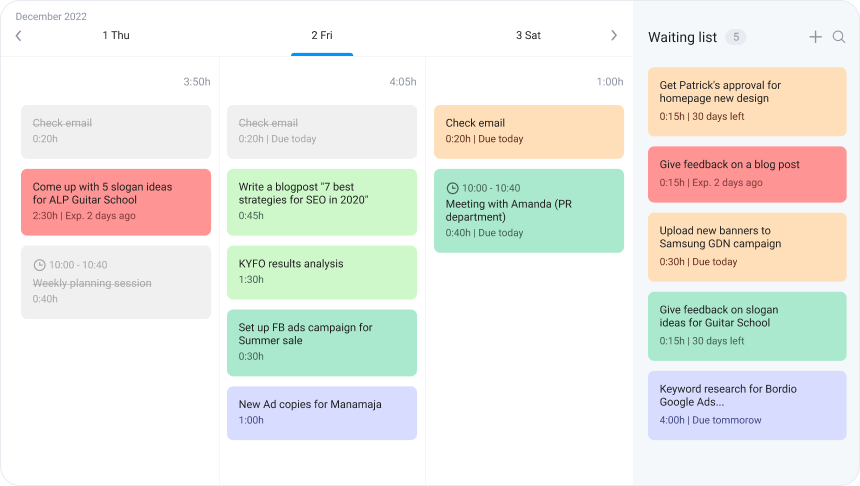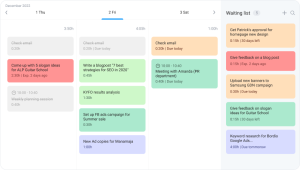 Digital calendars can't be touched and interacted with the same as we can use the printable calendar template; however, they have their own benefits:
Easy to edit
When your meeting gets canceled or re-scheduled and a task becomes irrelevant, it takes a second to apply changes to Bordio's online to-do list. With a printable version, you risk making it look messy.
Easy to share
If you work in a team, with an assistant, or want to share some goals with friends, you can do it with a digital weekly planner instantly – just copy what you need and send it across, no need to type your hand-written notes. For printed calendars, you'll either have to send a photo or waste time typing everything manually before you can send it.
Secure
You can't encrypt paper or add a password to it, at least not yet. So, if you'd like some privacy or if you are working with sensitive data, then digital calendars are a better alternative for you.
Horizontal June 2023 calendar templates
Here you will find June 2023 calendar templates in landscape orientation.
Choose from one of the multiple styles we offer, and start planning. Remember that Bordio's calendar template printables are free and you can download as many as you need. Don't forget to share our calendar with friends and colleagues who like to organize their lives too.
June holidays
June has three major holidays in the US, so don't forget to use your monthly printable as the event calendar for:
Flag Day on June, 14
Father's Day on June, 18
Juneteenth on June, 19
Cute June 2023 calendars for print
Choose the best template, print it, and use it daily to boost your productivity!
Ideas for your printable June calendar
Here are some ideas of what you can log and track in the printable calendar template for the sixth month of the year besides holidays.
Important dates. Make sure you mark anything important for your personal and professional lives in the calendar.
Social events with friends. Calendars don't have to be for boring things only! Highlight upcoming parties and get-togethers with your friends in the calendar to get yourself excited.
Habit tracking. If you're trying to build a habit, you can use your printable calendar template to track how well you're doing. For example, you can color the day green if you worked out on that day.
What is next?
Done with June 2023 planning? Great! Set yourself up for success for the rest of summer and download Bordio's free July 2023 Printable Calendar and August 2023 Printable Calendar.
And don't forget about Bordio's digital daily planner (ADD link) that will complement your printable monthly calendars and make you ahead of the game.
Once you're done with planning and organizing, don't wait too long to act on your plans, or you'll be stuck in point A forever.