One of the most common issues that people mention when talking about time management, is that they don't understand where all the time is going. One second it's 9 am, then you blink, and, suddenly, it's 4:30 pm and barely anything got done.
Sounds familiar? We are here to help! 
Not every day has to be extremely productive and efficient, but the reality is that most of us have to juggle multiple commitments on a daily basis. 
One of the smart ways to tackle the to-do list and use your time effectively is by implementing hourly scheduling. 
Daily printable hourly planner PDF
Hourly planning takes a clear understanding of the upcoming time period, so it fits the day timeframe perfectly. 
With our templates below, you will be able to spread your to-dos from task tracking soft and commitments across the day and get a better understanding of your overall workload and schedule.
In addition to being more organized with the printable hourly planner, you are also more likely to create an eventful personal life for yourself. 
We often say no to friends and colleagues because we feel like there is no time in our busy schedules. With the daily hourly planner, we might be able to see that it's not entirely the case, so we end up squeezing in leisurely activities. Having a more full personal and social life will, in turn, make us more productive and focused on work because we know that we need to get the mandatory stuff done to go enjoy ourselves. 
Bordio's daily hourly printable templates include the daily schedule with an hour-by-hour dropdown, but also additional spaces to help your time management and productivity skyrocket. Write your to-dos from simple task organizer that don't belong to the schedule on the side. Identify your key focuses for the day and keep an eye on them. Work on your daily habits to make them stick. 
Download the free digital hourly planner
Today we will share the cool and free printable hourly planner options that you can print out and use as you please.
At the same time, we'd like to chat about the digital alternatives like free project management tools by Bordio or task planner app – the hourly planners that you can take with you anywhere and use on your phone or PC.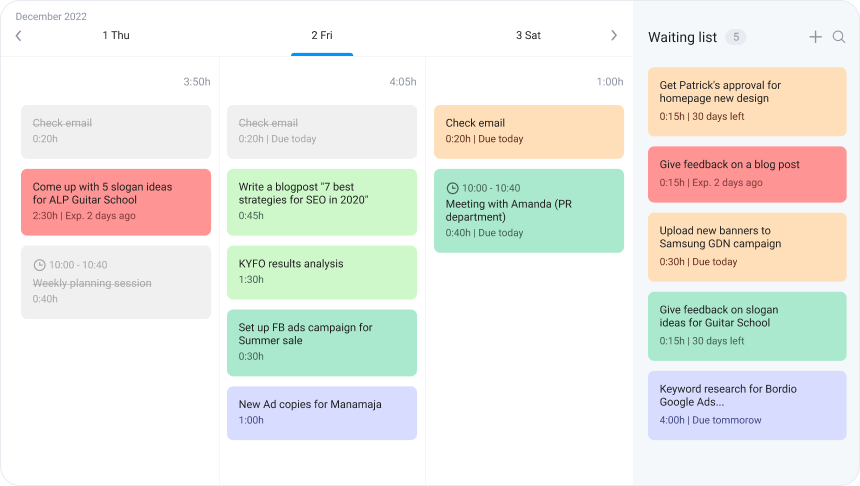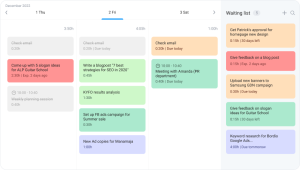 A weekly planner online, such as Bordio, can complement and expand the possibilities that you have with a printable hourly planner. Bordio's services such as free electronic planner and free task maker will also be useful.
Unlike the paper one, a digital planner:
Is eco-friendly and doesn't require cutting trees to produce.
Can be edited as many times as you need.
Has much more capacity for notes.
Has an online to-do list with no space limit.
Creates time blocks in your schedule to reserve time for tasks.
Can be shared with friends and colleagues.
Sends notifications to your screen.
Weekly hourly planner PDF
A free weekly hourly planner is great for many people, especially those who work on incorporating habits into their days and need to track them, or professionals with lots of meetings and calls, such as project managers.
Still, hourly planning for the week can work for anyone who prefers this format, no matter the occupation. 
Landscape orientation
The horizontal hourly schedule planner PDFs fit nicely into an A4 paper format, so you can print them and hang them on the wall or keep them on your desk without any trouble. Just to be safe though, as you download the planner and start printing, choose the Fit On Page setting in printing and you will have your planner on one page. 
Portrait orientation
Vertical planners allow for more space and details but they also either require two pages to fit the entire week or leave little space for notes and events. 
We are presenting you with both options. Feel free to download and print both, or choose just one of the two. 
A one-pager would be perfect for habit trackings, such as workouts and journaling. It would also fit the short reminders about appointments and meetings coming up. The two-pager is more spacious and can fit in more detailed notes. 
What is hourly scheduling and why do I need it?
When scheduling hourly, you allocate a purpose to every hour in the day. This is usually done with the help of a printable or online daily planner or online planning calendar. 
Many of us have so much to do that we feel overwhelmed just by looking at the task list. With an hourly planner PDF, you can prepare for the upcoming day and eliminate the painful need to decide what to do on the spot. 
Because you don't need to think, but simply check what's next on the schedule, you end up wasting less time and accomplishing more. 
Tips to using your hourly planner PDFs
When you download hourly planners, you might look at them and feel overwhelmed at first. There is a lot of space, all segmented into hourly sections, pushing you to frantically come up with things to write down.
#1 Don't try to fill in every hour on purpose
Please remember, that you absolutely do NOT have to fill all hours of every day within your free weekly planner to be productive or successful.
The whole point of the hourly schedule template is to help you manage your time better:
See where it's going
How much free time there is
If there are better ways for you to spend it
Start small and log the key points to your hourly schedule in PDF format. It has limited space after all, so it's good if it's not too crowded. If you feel like you need more tasks or events in your planner templates to understand your workload better – write them down too.
#2 Add the online weekly planner to your routine
You can complement your free hourly planners with an online calendar planner to maximize productivity.
Digital tools are much more generous with space, so you don't have to worry about squeezing everything in the hourly planner PDF. Instead, use the online solution, such as Bordio, to write down anything and everything, and download a weekly hourly planner to accommodate the key priority stuff in the time slots.
#3 Be short and to the point
As you log tasks in your hourly planner, keep them short.
As the free hourly planner maker, we can assure you we do our best to add more space to the PDFs, but there is a limitation to what we can do. So, learn to use acronyms, numbers, or anything else that would make your notes shorter and to the point.
What to log in your free weekly printable hourly planners
As you download and print your weekly printable planners, you might feel a bit lost when starting to fill them in. We are here to help with a few recommendations to get you started and, perhaps, inspire you to log something that you didn't realize could be logged.
Work meetings
Even if you are intending to use your free planner to manage your personal life, it is vital to include key work commitments there too. It's simply the reality of our lives that the two worlds we live in (personal and professional) will cross over and influence one another.
If you have the key meetings and deadlines in front of you when planning your off-time, you will be able to make your life easier. For example, not scheduling too many social events during the week when you have a series of work meetings with management will allow you to focus your energy on the job and, perhaps, get the raise you wanted.
Friend meetings
Not only work meetings are worth scheduling in time manager online. Catchups with friends are important too, and having them in your planner can do two things for you:
You won't forget about them and double-book yourself.
They will be something to look forward to when you're tired and unmotivated.
Doctor's appointments
Health is wealth, and we shouldn't forget about regular visits to the doctor. Keep your health appointments written down and make sure you show up when they're due.
Kids' events
Nobody wants to be that absent dad from a movie who forgets about a school play and shutters the kids' spirit. Mark birthday parties, play dates, and anything else kid-related to make sure you won't have to feel bad about missing out.
Habits you're working on
There are separate habit trackers that you could use for that, but as big proponents of an all-in-one approach, we definitely recommend trying listing the habits you're building in the printable planner as daily tasks. That will be a great reminder and help you progress with the habit faster.
Chores that you keep postponing
Leaking shower, an unfinished paint job in the bedroom, cleaning out the garage – all too easy to ignore if they're not in your face.
Book reading
Reading books makes us smarter, helps us relax, and even teaches us empathy if we're talking about reading fiction.
Same as with habits – write down the plan to read a book, put the number of minutes or pages you'd like to read and stick to the plan. Also, don't be too ambitious if you have little time for reading. For example, start with 15-30 pages per day and increase this number gradually.
Language studying
Learning a language is always a good idea, and it doesn't have to be a comprehensive class with lots of assignments. Even if you can only do 15-minute lessons in the app, that's already great! So stop talking about wanting to learn French, and actually get down to it.
Gym classes
Going to the gym is rewarding and can be fun too, but the most difficult part is actually getting there. If your pilates class is on the to-do, you're more likely to attend it.
Holidays
Last but not least, log the upcoming holidays in the planner to avoid booking a meeting for when you're away and to keep you motivated to finish everything before your time off.