Planning out your days in the schedule online maker might not seem like the most fun activity in the world, but hear us out: planning your time makes you happy and free.
How?
When you plan your time in the schedule maker weekly and follow through, not only do you achieve more, but you feel more accomplished. Also, when you don't simply "go with the flow" you end up doing so much more within the day, including fun things. 
How many times have you woken up to a free day only to realize many hours later that the day is almost over and nothing meaningful happened? Safe to say it happened more than once to us!  
Daily planning makes a world of difference to how we live our lives because days quickly add up and turn into weeks, months, and years. With Bordio's free printable daily planner templates and it's schedule builder apps, you are guaranteed to have more eventful and productive days ahead of you.
Blank printable daily planner templates in PDF format
In this section, we have blank planner templates in multiple styles. All of them are blank and undated with some of the templates including an option to custom enter the date.
Printable daily planner templates
Here you will find the designs of free daily planners. Each template is functional and pleasing to the eye. Download your copy of the daily planner template and ace all your important tasks!
Why not try a digital daily planner?
There are so many reasons why we love paper planners – they're cozy, writing on the paper stimulates our brains, and keeping a physical organizer on our desks makes us feel more put together.
However, paper planners and calendars have their downsides too. They're not always convenient to carry around, there is a limit on the space you have to write things down, you can't share them with friends, and you most definitely can't set automatic notifications to remind you about upcoming events and deadlines. 
Luckily, we at Bordio have the solution just for you. Bordio's online daily planner has everything you need to upgrade your planning and organizing process:
Advanced online calendar planner with the weekly view.
Time blocks to always have time for important tasks.
An online to-do list that is available for ad-hoc planning 24/7.
Project management functionality to work on big goals.
Thats why we recommend Bordio's tools for project management and simply schedule weekly planners that will always be available and easy to use.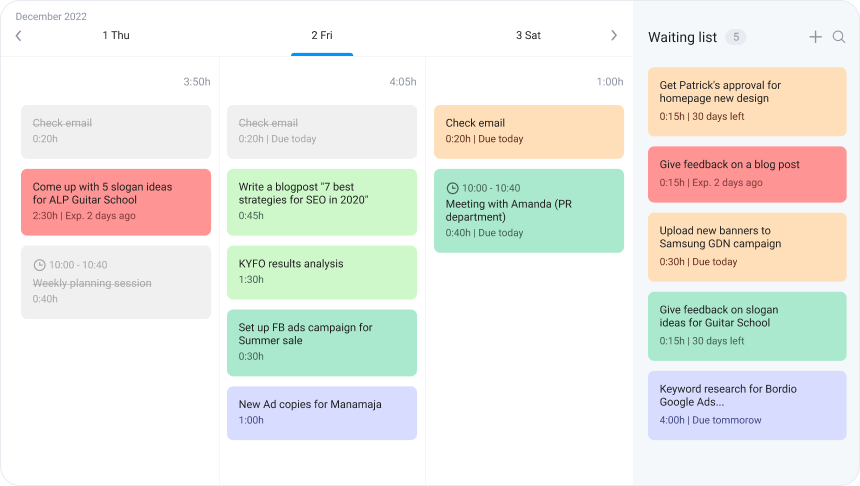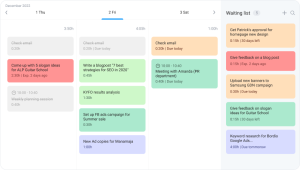 Hourly printable daily planner templates
For those of us with multiple daily meetings and appointments, an hourly daily planner is a lifesaver. It gives us the structure we need to plan everything right and not overbook ourselves. 
It is also a great template for people trying to be more organized. If you find yourself struggling with time management, and hours in the day seem to simply disappear, having an hourly schedule can help turn the situation around. 
Printable daily planner templates with a focus on mental health and wellness
Health is wealth! And mental health is no exception. You can't stay productive and work hard in the long term if your mental needs are not met.
Prioritize your well-being with your own personal planner.
Why use a daily planner template?
At Bordio, we love a daily schedule template! It is a life savior for a person with a busy schedule who needs all the important tasks done.
Here are several benefits that you get with our free printable daily planners:
Helps prioritize your time
Focus on important things
Get more done within the same timeframe
Planning ahead makes you achieve goals faster
No or minimal time waste
Helps remember everything
Reduces stress and anxiety
Overall, building a daily planner PDF into your daily routine will make you re-think how you are spending time, and become more aware of daily agendas and important dates, helping you stay organized no matter what.
Tips for working with a printable daily planner template
Bordio's free printable daily planners do half the work for you. They are well thought-out, intuitive, and structured. All you have to do with them is focus on important tasks and get things done.
To empower you to work with printed planner pages even more effectively, we compiled the four tips that will help you avoid common errors and excel at anything you do.
Start planning the night before
Go through your entire to-do list (you can use the waiting list in Bordio free virtual planner for that), identify what top priorities you have for tomorrow, and estimate your total time available for work and chores.
Planning a day in advance is not necessary but it helps you be better prepared and start your morning strong. When you sit and work with your planner all figured out a day before, you are more likely to be intentional and resist the urge to fill your day with busy work that doesn't generate real value. 
Tip: As you work with your free daily planner the night before, double-check for tasks that can be delegated or outsourced to someone else. Too often our schedules are filled up with daily tasks that could have easily been done by someone else, allowing us more time to focus on our personal goals.
Don't try to squeeze in too much
You've probably seen those meme videos online where people show themselves suddenly and obsessively training, reading, and working all because of something motivational they saw or heard.
Well, we've all been there.
And if you feel this urge to be the better version of yourself, and suddenly everything seems doable, be careful. It's easy to get carried away and plan for too much in a single day. Then tomorrow, as the motivation rush wears off, and you start to go through your plan, you quickly realize that it doesn't add up.
And when that happens, we get very demotivated and procrastinate. We often recommend starting with top-3 tasks for the day and then working on whatever your heart desires in the remaining time.
But please resist the urge to create a lengthy to-do list that will set you up for failure from the start.
Review the results in the planner in the evening
At the end of the day, go through your daily or weekly planner and reflect on how you did.
Celebrate the wins and identify the failures. And remember to not beat yourself up too much if the day wasn't as great as you planned it to be. It is all a learning curve. Plus not every day will be the most productive day ever, and that's okay. 
Plan the days with the week in mind
Look at the week as a whole, for more efficient planning. You can use a special tool for this – task maker app.
Our days get busy fast. And in the swing of things, we might think that our hard work and laser focus are getting us somewhere. However, if we don't look at the entire week, and solely concentrate on every day individually, there is a serious risk of missing out on our bigger goals.
What to include in your free daily planner besides work?
Don't limit your planning to work-related tasks only! Instead, use the daily planner as the instrument to organize and navigate your life. Surely your life is more than just work.
Here is what you can add to the daily planner template:
Sports
Whether you go to the gym, play sports games, work out at home, or enjoy an occasional run – all those activities deserve to be in your daily schedule. You are much less likely to skip your training session if it's logged in your daily planner template.
Meal planning
If you follow a specific diet or work on changing your nutrition pattern, you are more likely to succeed if you plan ahead. Most people want to eat the food they grew used to, so when you are changing that, the process adds stress to the day. Planning meals ahead will remove the last-minute decision-making, and help you stick to the diet instead of ordering something greasy from the fast food nearby.
Habits
Habits take time to build, and you should use all of the resources available to you to make those habits happen. Use the printable daily planner template to log your water intake, regular movement, book reading, or anything else you are working on.
Personal engagements
How many times have we agreed to something only to forget about it later so we have to cancel last minute? Personal relationships are important and should be cherished. And one way to do it is to track who you're meeting, when, and why.
Daily chores
Chores are often referred to as the invisible work. It's something we all do regularly, yet nobody is usually rewarded for washing dishes, cleaning the house, or sorting out the garage. As a result, we resent those duties and postpone them for as much as we can.
And the issue with such behavior is that we might not be doing them, but they stay as a mental weight somewhere in the backs of our minds, adding stress to our days.
So the best approach here is to integrate them into our to-do lists and get the satisfaction of crossing out those chores at the end of the day.
Motivational quotes
Most daily planners will have some free space that you can use to write down a quote. Not everyone is a fan of those, but they can be a great source of extra motivation if you pick the one that suits your mood and is relevant to your goals.
Mood tracker
Mental health issues have been on the rise thanks to the last turbulent years. And one of the ways to take care of yourself is by being aware of how you feel and acknowledging your mood.  
How to know if the task is worth your time
Life gets busier every year and it doesn't seem like it will slow down any time soon. 
For humans, it means that we will be faced with even more commitments, responsibilities, and tasks to do during our days. 
One of the important skills that will get you through the chaos of the days and keep you sane is knowing when the task is or isn't worth your time. 
Unfortunately, not all of us have complete control over the work and chores we need to do, but still, we should do our best to minimize the waste of time and save our energy for things that matter. 
These questions will help you identify if the task is worth working on:
Does it bring me closer to my goals?
Are there repercussions if I don't do it?
Is anyone depending on me to complete this task?
Can anyone else do this task faster and better?
Will it make me happy to complete this task?
If you ask those questions for all incoming tasks, you will have far less trouble separating the high-value tasks from time wasters.