A daily schedule template is a great tool to keep up with your daily to-do list without forgetting about long-term goals and plans. It serves as a backbone for your daily productivity and helps manage time in the most efficient way possible. 
What is more, the daily schedule creates a visual picture of your workload, helping you better understand what is still to be done, but also be aware of all the achievements you have accumulated during the day. 
And on the days that are rough, and when you don't feel like putting in the work, the daily planner template will be the system you can fall back on to get through the low motivation periods. 
Download daily time schedule templates in PDF
If you've ever felt like there are not enough hours in the day, and you can barely get anything done without realizing where the time goes, daily hourly schedule planners will solve this issue for you. 
Thanks to their clear by-the-hour structure, you can fit in everything you need to work on, and create a balanced day for yourself using tools for schedule making.
Maximize your productivity with a free digital calendar planner
Daily schedule templates will do wonders for your productivity. But there is one thing that can upgrade your life even more – a digital task planning and productivity solution, such as the one by Bordio. 
Within Bordio, you can create projects (work, personal, or both) to work systematically on goals and plans that are important to you. You can work with the online calendar planner to create an online to-do list, log all the tasks and deadlines, as well as assign time blocks to reserve yourself for vital work that often gets postponed because of the other urgent but lower priority stuff.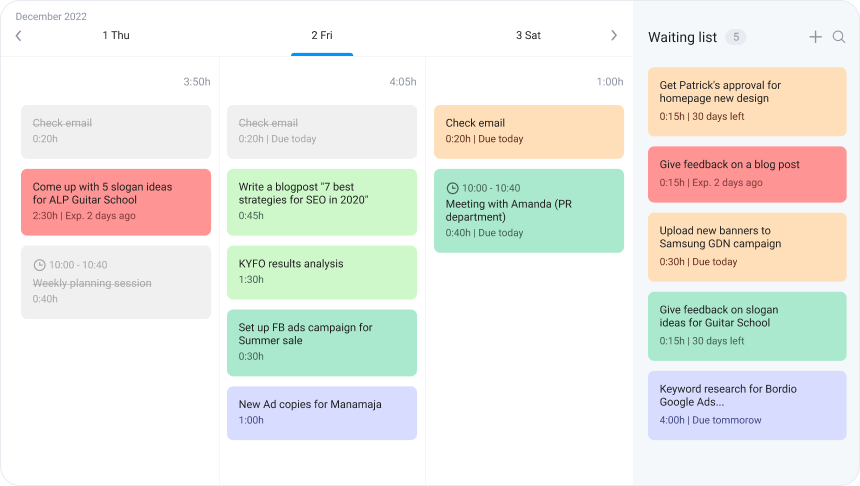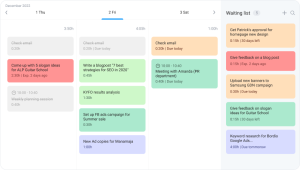 We all love an aesthetic paper planner. Yet they have downsides, such as limited space and unreadable handwriting, that are not an issue with a weekly planner online. We recommend trying different task planning tools from Bordio, in particular online time manager and task organizer online.
Daily schedule templates without a timetable for free
In case you want to have more control over how your day is structured or require an alternative schedule, such as a day divided by half-hours, we offer you a template alternative without the timetable, the one you can fill in yourself. 
Google Sheets daily schedule templates
If you are looking for a simpler and minimalistic structure that daily schedule Excel templates and Google Sheet templates provide, we have you covered too! 
Follow the link to our daily schedule template that you can copy and customize for your own needs. 
Ways to organize your daily schedule printables
If you use a daily schedule template that is not limited by hours, you have more freedom to choose how to organize it. 
In addition to hourly, here is how you can do it.
By priority
For anyone who feels like they're always busy but nothing important gets done, this will be it. Place tasks from your to-do list on the time organizer based on how important and/or urgent they are and have a better sense of accomplishment when the day ends.
By deadline
This one is a no-brainer, if you have tasks that are almost due, they must be higher up on your list. However, if you constantly have a flow of urgent/last-minute tasks that are not the top priority in the long term, you might need to revisit your approach to tasks and even delegate some of them.
Tip: You can combine free daily schedule templates with weekly schedule templates. Use the daily one for short-term planning, and the weekly alternative to track progress over the week. A daily planner is good to get you through the next 24 hours but a weekly schedule will help you stay on track during the week, spot your patterns, and highlight where you need to speed up.
Tips for working with your daily schedule templates
Downloading daily planner templates PDF will help you get started, but if you want to make the most of it and stay organized in the long term, then you need to be strategic about working with the daily planner.
Make sure you leave wiggle room in your schedule
Sometimes you really can't help it and meetings and tasks have to be scheduled back-to-back. More often though, it just happens because we are either too ambitious and confident that everything will go according to plan, or we simply overlook that. 
As you've probably already experienced, life doesn't always go as planned:
Someone is late
Someone reschedules last minute
New tasks and events are added last minute
Emergencies come up
Nobody's immune to those, and if your schedule is jam-packed and with no space to breathe, you are bound to become overwhelmed. And that's exactly what we're trying to avoid with a daily planner template! 
So, as you are planning your day with our templates, make sure you have some space for a maneuver.
For example, if you have a call with the team coming up, make it 50 minutes instead of one hour. Schedule a time in the team organization software. You are more than likely to be fine without those extra 10 minutes, and it will give you a chance to pour yourself a glass of water and re-group before the next conference call starts. 
Leave space for proper breaks
Breaks are a must for anyone willing to be productive. Without them, we feel more stressed and tired, resulting in more mistakes and anxiety. Therefore, it is important to remember to leave time to rest in time management tools.
Whenever you work on your daily schedule, leave space for a lunch break and at least one short break. 
And when you add breaks to your schedule, DO NOT treat them as vacant space to squeeze in yet another meeting. You will be doing yourself a disservice.
How to use your printable daily planner templates
Bordio's free printable daily planner template can serve many purposes. Here are some of the ideas on how you could use it.
Log class schedule
If you're a student, then it's a no-brainer to use printable daily planners for keeping track of school classes, seminars, and extracurricular activities.
Write a to-do list
Whether you work with a by-the-hour daily work schedule template or prefer one with more freedom and flexibility, you can use it to write a to-do list. Build it into the schedule or write next to it, the main thing is that you stay aware of what needs to be done during the day.
Tip: Incorporate Bordio's digital time blocks into your printable daily schedule template. Select the hours in the day and mark them reserved for important tasks. Daily schedules are great for time management but it helps if we use additional techniques, such as time blocks, to make them even more effective.
Create meal planners
A daily planner is perfect for following a healthy lifestyle. Log the meals that you'll be cooking, schedule trips to the grocery store, and cook time.
You can also track how many portions of fruit and vegetables you consume per day (see official recommendations for reference).
Combine it with a monthly calendar template
Daily schedule templates allow you to make the most of the 24-hour period. Monthly templates in a calendar view will keep you motivated and organized for an entire month. Imagine how much you can achieve in 30 days if you put your mind to it.
Tip: Make sure to check back on Bordio's website regularly, as we are constantly adding new tools for productivity, such as monthly planner templates, monthly and yearly calendars, and a ton of useful articles and guides to help you become the best version of yourself.
Actually use it
Do you know how to identify the best daily planner templates? They are the ones you are actually using! Keep your printed or online daily planner close to you at all times, and watch your to-do lists get completed more seamlessly and on time.