Anyone who's tried setting their goals and planning their time in the top project management tools at least once knows how hard it can be to stay on track and accomplish things. 
We tend to blame our laziness and lack of intrinsic motivation for failing to achieve what we wanted. Yet, more often than not, it's not about the lack of motivation but the lack of a proper system that drags us down. 
Usually, you don't need an elaborate system to improve your productivity. Something as simple as a planner can do wonders for your everyday life. 
Minimalist monthly planner templates in PDF format
These minimalist monthly planners in landscape format are perfect for focusing on key goals that can be summed up in one line every day. They are also great for reminders of something that might slip your mind unless written down. 
Tip: You can change paper sizes in printing settings to adjust your free planner templates.
Horizontal monthly planner templates
The horizontal monthly planner template will give you a bit more space for every day's entry, so all fans of lengthy notes will surely enjoy it.
Vertical monthly planner templates
Monthly planners in portrait orientation would work for someone who doesn't enjoy horizontal planners. Print them and put them on your desk or carry them around with you. Also, you can print them on a smaller scale and glue them into your paper notebook. 
Have you tried digital monthly planners?
Daily, weekly, and monthly printable planners are great helpers in structuring and prioritizing your life. Not only do they help you remember everything you planned to do, but they are also satisfying to work with. There is something special about using pen and paper for your planning. 
However, paper planners have their downsides too. They are easy to lose, smudge, tear, or fill in with information to a point where it becomes unusable. 
A nice alternative would be to go with an online weekly planner, such as the one by Bordio: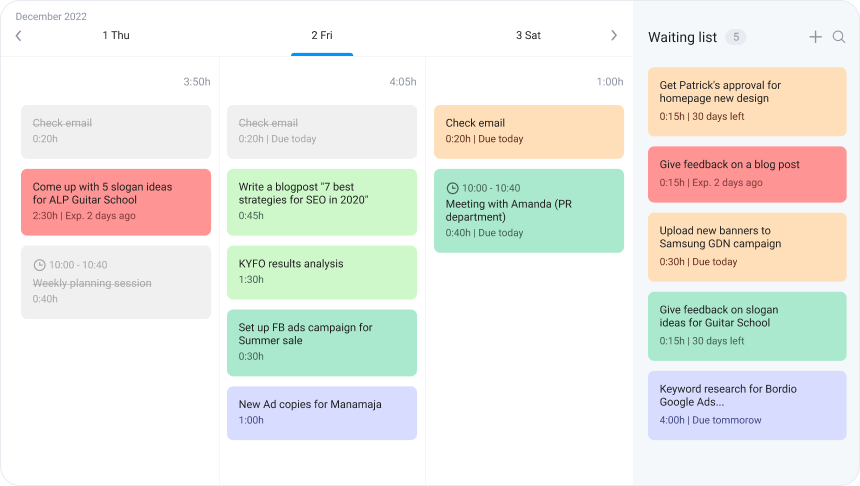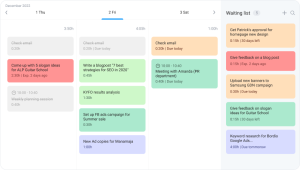 Unlike its paper counterparts, Bordio's online daily planner doesn't occupy space and can be easily updated and edited as many times as you want. So you can carry your simple online planner with you anywhere.
The online calendar planner by Bordio covers both tasks and events and features a separate waiting list spot to brain-dump all unscheduled tasks, ideas, and dreams without cluttering the main online to-do list. And to help you navigate bigger goals, you can create projects and plan out the details of how you'll be conquering the world.
With Bordio best digital daily planner you won't need any other productivity project management tools and task planning tools.
Monthly planner templates with calendars in PDF format
The following planners include an undated calendar to help you visualize the month better. A blank monthly calendar template gives you the creative freedom to focus on whatever is a priority in the current month.
Tip: If you have lots of priorities and things to work on during the month, read our task prioritization guide with actionable tips on figuring out what's truly important and can wait.
Vertical templates
Download the free vertical monthly planner with a calendar to mark special dates, use it as a holiday calendar, and organize your everyday life.
Tip: We have more printable monthly calendars for you, so make sure you check them out if you're looking for stylish and functional calendars in PDF. Pick the blank calendar that you like, download and print it, and start planning away!
Horizontal templates
Monthly calendars in landscape orientation are great for planning, counting down to important events, or keeping track of the most important work.
At Bordio, we are strong believers in the benefits of planning, that's why we are creating a series of printable and online task trackers, time planners and schedule making calendars to help as many people as possible get to the life they dream about for themselves. 
Today, we are sharing monthly planner templates. All of them are undated, so you can start using them at any point in any year. Simply choose the design you like, download and print it, and start planning away! 
Tip: For more planning tools, check out printable daily and weekly planner templates.
Why is planning your month important?
There is an ongoing debate among planners and those who enjoy spontaneity. 
Opposers of planning often claim that it kills all the fun and makes you feel like a robot. And if you go overboard with planning, it most definitely can happen, but as we know – everything is good in moderation. 
Structuring and organizing your days, weeks, and months can be a beautiful and freeing thing. 
Here are the key benefits of planning that you will enjoy.
#1 Reduced stress and anxiety
A lot of our fears and stress come from uncertainty and lack of control. With planning, you get to reduce a substantial chunk of those negative emotions and experiences. Life will still happen, and you'll be faced with random changes to your plan and schedule. But because you have a structure in place, and you've been following it continuously, you will have a system to fall back on. 
#2 Better sense of accomplishment
When you log and track how much you do during the day, you get to feel better about yourself, even when your bigger goals are still in progress. Too often we ignore the smaller, mundane tasks that we complete, disregarding them as something unimportant. And when we do that, it might seem that nothing actually gets done, so we start feeling bad about ourselves. Tracking and planning the month helps us look back at those days and weeks and see how much we've actually done.
#3 Reaching your goals faster
Planning is not the same as doing, and sometimes we don't get to cross off every line on our to-do list. But that's okay! When we plan, even if not everything gets done, we definitely achieve more than if we didn't plan at all. 
Planning sets an intention, so we subconsciously take the extra step that we otherwise wouldn't. 
#4 Work-life balance
Another perk of planning that we can't stop talking about is the work-life balance. Everyone heard about this elusive concept, everyone wants it, yet not everyone gets to experience it.
And while using monthly planners won't magically create a perfect balance for you, it is a step in the right direction. If you plan for work and personal things in advance, you are likely to enjoy both more and have a clear division between those two areas of your life. When you know you have that training/appointment/dinner with friends scheduled for the evening in your planner, you are much more likely to power through the boring tasks you have for the day.
Tip: Your time management will improve greatly with monthly planners, but make sure you also look at the time management tips list we created to help you reach the work-life balance even faster.