Did you know that in ancient Rome, the year was counted from the first of March, and the names of the months were derived from numbers? For example, August used to be Sextilius, the sixth month, and September was Septem, the seventh month. Today, any child will tell you that October is the year's tenth month. Nevertheless, its name comes from the Latin word "octo," which means "eight." This explains that October was originally the eighth month in the ancient Roman calendar.
October is the middle of autumn in the Northern Hemisphere and spring in the Southern Hemisphere. It's pretty hard to imagine. But wherever you are, October is the ideal time to arrange your stuff and get inspired to set new goals. So, don't hesitate to download the free October 2023 calendar by Bordio, print it, and start efficient planning.
Free blank October 2023 calendar templates
The October 2023 blank calendar is available in PNG and PDF formats. You need to scroll down the page, click on the button underneath the image, download the chosen template, and voila – your October 2023 calendar is ready to be filled. This monthly calendar starts the week on Sunday and ends on Saturday. Each cell has enough space for notes and drawings, so feel free to write whatever you want.
October calendars can be printed in a landscape or portrait orientation. Choose any free October 2023 calendar from the multiple styles available, download the monthly calendar template, print it out, and hang it in a prominent place.
If you are looking for more printable templates, take a look at our other free printable calendars.
A friendly reminder: don't forget to review all the tasks fulfilled in August 2023 and September 2023, and after scheduling October 2023, you might also try to plan ahead for November 2023 and December 2023.
October 2023 calendar app
Of course, printable calendars are tactile and pleasing to the eye; they can be beautifully designed with the help of various stationery accessories such as stickers, colored pencils, bookmarks, and so on. Unfortunately, their functions are limited:
No notifications
Limited space
Difficult to edit and share
In addition, paper planners are time-consuming. They require pretty much time to be filled. If you carry a planner around you, you should always have a pen or a pencil, an eraser, a highlighter, and other supplies.
Based on the above, digital planners look advantageous. You can easily install an online October 2023 calendar app on your gadget. It is more customizable and editable, and it saves time. So we recommend that you use tools for project managers, online team management systems and simple task tracker.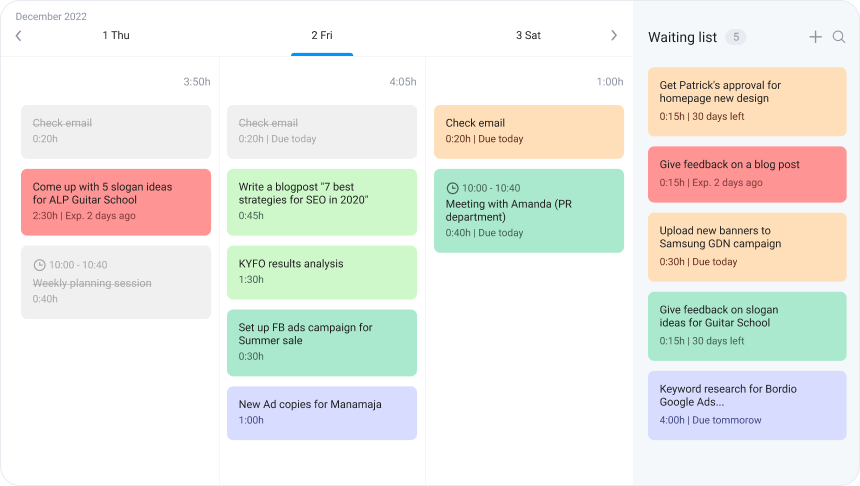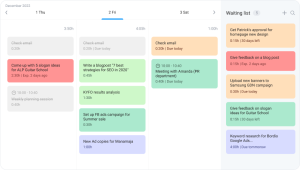 Horizontal October 2023 calendar templates
The Sunday start October 2023 calendar template will help you keep track of your commitments, tasks, appointments, birthdays, and other important stuff. Download the blank calendar for free in a portrait or landscape orientation and stay organized for the rest of the month.
Cute October 2023 calendars for print
Designed in a beautiful and unique style, this free October 2023 Sunday calendar is a great productivity tool.
October holidays
Perhaps if you are asked to list the October holidays, the first thing that will come to your mind is Halloween. But there are 31 days in October, and each day is marked by exciting events. Here are the most important ones:
International Coffee Day on October, 1
World Teacher's Day on October, 5
World Financial Planning Day on October, 5
Columbus Day on October, 9
Indigenous Peoples' Day on October, 9
Halloween on October, 31
Please make the most out of a printable October calendar template, turn it into an event calendar, and log the upcoming holidays. You might also incorporate the events that mean much to you, your family, and your friends. Don't forget to set reminders in your online event calendar planner so as not to forget all the significant events.
If you were born in October…
You will live longer. Researchers say that children born in October have a good chance of becoming a long-liver.
You are calm and easygoing. You can easily make friends.
You respect the feelings of others. You are sociable and have a developed sense of justice, balance, and a desire to help others.
You are either Libra or Scorpio, the most romantic and social of all the zodiac signs.
What to plan with your printable October calendar
October 2023 calendar is a reliable tool for achieving your goals. It will help you keep track of important dates and events and notes of things you care about.
If you want to succeed, try these tips below, and you will be surprised at how organized you've become.
School planner
Visualize your class schedule and monitor your school subjects, marks, homework, and due dates. October 2023 calendar is a great assistant in tracking your academic progress and preparing personal to-do lists.
Bordio's printable and digital October calendars will help you manage the school workload and organize your timetable. Don't forget to set up reminders in your daily planner app to meet the timelines.
Work planner
If you are part of a working team, you should have a work planner. Download a free printable October 2023 calendar and set the stage for a productive work week.
Utilize the printable October 2023 calendar to keep track of your work assignments, projects, and appointments. Every time you receive an essential task at work, mark its deadline on your calendar. This way, you can easily control the workflow by determining how much time you have to complete the task and when you have to turn it in.
It is better to monitor your work process on a weekly basis; add week numbers to your customizable weekly planner.
Finance tracker
If you remember, October is a Financial Planning month – a perfect time to control your budget spending. Why is it necessary to track your expenses? Jot down how much you spend each day, and get your money in order. The free printable October 2023 calendar will help you stabilize your budget and stay on top of your finances.
Project tracker
A project manager must always be organized to manage multiple projects. A project tracker simplifies the task of tracking project progress and helps you to stick to your plan.
Download the free printable October 2023 calendar, and close out all your projects.
Summary
Let's take stock of all the mentioned above:
October calendars help plan your daily commitments and monthly projects.
Our monthly printable calendars are available in multiple designs: landscape orientation calendars, horizontal, cute, and portrait orientation calendars.
You can fill each October 2023 calendar template page with notes and drawings. There is enough space to fit them in.
Columbus Day and Halloween are the major October holidays. Mark these days with unique stickers and immerse yourself in an atmosphere of magic.
We hope you have already printed out the October 2023 calendar and hung it on the wall.
We also have free printable November 2023 and December 2023 calendars if you prefer planning everything in advance.