'Harvest approaches with its bustling day
The wheat tans brown and barley bleach grey….'
John Clare could not have found more beautiful words to accurately describe the arrival of August, the time when most fruits and vegetables ripen and are ready to be harvested.
Once in the ancient Roman calendar, August used to be known as Sextilius – the sixth month of the year. Can you imagine? Today August, is the eighth month and the time of farewell to summer. It sounds sad, especially for students, for whom August symbolizes the end of the summer holidays and preparation for school. But on the other hand, August seems to be a perfect time to take stock of the passing summer and set plans for the upcoming September. So, keep your head up and recharge your energy for setting further goals with a printable August 2023 calendar by Bordio.
Printable August 2023 calendar templates
You will discover several lovely printable calendar 2023 templates on the Bordio website. Pick and download one of our free printable monthly calendars for August 2023 and set yourself up for effective planning.
But before you start filling out your August 2023 calendar, take some time to scan your previous accomplishments for the last two months (June 2023 and July 2023). You can see how much you have done and how productive you were during this period. This method will help you increase your motivation to reach further goals for August 2023.
How do you feel about the digital August 2023 calendar?
For those, who are not big fans of paper planning, Bordio offers to use digital August calendars that require little time to organize your daily and monthly schedules. Digital alternative helps you update your personal to-do list and keep track of your tasks and appointments with great ease.
All in all, the free online August calendar planner by Bordio is the best bet because:
You can set reminders for events and always stay on schedule.
You can edit or delete your monthly tasks with one click.
You can write an unlimited number of notes.
Digital planners are always at hand, whatever the circumstances are.
Besides a monthly calendar, Bordio offers a daily productivity planner, where you can apply different colors to different activity types.
Start filling each page of your August calendar planner and manage your week effectively.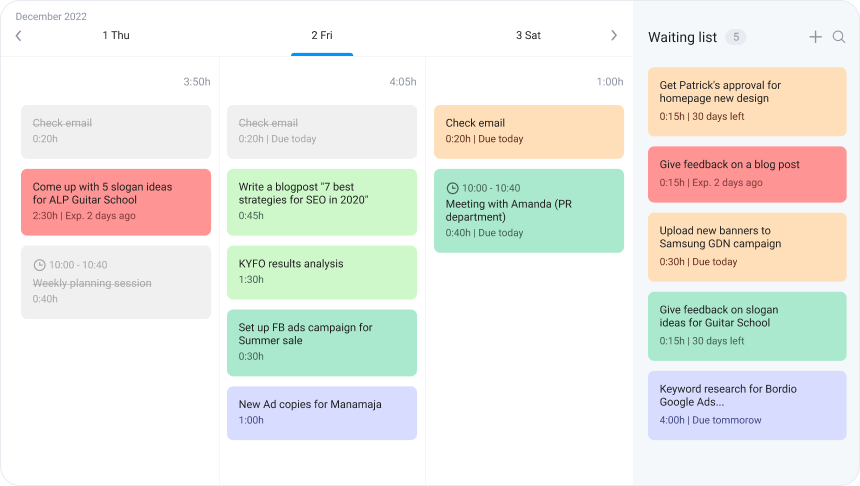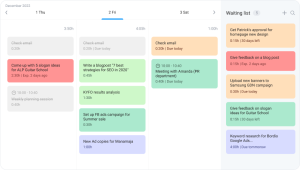 Horizontal August 2023 calendar templates
The Bordio team created multiple styles of August 2023 calendar templates which you can download in PDF format and print for free. You can choose as many printable calendars as you like, and don't forget to share them with your friends. August 2023 calendar in portrait orientation is vertical and longer, whereas the layout of the landscape orientation calendar is horizontal and broader. What to choose is up to you. Both are equally convenient for printing and using.
Cute August 2023 calendars for print
Pick and download a free August 2023 calendar that matches your taste. There you can find portrait orientation calendars along with landscape orientation ones.
August 2023 event calendar
August is known for having no federal holidays. At the same time, it is famous for having strange days and events which are celebrated throughout the whole month. Turn your monthly calendar into an event calendar and enjoy your August 2023 holidays.
National Mountain Climbing Day on August, 1
National Watermelon Day on August, 3
National S'mores Day on August, 10
Left Hander's Day on August, 13
National Roller Coaster Day on August, 16
Stuffed Green Bell Peppers Day on August, 28
National Marshmallow Toasting Day on August, 30
Note that besides national holidays, you can include personal events such as birthdays, anniversaries, or parties.
What to include in your August 2023 calendar planner?
September is around the corner. Did you manage to relax properly in June and July? August is the last month to enjoy the rest and recuperate for the upcoming work and school routine. So print your August 2023 calendar and include:
Books to read
Surely there are books that you promised yourself to read this summer and that have long been on the waiting list. So August is a great opportunity for self-education. If you are a bookworm, you may find a bunch of useful information on how to organize your books at home.
Download the free August 2023 calendar and fill each cell with books that you postponed reading.
Films to watch
If you are a cinephile, or you have accumulated a pretty long list of films recommended by your friends, then turn your monthly calendar into the movie-tracker planner and start your August with popcorn and a gripping movie in the company of close friends: more fun together!
Sports to do
Get yourself in shape before the rough September days. You can exercise daily or according to a weekly schedule. Keep notes of your workouts, water, and calorie intake, and don't forget to take a break.
Use the August 2023 calendar as an online weekly planner for building exercise habits.
Events to hold
As it's been mentioned above, August is rich in events. Download any of the printable August calendars, print them, and organize your event calendar. Mark each day of the August 2023 calendar with bright colors and diversify your schedule with entertainment.
Places to visit
August is the last vacation month, so pack your bags and set off on a journey. Decorate your monthly calendar with photo cards of places that you plan to visit, and make notes of popular sightseeing places, exhibitions, and dishes you want to try.
Incorporate week numbers
Time flies so fast, and if you want to slow down and remain productive, add week numbers to your calendar and draw up a weekly schedule. In Bordio's blog post, you will discover useful literature which will teach you some more productivity tricks.
August was named after the emperor of Rome, Octavian Augustus, who was the great-nephew of Julius Caesar.
August is a harvest month.
August is the month when the first sandwich was invented, that's why August is called the month of sandwiches.
August was the sixth month in the original Roman calendar and used to be known as Sextilis.
August is the last winter month in the southern hemisphere.
August is the month of two zodiac signs: Leo and Virgo.

Sum up
August 2023 is the perfect time to start working on what you missed in the previous two months. Digital and printable August calendars will be indispensable for planning and scheduling your weekly and daily activities. You can also use the August 2023 calendar as a note-taking app, which will help you remember the basic stuff, be organized in all areas of life, and, most importantly – unload your head.
Don't forget to take a quick glance at your August 2023 calendar, check whether all tasks have been completed, and tune in to September 2023. If you missed these months, that's not a problem. You can always download Bordio's free printable August 2023 and September 2023 calendars.
Track your progress with Bordio and stay motivated for the rest of the calendar year!