November was the ninth month of the ancient Roman calendar, and it took its name from the Latin word 'novem,' meaning 'nine.' Today November is the eleventh month when most countries begin to experience cooler temperatures and even snow. In the Northern hemisphere, November is the last month of autumn. A dreary, depressing weather characterizes this period. Nature is preparing for winter: strong winds blow, and rain turns into snow. You might feel overwhelmed and unwilling to do anything. But we guarantee that our free printable calendars will awaken your desire to plan and act.
Free Printable November calendars
This year November starts on Wednesday, the middle of the work week. According to some experts, Wednesday is a perfect day for time off. Take a break to build strength for the week's second half.
Stay organized with a free printable November calendar available in multiple styles. You can choose portrait orientation calendars and landscape orientation ones. Pick any template that matches your aesthetics, press the download button, and print it for free.
Digital planning with November 2023 calendar
Printable yearly and monthly calendars offer more variety – multiple design pages, sizes, and various options for decoration, such as stickers, colored pencils, stamps, tapes, and others. But a printable calendar template is not as versatile as its digital alternative:
No notifications to remind you of important tasks.
No editing function. Once you start using it, you can't edit or delete the notes. You need either to print a new calendar or to use a correction fluid that will look unsightly.
Limited space. You cannot write as many notes as you want.
A digital November 2023 calendar also helps you combine tasks, notes, and deadlines in a single place. You can try to add some tasks to the waiting list and perform them later.
Therefore, we advise you to use an online planner app instead of a printable calendar and make the planning process much faster and easier.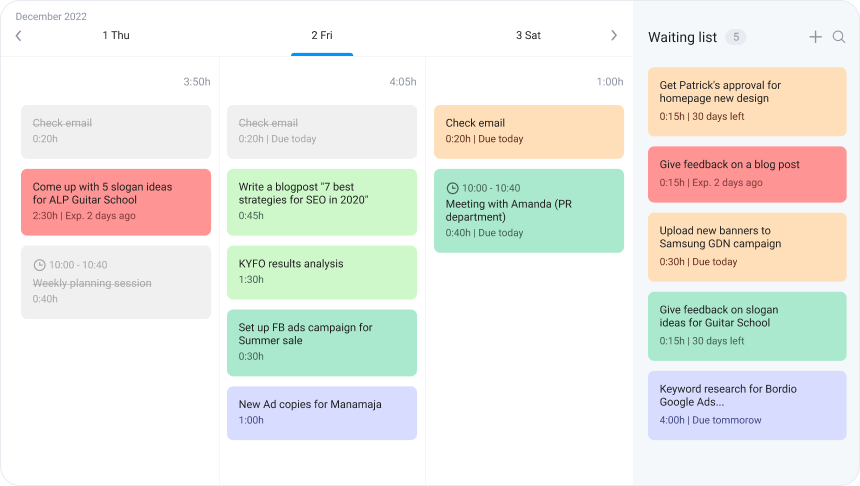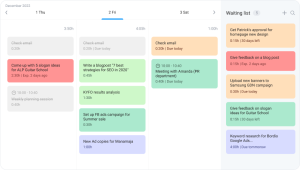 With Bordio's digital November 2023 calendar planner, you can easily switch from weekly to daily plans, log and track your appointments and important events in your smart to-do list, and crush your goals in no time!
Horizontal November 2023 calendar templates
The horizontal November 2023 calendar is a perfect goal-achieving tool. Pick and download any monthly calendar template in portrait or landscape orientation, print it for free, and plan out your month!
Cute November 2023 calendar templates
Here you will find a number of lovely November calendars to help you organize schedules and be up to date with all your assignments. Choose a monthly calendar template you like the most, click on the download button, and print it. Depending on your taste, you can also print landscape or portrait orientation November calendars.
Planner ideas for November 2023
The November 2023 calendar planner will work for you if you clearly understand how to use it. Below you can see several tips for getting the best out of your November 2023 calendar:
Gratitude list
Cloudy November weekdays can make you sad and depressed. In these moments, you need faith in good and optimism; you need to see that there is something positive in every day. Be grateful for every nice little thing. For example, thank your friend for showing up on time, your neighbor for keeping the yard clean, and your boss for being patient. Your attitude towards the people around you and the world will improve.
Start writing down what you're grateful for in the printable November 2023 calendar and see how your life has changed.
Event Calendar
November has four significant holidays: Election Day, Veterans Day, Thanksgiving Day, and Native American Heritage Day. Don't forget to mark them on your November 2023 calendar with any bright color. We also recommend you include other holidays, such as Black Friday, American Football Day, National Sandwich Day, birthdays, and anniversaries. Well, November is an eventful month. So convert your monthly calendar into an event calendar and spend time with fun.
To-do list
Do you know that using a planner reduces stress levels? Don't you feel proud of yourself when you tick each fulfilled task off? Let's check it. Download the November 2023 calendar, fill the first week with the most significant commitments, and start accomplishing each task day by day, inserting the start date and due date.
How to use a printable November 2023 calendar effectively
There is an array of tips for effective planning. Below we have presented the essential ones to help you lead a productive life:
Prioritize your goals
If you want to be good at multitasking, learn to prioritize your goals. Why do some people manage to complete ten or more tasks in a short time, and some people cannot accomplish even two tasks in one day? Successful people know how to spend a limited time efficiently. They jot down all the accumulated tasks and rank them according to their urgency. This method will help you cope with multiple tasks and not get bogged down by a routine.
Plan weekly
A weekly planner is of much help in scheduling recurring tasks and events. Wherever you are, a November calendar will facilitate you to achieve your goals by defining your weekly objectives.
Keep track of your goals on a weekly basis; add week numbers to your weekly calendar planner.
Keep the planner by your side
Hang the November 2023 calendar in the most prominent place in your room or office so that you are always aware of all the affairs and events. And it would be even better if you installed an online November 2023 calendar on your smartphone, so you can look at your planner at any moment, view your to-do list, and make changes.
November holidays
As it's been mentioned above, the November calendar can be utilized as a National holiday calendar:
Election Day on November 7 (Tuesday after the 1st Monday)
Veterans Day on November 11
Thanksgiving Day on November 23 (the 4th Thursday of November)
Native American Heritage Day on November 24
Black Friday on November 24
Famous November birthdays
Those who were born in November are Scorpio and Sagittarius. These zodiac signs are temperamental, energetic, and imaginative. November gave the world many outstanding personalities:
Mark Twain, November 30
Winston Churchill, November 30
Leonardo DiCaprio, November 11
Scarlett Johansson, November 22
Some interesting facts about November
The main flower of November is the chrysanthemum.
The birthstone of November is a radiant topaz.
Shakespeare never mentioned November in his works.
It is believed that children born in November can achieve great success in sports. This is because the main time of the mother's pregnancy falls on sunny weather; the body receives a large amount of vitamin D. Therefore, children are born healthy and energetic.
Left-handers are often found among those who celebrate their birthday in November.
In Finland, November is called Marraskuu, the month of the dead.
The Anglo-Saxons called November "Blod-Monath," i.e., "bloody month" because, in November, they sacrificed animals to their gods.