December is the first winter month and the last month of the year. In the modern Gregorian calendar December is the twelfth month, but back in Roman times, it was the tenth month, and its name was derived from the Latin word 'decem,' which means 'ten.'
But for all of us, December is primarily a Christmas and pre-New Year month. Due to the imminent onset of the upcoming holidays, December is full of pleasant fuss. You must go around many shops to buy food for the festive table and prepare presents for your family and friends. Plus, things keep coming up at work, and the main question is how not to go crazy in the lead-up to the December holidays.
Bordio's team took care of it and created printable December 2023 calendars to help you stay organized and productive during the holiday rush.
Free Printable December calendars
December 2023 starts on Friday, the last day of the working week. Spend this day scheduling your weekly and daily commitments in a printable December 2023 calendar template.
If you want to get your free printable December 2023 calendar, simply click on the image of the calendar template you liked the most, download it in PNG or PDF formats, and print it for free! You can print multiple calendars for different categories of tasks: work projects, daily commitments, important events, etc. Furthermore, the December 2023 calendars have enough space for adding lengthy notes and remarks.
The December 2023 calendar is also available in multiple styles. You can choose a portrait orientation calendar or a landscape orientation one. Moreover, you can get a monthly calendar with a Sunday or Monday start – all for your comfort.
Choose one of the printable December 2023 calendars and start effective planning!
Planning online with December 2023 calendar
Free printable monthly calendars will complement the festive decoration. You can decorate your December 2023 calendar in New Year's style by adding colored paper snowflakes and stickers with pictures of Santa Claus and elves.
Yet, due to their limited features, printable calendars can't fully help you stay organized. If you carry a printable calendar planner, you also need supplies such as pens, erasers, and highlighters, which you can accidentally leave at home or in the office. Moreover, keeping notes by hand is time-consuming, especially on the eve of the holiday fuss.
In this case, it is advisable to use a digital calendar:
You can take an online calendar planner with you anywhere
If you are not a fan of handwriting, then a digital calendar is for you
It is easy to fix mistakes and edit notes
It is easy to share your plans with others
And the most crucial feature of digital calendars is that you can set notifications to remind you of important tasks.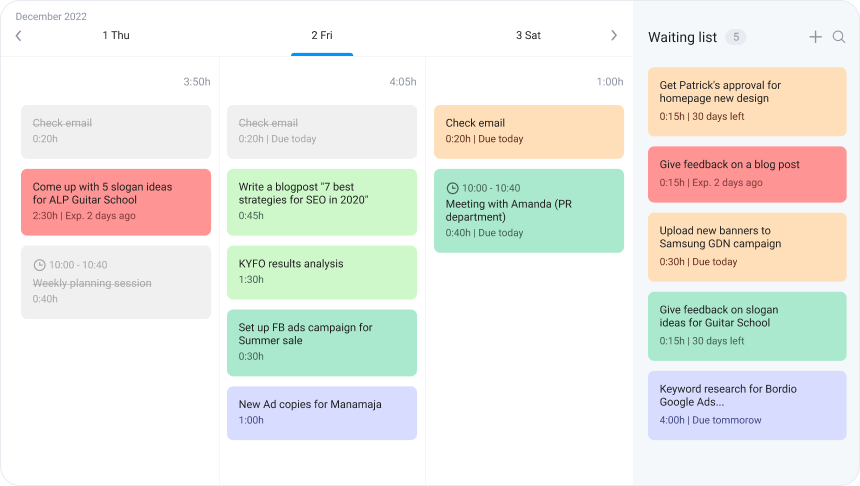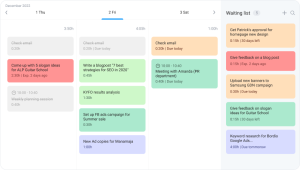 With Bordio's digital December 2023 calendar planner, you can easily switch from weekly to daily plans, log and track your appointments and important events in your versatile to-do list, and crush your goals in no time!
Horizontal Calendar 2023 calendar templates
Here we have tried our best to provide you with simple yet handy printable Monday and Sunday start December calendars.
If you want to plan your monthly schedule or events, this horizontal December 2023 calendar is a perfect choice. Pick a monthly calendar template in portrait or landscape orientation, download one today, and schedule your month straight away!
Cute December 2023 calendars
Here you will find a number of beautifully designed printable December calendars to help you stay organized and be up to date with all your tasks. You can print a landscape or portrait orientation monthly calendar, depending on your taste. Click on the button underneath to download a free December 2023 calendar.
Tips for organizing your December 2023 calendar
Fill your printable December 2023 calendar with things contributing to your productivity. Below you can see several tips for getting the best out of your December 2023 calendar:
A wish list
December is a magical month when your most cherished dreams can come true. Of course, Santa Claus is unlikely to be able to fulfill all your dreams if you do not make any effort. We advise you to list your wishes and set a deadline by which you will achieve them.
Start writing down your desires in the printable December 2023 calendar and watch your dreams gradually come true.
Event Calendar
Bordio's team offers a wide range of monthly calendars, which can help track upcoming holidays and significant dates like birthdays or anniversaries. You can add notes to special events and set reminders in your online December 2023 planner. So convert your monthly calendar template into an event calendar, and have a fantastic time!
Yearly overview
As you start filling out your December 2023 calendar template, look back at the previous months (October 2023 and November 2023) to see what you've achieved so far and what you haven't.
Download the printable December 2023 calendar, and fill it with the most significant accomplishments for the passing year.
How to stay productive with your December 2023 calendar?
December is a hectic month. Leading a healthy and productive lifestyle amid the festive bustle is difficult.
Download December 2023 calendar and follow these tips to stay focused on your plans:
Plan weekly
We recommend you schedule your tasks for the week ahead. Weekly planning allows for analysis and reflection on mistakes, reducing the risk of new problems arising next week.
Print a December 2023 calendar, add week numbers, and plan your commitments on a weekly basis. Visit our website page for more Monday or Sunday start calendar templates, or install a free weekly planner app on your smartphone.
Prioritize your goals
Don't clutter up the to-do list with too many tasks. Try to focus on the main events of your productivity daily planner. Determine your main tasks and write them down first. Then think about what goal you should fix your attention on first. Avoid secondary tasks and activities unrelated to achieving the main goal.
Reward yourself
Encouragement motivates you to move forward. Hence, motivation is the main trigger to success. Therefore, reward yourself for your accomplishments to stay motivated and willing to move on.
December holidays and observations
Don't forget to mark these special days in your December 2023 calendar:
Human Rights Day on December, 10
Green Monday on December, 12 (the 2nd Monday of December)
Christmas Eve on December, 24
Christmas Day on December, 24
New Year's Eve on December, 31
Some interesting facts about December
December's birthstone is Tanzanite.
December 22 is the shortest day of the year.
December is the last winter month in the Northern hemisphere, whereas, in the southern hemisphere, December is the beginning of summer.
December is the month of two zodiac signs – Sagittarius and Capricorn.
Initially, December had only 30 days, according to the ancient Roman calendar. When people switched to the Julian calendar, an extra day was added to December, making it the seventh and last month of the year with 31 days.