Picture this: you're trying to navigate a vast and intricate maze. The end goal is clear, but the path to get there is riddled with twists, turns, and confusing intersections. How do you ensure you're on the right track and not just running in circles?
This "maze" of digital ads can be likened to their business communication landscape. Customers and potential leads reach out through ads on various channels, and companies must know which paths are the most effective and why. However, managing such intricate data and communication systems requires a guiding hand.
Enter Call Tracking Software. Much like a GPS for the intricate maze, it charts the course of the marketing campaign, showing businesses where their calls are coming from, which marketing efforts are paying off, and where there might be room for improvement. By providing marketers with a clear overview and deep insights into sales calls, these tools enable companies to streamline their communication efforts, optimize marketing campaigns, and enhance customer relations. Let's dive into how this software can illuminate the path for businesses, ensuring they never miss a call or an opportunity.
What exactly is Call Tracking Software?
Call Tracking Software serves as a comprehensive communication analysis and call-tracking solution tool for marketers. It's a digital platform crafted to give marketers empower businesses to measure and analyze the effectiveness of their marketing campaigns based on call conversions. Think of it like a bridge connecting marketing strategies to customer interactions over the phone. You can also try the services of marketing agency for saas to improve your company's marketing productivity. And for startups, we recommend marketing firms for startups.
Typically, this software offers features like source identification for inbound phone calls, recording capabilities, real-time analytics, call tracking features, and integration with other marketing tools. It's like having a magnifying glass over the telecommunication world for a business. By using it, companies can pinpoint which marketing channels ads, campaigns, or ads with specific keywords drive valuable phone calls. This way, businesses can optimize their sales strategies, make revenue, allocate resources more efficiently, and enhance customer interactions.
7 Foremost Call Tracking Software Solutions
Invoca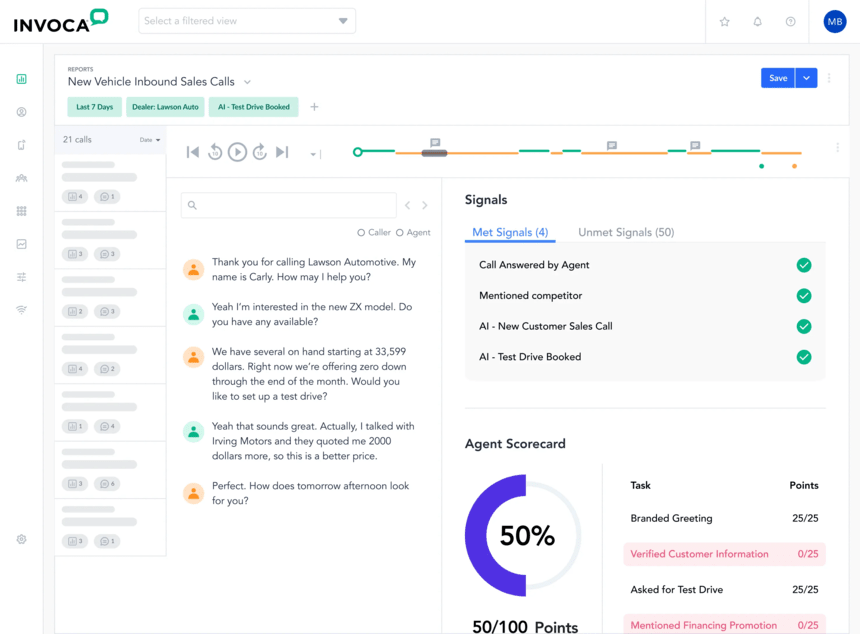 Invoca is the unrivaled leader in Conversation Intelligence AI, reshaping the way organizations perceive and utilize customer interactions. With deep integrations into leading technology platforms, Invoca turns conversations into actionable insights that drive efficiency and profitability. Its platform empowers marketing, e-commerce, and contact center teams to enhance every digital touchpoint and human interaction, leading to exceptional experiences, more conversions, and higher revenue.
In addition to its core Conversation Intelligence capabilities, Invoca provides an array of tools for deep data analysis, reporting, and seamless integration with existing workflows. This comprehensive suite allows organizations to optimize their operations, make data-driven decisions, and harness the full potential of their customer conversations, ultimately propelling them toward greater success in today's data-driven business landscape. We can also offer team tracking software for teamwork control and tools to manage remote employees for remote teams.
Key Features:
Call Attribution for ROI
Agent Efficiency Enhancement
Location-Based Experience Control
Real-time Data Activation
Seamless Workflow Integrations
800.com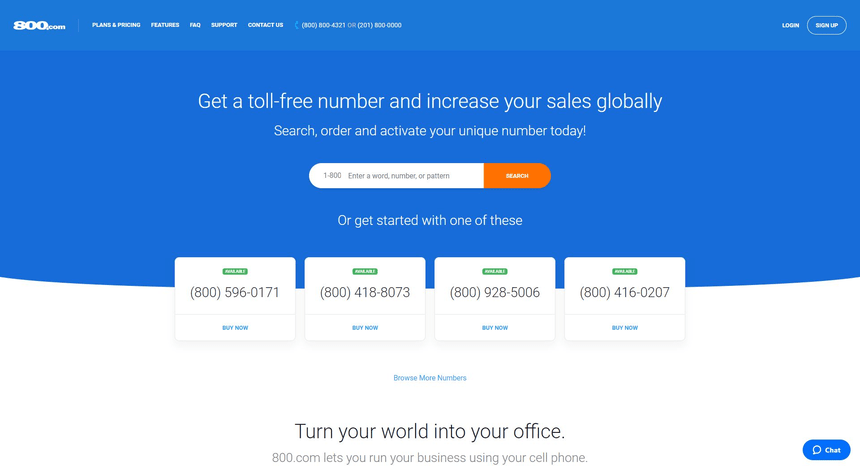 800.com revolutionizes business communications with its top-notch toll-free numbers, enabling companies to extend their global reach effortlessly. By securing a toll-free number from 800.com, businesses open doors to enhanced connectivity and global expansion. Managing and harnessing the potential of these numbers is straightforward, allowing organizations to break free from geographic boundaries and establish a worldwide presence, making every location their own.
With 800.com, businesses can transform the way they communicate, ensuring that customers and clients have easy access to their services. Whether it's through call forwarding, vanity numbers for brand recognition, precise call tracking, or detailed call analytics, 800.com empowers organizations to optimize their communication strategies and grow their operations on a global scale.
Key Features:
Call Forwarding Flexibility
Memorable Vanity Numbers
Precise Call Tracking
Detailed Call Analytics
Efficient Business Texting
Nimbata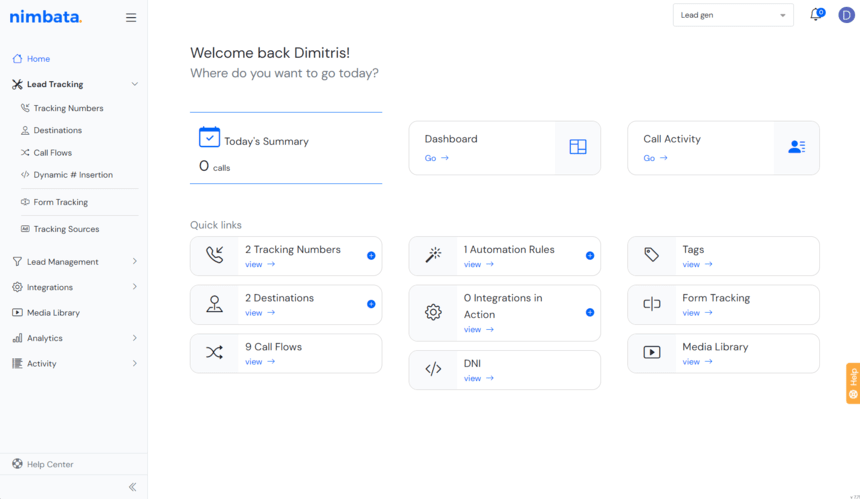 Nimbata empowers businesses to attribute phone leads accurately to their PPC and SEO activities. Say goodbye to skewed marketing performance results caused by untracked phone calls. Nimbata's Call Tracking solution saves valuable time and brings precision to conversions. Gain full visibility into the factors driving your phone calls, from search keywords to UTM codes, landing pages, campaigns, and click IDs. With Nimbata, you can easily distinguish between effective lead generation strategies and underperforming efforts that drain your budget.
The platform offers a rich array of reports and customizable dashboards, allowing you to analyze call analytics effortlessly and make data-driven marketing decisions. Furthermore, Nimbata's seamless integration capabilities ensure lead and conversion data accuracy, empowering you to optimize your strategies and share valuable insights with your team or clients. With Nimbata, exporting your marketing data is a breeze, making it accessible when you need it most. At Nimbata, we understand the importance of data, and we believe in sharing it, not hoarding it.
Key Features:
Accurate Call Attribution to Campaigns
Comprehensive Data Insights for Optimization
Customizable Dashboards and Reporting
Seamless Integration with Existing Tools
Effortless Data Export for Accessibility
WhatConverts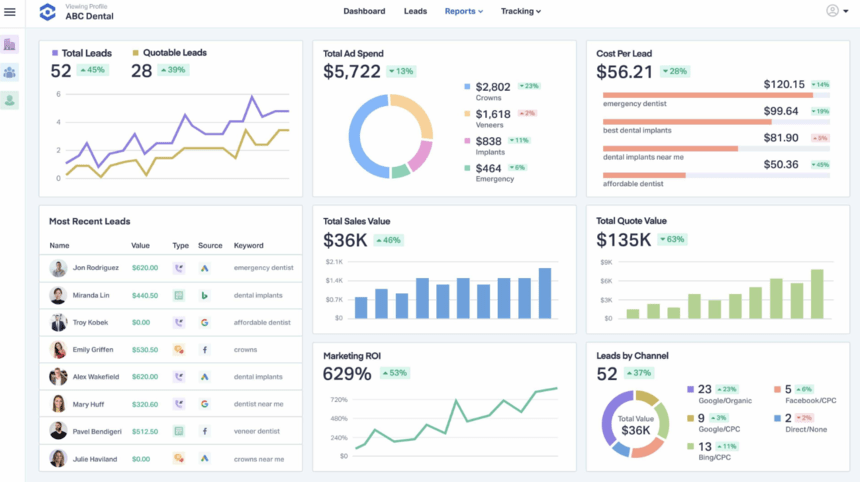 G2's top-rated software for inbound call tracking, WhatConverts gives agencies and marketers everything they need to prove and grow their ROI. It tracks 70+ data points on the call leads your marketing generates. Then, it shows you what marketing is working, where to spend more, and what to cut. Setup is simple (just add a single code snippet to your site) and the marketing insights it uncovers are gamechanging.
Plus, WhatConverts goes beyond standard call tracking. Get a full-picture view of your marketing with all your lead types (calls, forms, email, chat) in one place. Save hours per day by automatically qualifying, valuing, and actioning your leads. And integrate with Google Ads to target only high-quality prospects with your marketing.
Key Features:
Comprehensive Data Capture in One Code
Lead Quality Assessment with Lead Manager
Customizable and In-depth ROI Reporting
Enhanced Calls via Google Ads Integration
Automated Lead Qualification and More
CallTrackingMetrics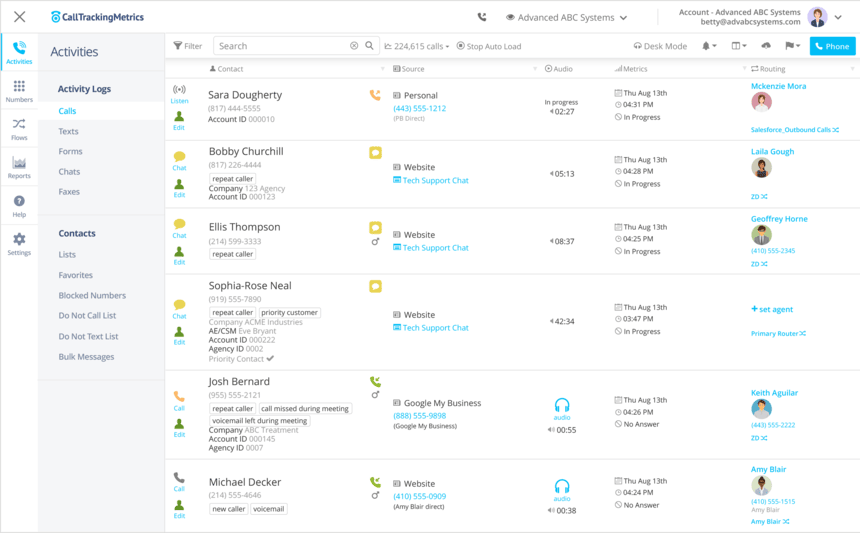 CallTrackingMetrics is the all-in-one solution for businesses looking to prove their ROI, boost conversion rates, and drive revenue growth. This powerful tool allows organizations to meticulously track and attribute every lead, whether originating online or offline, to the exact campaigns that generated them. With complete visibility into all marketing efforts, it empowers companies to maximize their ad spend and optimize their marketing budget.
Global organizations trust CallTrackingMetrics for its AI-driven insights, revealing what drives customer purchasing decisions. Analyzing call recordings, transcriptions, and live conversations uncovers invaluable customer insights. With closed-loop attribution, you can connect every lead source to the specific ad responsible for its generation, eliminating guesswork and facilitating data-driven decision-making. Streamlined call routing, reduced customer friction, and increased conversion rates are achieved through customized communication and segmentation, while automated lead scoring and seamless integration with leading marketing and analytics solutions enable insightful reporting and efficient follow-ups, all tailored to your unique business needs.
Key Features:
Precise Lead Tracking and Attribution
AI-Driven Customer Insights
Closed-Loop Attribution for Ad Campaigns
Streamlined Call Routing
Automated Lead Scoring and Reporting
Ringostat
Ringostat is a Business Phone and Marketing Performance Platform. It helps optimize marketing, considering ROI, build effective customer communication, and boost sales. Ringostat is the official technology partner of Google Analytics.
Ringostat products cover three main areas — analytics, communication, and sales, forming a single ecosystem. In addition to call tracking, Ringostat's products also include business telephony, AI, callback, and end-to-end analytics. They will allow you to get more conversions from existing traffic and clearly understand the ROI of each advertising channel. Also, sales reps will become more efficient: they will stop missing calls, hit customer needs more clearly, and successfully close deals with a higher average check.
Key Features:
Speech-to-Text and Multilingual Translation
109 Features with Clear Connection
Unified Softphone for Calls and CRM
Extensive Integrations, Including Popular CRMs
Rapid Tech Support and Customer Success
CallRail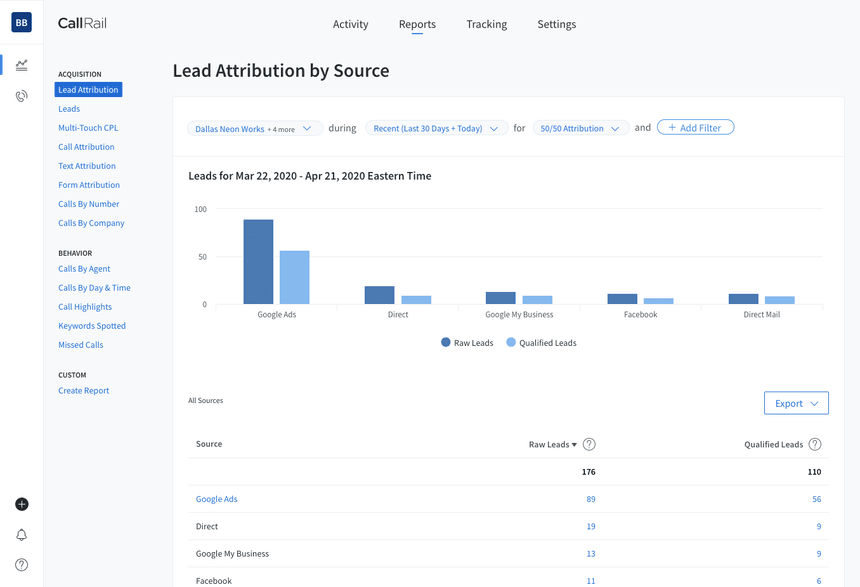 CallRail introduces groundbreaking advancements in AI call insights with Premium Conversation Intelligence®, ushering in a new era of AI-powered call analysis. This innovative technology provides precise, actionable, and automated insights into the factors that make your conversations exceptional. It empowers you to transform calls into valuable customers, enabling you to market with unwavering confidence.
CallRail's Call Tracking simplifies the monitoring of calls, texts, forms, and chats, offering a unified view comparable to tracking clicks. This robust platform equips you with the essential metrics required to optimize your marketing spend across various channels, from paid search to print ads, all within one powerful dashboard. With AI-powered Conversation Intelligence®, you can unlock valuable insights, including call transcripts, keyword highlights, and automatic lead tagging and qualification. This enables your team to focus on closing deals and ensures more informed and successful customer interactions, bringing unity and efficiency to your customer engagement efforts.
Key Features:
Premium Conversation Intelligence® for AI-Driven Insights
Comprehensive Call Tracking Across Channels
Automated Insights with AI-Powered Analysis
Unified Team Inbox for Customer Engagement
Enhanced Customer Conversations and Collaboration
How do you determine the best Call Tracking Software for you?
Selecting the right phone Call Tracking Software is much like choosing the ideal pathfinder for a trek – you need one that understands the terrain and guides or leads you to your destination seamlessly. Here's a breakdown to assist you in finding the perfect Call Tracking Software tailored to your own phone call-tracking needs:
Define Your Requirements:
Begin by outlining what your company specifically demands. Are you a small business needing basic insights or a multinational brand aiming for intricate data analysis? Knowing your goals is step one.
User-friendliness:
Test the software's interface. It should be intuitive and straightforward. Even if it's feature-rich, if it's not user-friendly, it may lead to slower adoption and inefficiency. A great example of a good interface is time management tools for work from Bordio. It is customizable and very easy to work with.
Scalability:
The software should be able to grow with your needs. You shouldn't have to switch platforms if your company expands or diversifies. Your chosen software should accommodate future growth.
Integration Potential:
The software should seamlessly blend with your team and existing ecosystem. Whether it's CRM tools, advertising platforms, Google Analytics, marketing attribution, tracking solutions analytics platforms, or analytics tools, integration ensures data flows without hiccups.
In-depth Analytics:
A top-tier Call Tracking Software should offer thorough insights – from call duration to caller location and the campaign that triggered the call. Visual representations can be constructive.
Collaboration and Feedback Mechanisms:
The platform should allow team members to share insights, annotate call data, or flag essential details. A collaborative environment maximizes the software's potential.
Cost-benefit Analysis:
Weigh the features against the price. While it's essential not to skimp on critical features, ensuring you're getting good value for your money is equally crucial.
Seek Real-world Feedback:
Look for reviews, ask peers, or join online forums. Authentic user feedback can give you a clearer picture of the software's strengths and weaknesses.
Training and Support:
Top-notch customer support can save you from potential headaches. Ensure the software vendor provides ample training resources, tutorials, and responsive customer service.
Security Protocols:
Given that you're dealing with customer data, security is paramount. Ensure your chosen platform adheres to industry-standard security measures, encrypts data, and follows best practices.
Why do you need Call Tracking Software?
Organizations, especially those with an entire sales team and strong after sales and marketing arm, find Call call-tracking software indispensable to customer success for the following reasons and distinctive features:
Streamlined Campaign Analysis: Call Tracking Software allows businesses to link phone call conversions to specific marketing campaigns directly. This helps ascertain the most effective strategies, offering a clear ROI picture.
Caller Insights: Understanding your caller demographics, behavior, and preferences is made possible. These insights aid in tailoring marketing efforts more accurately.
Real-time Data: Instantly access data on call durations, caller locations, call sources, and more. This immediate feedback allows businesses to adjust campaigns or strategies if necessary.
Enhanced Collaboration: Many call tracking systems enable multiple users to annotate, flag, and analyze calls. This ensures that different teams collaborate using the same data, from sales to marketing.
Reporting Features: Advanced reporting tools offer a breakdown of call metrics, helping businesses pinpoint areas of success and those needing improvement.
Transparency & Accountability: With Call Tracking Software, there's a precise log of all incoming calls, their sources, and outcomes. This transparency ensures accountability and aids in refining strategies.
Integration Capabilities: Most top-tier Call Tracking Software can seamlessly mesh with CRM systems, marketing tools, and other business platforms. This interconnected ecosystem ensures consistent data flow and more informed decision-making.
Adaptability & Scalability: Modern businesses are dynamic, and your tools should be too. Call Tracking Software can adapt to changing marketing strategies, new campaigns, or growth in call volume, ensuring you're always equipped to handle your needs.
Who is the target audience for a Call Tracking Software tool?
The target audience for a Call Tracking Software tool extends across various domains and sectors, showcasing its versatility and wide-ranging applicability. Here are some of these sectors for call tracking solutions:
Tech Companies: Both emerging tech startups and established technology giants can leverage Call Tracking Software to measure the effectiveness of marketing campaigns, especially if they're promoting a product or service via phone.
Financial Institutions: Banks, credit unions, and other financial bodies can employ Call Tracking to gauge the effectiveness of their customer service lines or promotional campaigns, ensuring they're reaching their intended audience.
Healthcare: Medical practices, clinics, and pharmaceutical companies can use call tracking to evaluate the effectiveness of their appointment reminders, patient outreach, or promotional campaigns.
Education: Institutions, whether traditional schools or online platforms, can utilize Call Tracking Software to assess the success of enrollment campaigns or student support services.
Retail and E-commerce: Retailers can pinpoint which advertisements or promotions drive phone inquiries or sales, ensuring optimal marketing budget allocation.
Manufacturing: Manufacturers, especially those with direct sales or support lines, can leverage Call Tracking Software to improve customer service or track sales inquiries.
Marketing Agencies: With multiple clients and various campaigns, these agencies can offer a more granular analysis of phone-based interactions, ensuring clients get a clear picture of campaign ROI.
Non-profits can track fundraising campaign effectiveness, donor inquiries, or other phone-based initiatives.
Real Estate: Realtors and agencies can determine which listings, advertisements, or promotions generate phone inquiries, helping them refine their marketing strategies.
Government Departments: Public service announcements, community outreach programs, or helplines can benefit from Call Tracking Software to gauge the effectiveness and reach.
Final thoughts on Call Tracking Software.
Consider Call Tracking Software as the radar system for marketing campaigns. It detects incoming signals (calls) and traces their origin (marketing sources) in a few clicks. For businesses, marketers, and clients of marketers of any scale, this system of call-tracking solutions is an invaluable asset.
A Call Tracking platform functions as an air traffic control tower for businesses, managing the inflow of website traffic and tracking the outflow of customer communications. Whether operating a local shop or an expansive e-commerce site, this tool provides visibility into which calls and marketing campaigns are landing and which might be missing the mark. Just as air traffic control ensures every aircraft finds its way safely to its destination, Call Tracking Software ensures marketing endeavors are directed effectively and measured accurately.