In an increasingly digitized world, the importance of well-organized and efficient workflows is glaringly evident. The challenge is in the plethora of workflow management software platforms available. It feels a bit like trying to find that proverbial needle in the digital haystack.
But there's no need for despair or overwhelm. That's where we at Bordio step in. Our mission? To save you the hefty task of navigating this crowded space. We've rolled up our sleeves and done the grunt work for you. Today, we take a deep dive into the realm of workflow management software, casting a spotlight on the top four platforms of 2023.
Are you a heavyweight in your industry? Or maybe you're just getting your feet wet as a startup? Either way, workflow management software is your secret weapon. It's your path to skyrocketing productivity, bolstering efficiency, and making task management a breeze. Let this article serve as your compass. Your guide to making sense of the sometimes overwhelming world of digital tools. We're here to help you make a decision that's not just informed, but one that will significantly enhance your team's capabilities.
So, sit back, sip your coffee, and join us on this journey into the exciting world of workflow management software. Say goodbye to inefficiency, and embrace a new age of productivity. Ready to dive in? Keep reading.
List of best Workflow management software
Comidor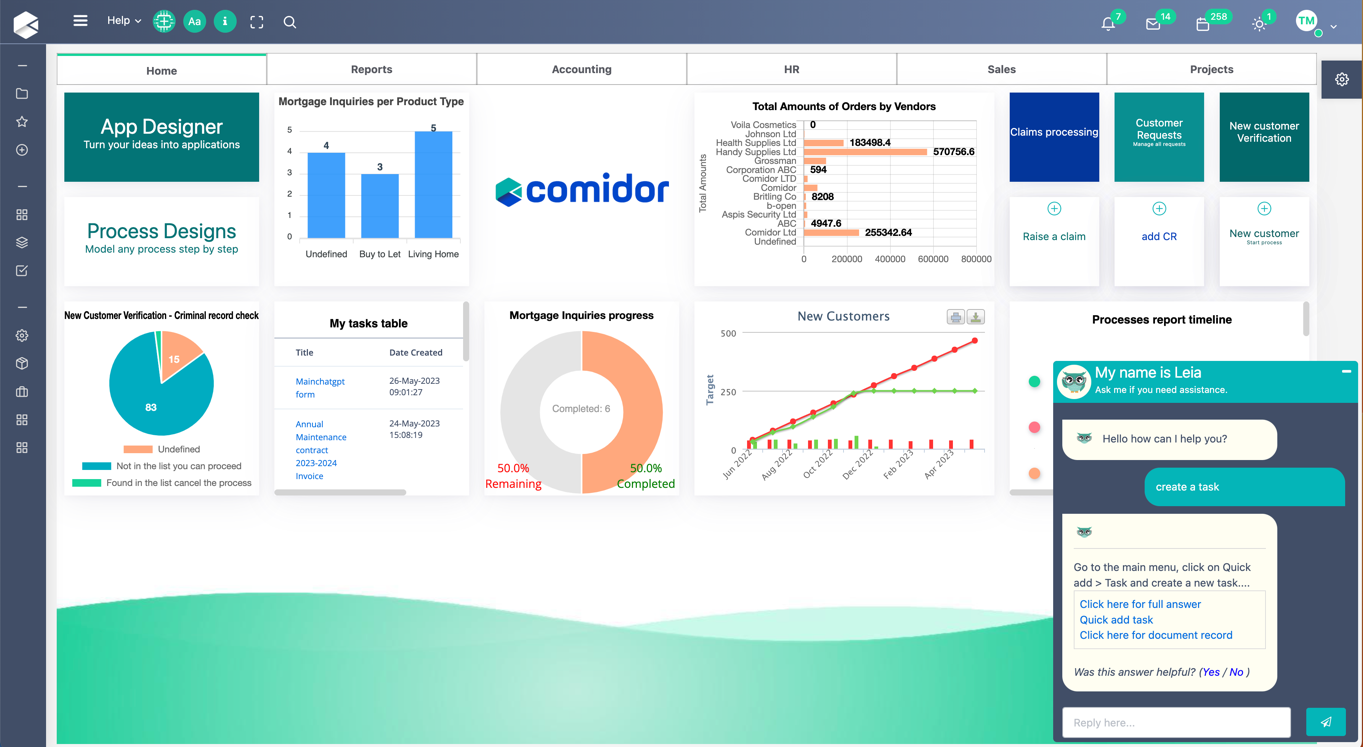 Comidor is a cutting-edge Low-code BPM Platform that enables businesses to automate any type of business process and empowers them to achieve rapid and continuous business improvement by harnessing the power of Low-Code BPM and hyper-automation technologies.
Overall, Comidor is an all-in-one platform for driving digital innovation and enhancing organizational productivity through the power of Low-code, BPM, and advanced technologies, such as RPA, AI, and ML. This comprehensive approach creates the digital workplace of the future, where organizations can design and build efficient business applications and automated workflows, streamline operations, and unlock the full potential of their digital transformation journey.
Key Features:
Low-code/No-code: users with no coding experience can design and build business applications with minimal effort.
BPM and Workflow Automation: BPMN2.0 compliant workflow engine with a set of tools to map out business processes visually using drag-and-drop interface
Intelligent Automation: integrates with Robotic Process Automation (RPA), Artificial Intelligence (AI) and Machine Learning (ML) technologies
Application Marketplace: out-of-the-box business apps for CRM, People Management, Project Management, Document Automation, Accounting and Finance
Digital Workplace: provides a digital business environment, productivity, and collaborative tools.
Creatio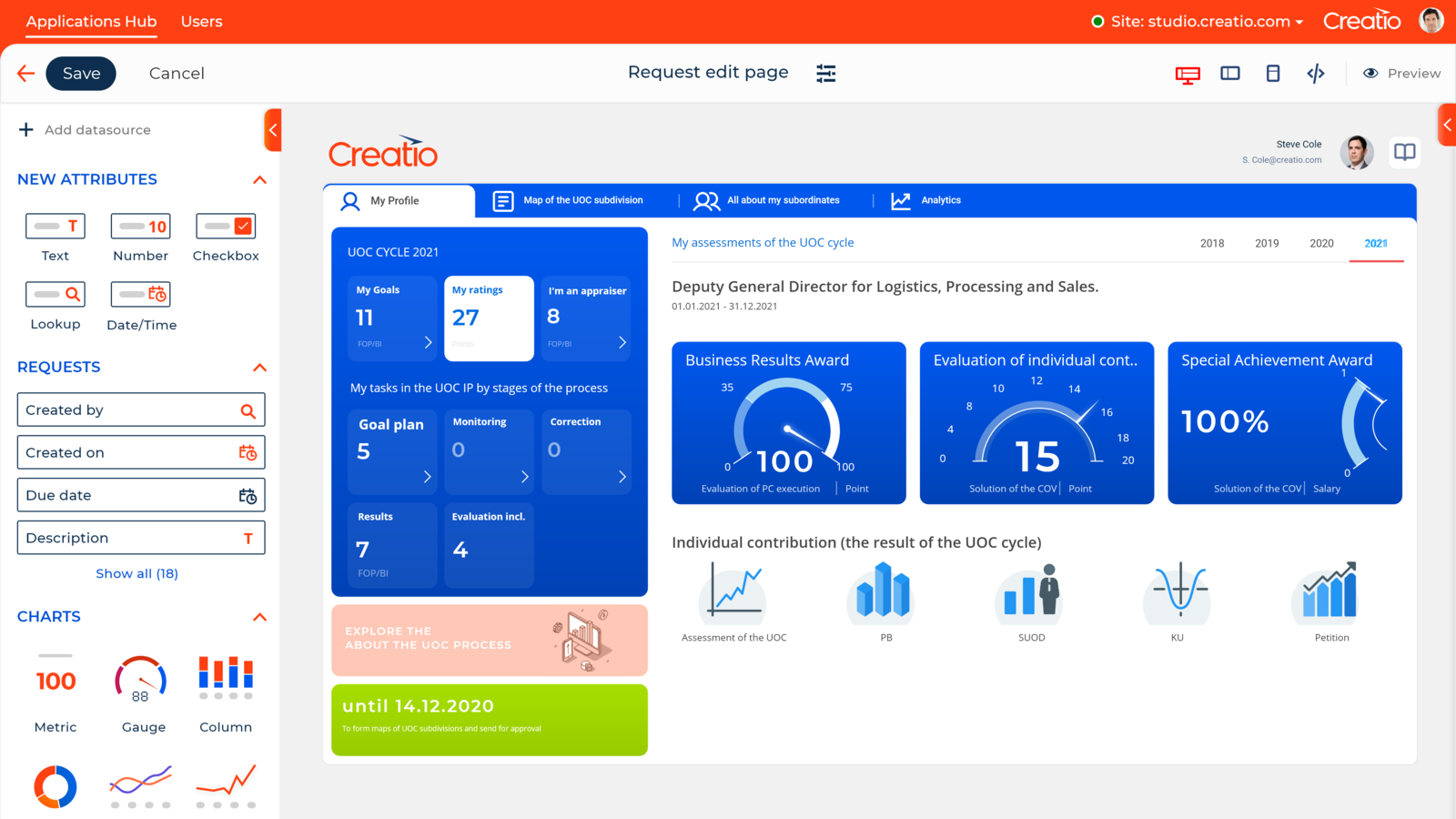 Creatio is the one-stop platform designed to maximize your efficiency by automating workflows and CRM in a way that doesn't require any coding knowledge. It delivers an unmatched degree of freedom for businesses, allowing them to adapt swiftly and meet the demands of the ever-evolving digital landscape. With the Creatio Application Hub, you can build applications in just a few clicks, manage instances, and promote collaborative no-code development processes. All of your available apps, connectors, and templates are visible in one consolidated view, making navigation effortless and straightforward.
Key Features:
Application Hub: Enables the building of applications in a few clicks
No-code Designer: Provides a comprehensive set of no-code design tools
Workflow Automation: Streamlines both structured and fluid processes with industry-leading workflow automation capabilities.
Integrations: Allows quick set up of integrations using SOAP and REST services with the help of ready-to-use connectors
AI and Machine Learning: Empowers decision-making and efficiency through easy-to-use AI/ML models
Nintex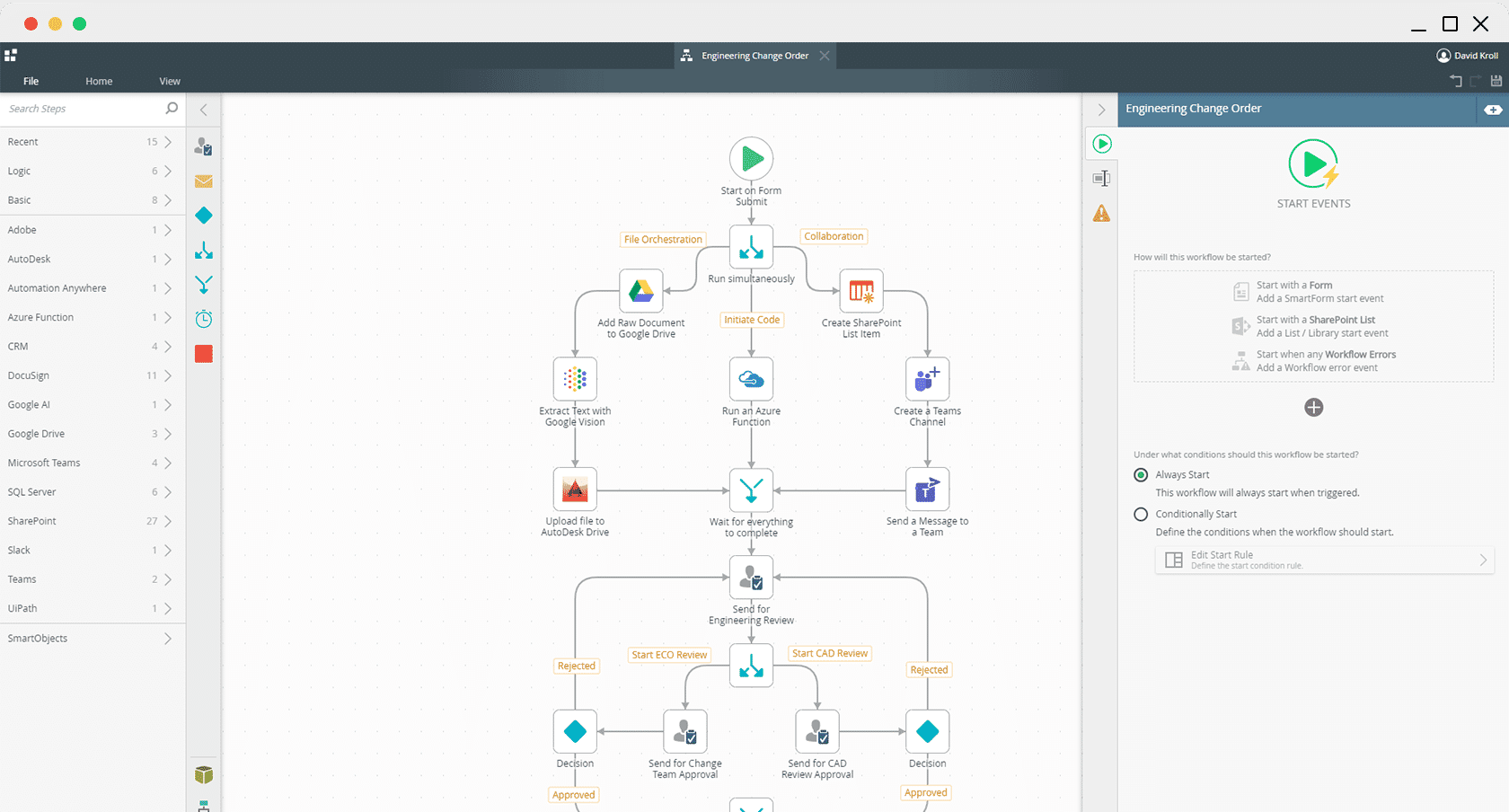 Nintex is an intelligent process automation and workflow software that brings flexibility at your fingertips, enabling teams to transform their work routines. The platform is renowned for its ease of use and powerful features that propel the digital transformation of organizations, allowing for faster transition into more automated, efficient systems. It starts by helping you uncover automation opportunities, and then guides you through implementing and measuring the efficiency of your new workflows, ensuring you have total control over your processes.
Key Features:
Process Discovery: Automatically identifies and maps task-level processes, offering insights for automation and optimization.
Process Manager: Allows for the documentation, mapping, and management of every process within the organization.
Automation Cloud: Provides cloud-based apps for connecting people, processes, and data.
Intelligent Forms: Enables the creation of digital forms for data display or capture.
RPA: Automates manual, repetitive tasks through Robotic Process Automation, reducing time and human error.