Imagine you're trying to complete a jigsaw puzzle. You have all these pieces spread out and need a clear picture to guide you.
For businesses, these "puzzles" are their goals – targets they want to hit, things they aim to achieve. But unlike a jigsaw puzzle that you might work on alone, a whole team in a company is trying to fit those pieces together. And sometimes, they need some help to see where each piece goes.
That's where OKR software comes in. It's like that guiding picture on the jigsaw box, helping everyone in the company understand the big goal and their part in reaching it. Let's explore how this software simplifies the process and allows businesses to perform at their best and track progress.
What exactly is OKR Software?
OKR software acts as a performance management platform and is a digital OKR tool designed to help team members in organizations set, track, and manage their goals. It's about setting big-picture goals (Objectives) and identifying the measurements (Key Results) to achieve them.
This software typically includes functionalities such as monitoring progress, graphical representations, and tools for teamwork. This ensures that all team members have a clear view of their performance and can cooperate seamlessly. It provides a unified approach for everyone to pursue shared objectives in an organized way.
10 Leading OKR Software Solutions
BetterWorks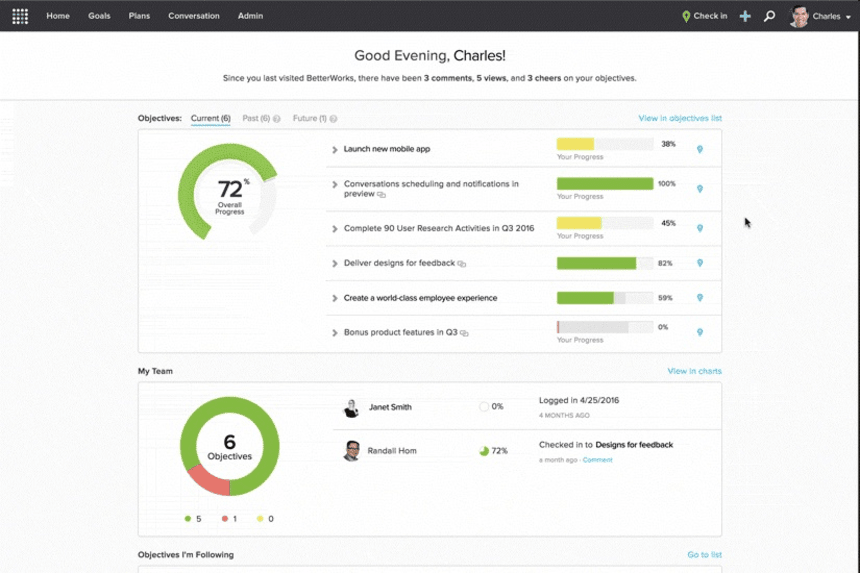 Betterworks serves as the modern solution for performance management, assisting HR professionals in fostering increased employee engagement, manager efficiency, and tangible business results. Through transparent goal setting and tracking, the platform aligns the workforce with organizational strategic priorities, encouraging collaboration across teams. This alignment is paramount for global industry leaders who trust Betterworks to tie their daily efforts seamlessly to overarching business strategies and results.
With a focus on data-driven performance strategies, Betterworks presents comprehensive employee performance analytics and insights. This enables organizations to make informed decisions and implement strategies that elevate both the business and its employees. The platform aggregates rich data from various employee metrics, juxtaposing them with demographic benchmarks. User-friendly dashboards present these findings, allowing HR leaders to strategize and adapt, ensuring they're investing in activities that drive performance or reallocating resources to areas that demand attention and development.
Key Features:
Transparent Goal Setting and Tracking.
Employee Performance Analytics.
Data-Driven Strategy Implementation.
Intuitive HR Dashboards and Insights.
Cross-functional Collaboration Enhancement.
Weekdone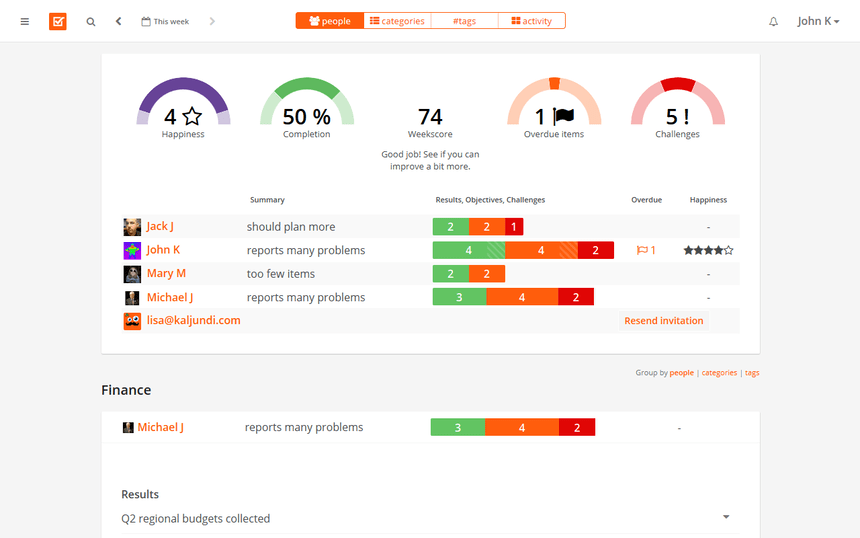 Weekdone is a comprehensive OKR software designed to streamline goal-setting and tracking within organizations. It seamlessly integrates quarterly OKRs with weekly updates, ensuring alignment and facilitating easy progress monitoring across teams. This tool simplifies OKR management, aiding in effective strategy execution by offering insights into weekly plans, employee sentiments, and overall progress.
In addition to its core OKR features, Weekdone offers robust weekly planning and reporting tools. Automated status reports and custom templates enable managers to maintain a clear overview of team activities. Continuous performance management is emphasized with built-in tools for 1:1 feedback, pulse surveys, and team announcements. These features culminate in a platform that not only tracks goals but also fosters a motivated and engaged workforce.
Key Features:
Quarterly OKRs with Weekly Updates.
Comprehensive Project Tracking & Planning.
Automated Weekly Status Reports.
Pulse Surveys and Employee Feedback.
Private 1:1 Conversations & Agendas.
Huminos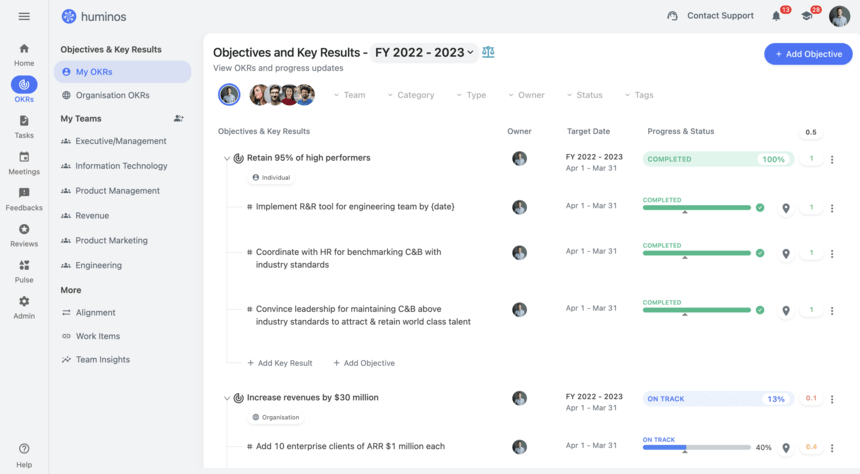 Huminos stands at the forefront of comprehensive OKR software solutions in 2023, purposefully engineered to enhance productivity and achieve impactful outcomes, especially for remote teams. This intuitive platform empowers businesses to aspire for growth by efficiently aligning their teams with easy-to-configure OKR tools, thus promoting a culture of continuous conversations, coaching, and celebrations.
Huminos offers capabilities that go beyond mere tracking, such as engaging team members through campaigns, pulse surveys, and feedback mechanisms. Additionally, the software smoothly integrates with popular team tools like Slack, Zoom, and Microsoft Teams, ensuring a streamlined workflow and maximizing focus on growth objectives. From its e-learning feature, OKR Coach, designed for managerial growth to its real-time culture tracking, Huminos is a holistic solution for businesses aiming to maintain a sharp focus on their larger goals while efficiently handling day-to-day operations.
Key Features:
Comprehensive Remote OKR Software.
Engaging Performance Culture Tools.
Advanced Performance Calibration.
Seamless Tool Integrations.
Managerial E-Learning Module.
Perdoo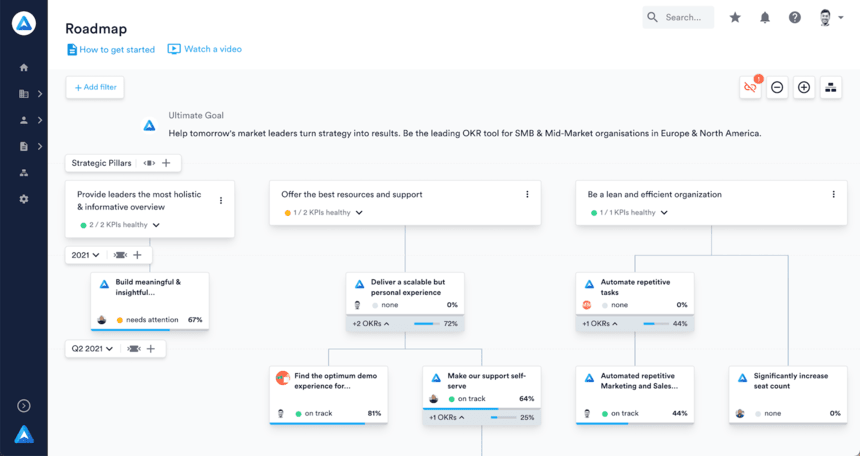 Perdoo is a leading software for strategy, goals (OKRs & KPIs), and performance management. Over 2000 organizations worldwide use Perdoo to align everyone with the company strategy, focus teams on goals (OKRs & KPIs) that matter most, and engage employees to achieve goals and feel their best at work.
With Perdoo you can expect everything in one place, superior goal management, and industry-leading services. By consolidating strategy, goals, and performance management, Perdoo provides you with all the context to make your Check-ins, 1:1 meetings, and Performance reviews far more impactful than ever before. By combining OKRs and KPIs, and offering advanced functionality for both, we let you tap into the full potential of company-wide goal setting and tracking.
Key Features:
Strategy Map for Company Alignment.
Unified Goals: OKRs & KPIs.
Efficient 5-minute Check-ins.
Collaborative 1:1 Conversations.
Robust Reporting Options.
Profit.co
Profit.co is a leading OKR Management Software, tailored to meet the needs of businesses ranging from startups to large enterprises. Designed to help organizations execute strategies efficiently, Profit.co prioritizes goal-setting, alignment, and a high-performance culture. Users can seamlessly align their objectives with the company's overarching goals, thanks to the platform's robust alignment dashboards. Furthermore, the software boasts six types of key results, accommodating both measurable and trackable outcomes, and over 400 inbuilt and custom KPIs, simplifying the OKR setting process.
Ease of use is at the heart of Profit.co, with intuitive step-by-step guides and OKR templates allowing users to establish objectives in under five minutes. Weekly check-ins ensure consistent progress tracking, while the comprehensive company dashboard provides real-time insights into performance at all organizational levels. The platform also fosters collaboration through features like @mentions and #tags. Founded by Bastin Gerald, an expert with over two decades of experience in Hoshin Kanri and OKRs, Profit.co's vision is clear: to transform businesses into metrics-driven, objective-focused powerhouses.
Key Features:
Robust OKR Management and Alignment.
Six Types of Key Results.
Intuitive OKR Templates and Guides.
Comprehensive Company Dashboard Insights.
Collaborative Tools with @mentions and #tags.
Weekly10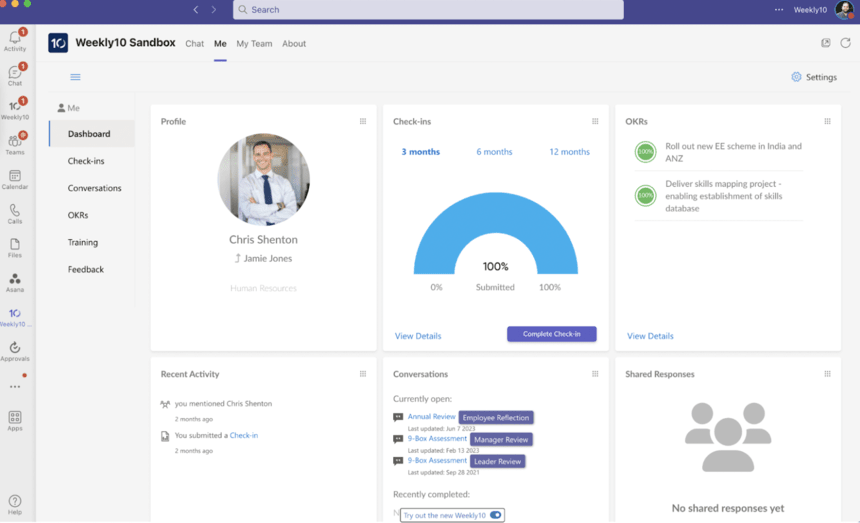 Employee performance software that lets employees check-in from anywhere – Weekly10 puts your employees in control of their engagement and performance.
Built around a simple, habit-forming employee check-in, Weekly10 allows employees to share feedback, get support, set and update OKRs or schedule in a 1:1 with their manager. Performance conversations such as appraisals become 90% automated and evidence-based, improving effectiveness and efficiency. And a suite of AI-powered analytics give managers a real-time view of how people are feeling as well as performing.
Key Features:
Weekly Check-ins Build Trust and Rapport.
Integrated Weekly OKRs Eliminate Outdated Targets.
Automated Performance Reviews for Improved Outcomes.
AI-Powered Analytics Gauge Employee Sentiment.
Exclusive Engagement and Performance Tool in Microsoft Teams.
Tability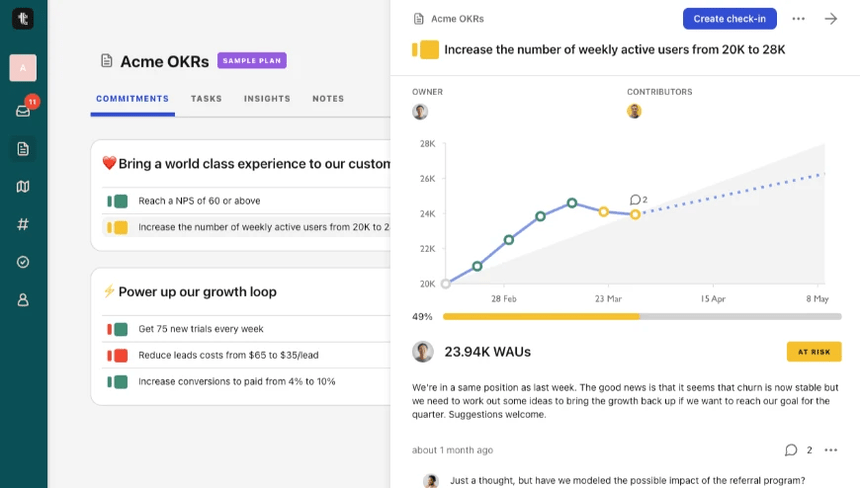 Tability revolutionizes the OKR process with its advanced AI capabilities. The GoalsGPT editor allows users to effortlessly create SMART goals, ensuring clarity and precision in organizational objectives. Furthermore, if you're ever uncertain about how to attain a particular outcome, Tability steps in to recommend relevant initiatives, streamlining the strategy formulation process. This seamless alignment is further facilitated by the strategy map, which visually organizes the company's goals, ensuring everyone is on the same page.
Weekly automated check-ins maintain team accountability, ensuring everyone stays on track and any issues are promptly addressed. Integrating with various tools, Tability guarantees that data remains current, making it a hub for all organizational progress. Moreover, the AI Coach is always at hand, offering insights and advice. It analyzes your ongoing progress, suggesting ways to accelerate achievement. With Tability, organizations are equipped with a robust platform for comprehensive, efficient goal management.
Key Features:
AI-powered SMART goal creation.
Initiative recommendations for outcomes.
Visual strategy map alignment.
Automated weekly check-ins and data-sync.
AI Coach progress insights.
Mooncamp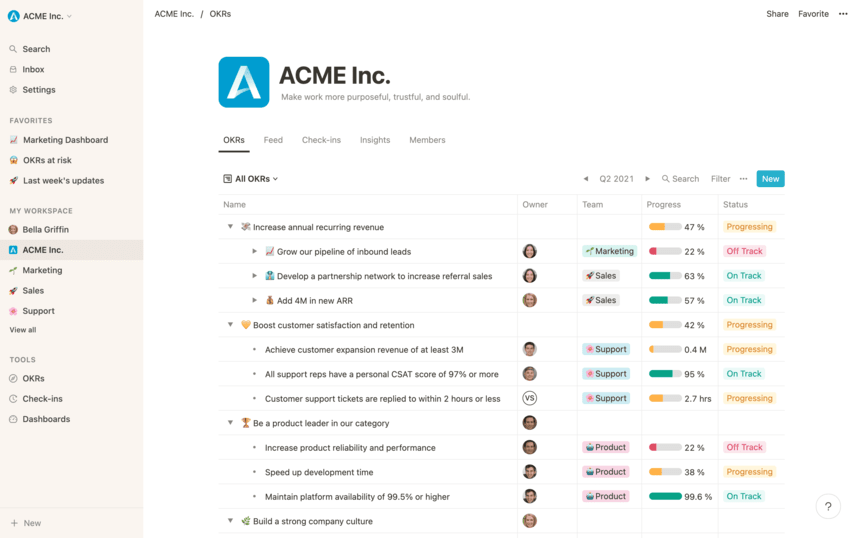 Mooncamp is a cutting-edge OKR software platform trusted by thousands of teams all over the world. It allows organizations to drive alignment and focus through the management and tracking of goals, prioritizing what truly matters. Mooncamp's flexibility sets it apart from other OKR platforms. Users have the freedom to customize every aspect of the OKR system, from adding custom properties to goals, creating new types like tasks or initiatives, to using their own company terminology.
Mooncamp's user-friendly interface is another standout feature that sets it apart in the market. Its intuitive user experience ensures that employees of all levels can easily engage with the platform, encouraging active participation in the OKR process. This high level of engagement, fostered by Mooncamp's exceptional user experience, leads to better team alignment, increased focus, and ultimately a more successful implementation of your OKR initiatives.
Key Features:
Integration with Microsoft Teams and Slack.
Automation of OKR Progress through Jira, Asana, Google Sheets.
Comprehensive Reporting Features.
Multi-alignment of Goals.
Advanced Features to Streamline the OKR.
Mirro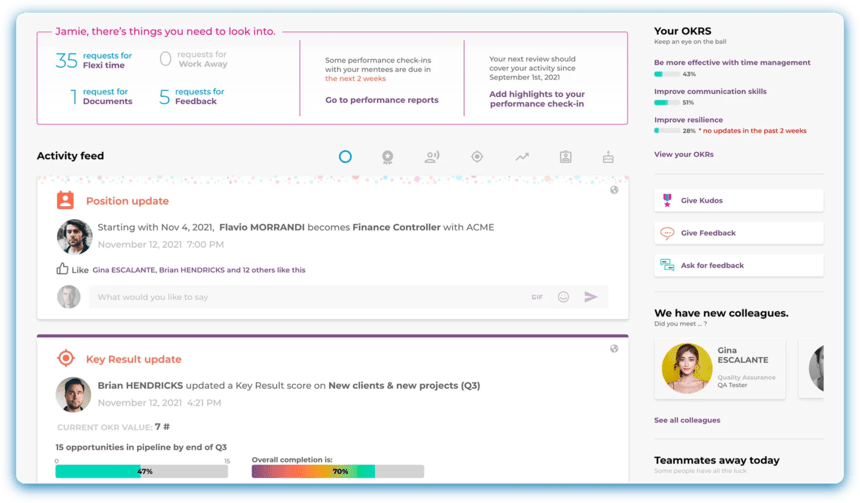 Mirro, the leading performance management software, is designed for forward-thinking companies aiming to drive both employee and business performance. Tailored to promote robust workplace cultures, Mirro prioritizes employee wellbeing and is instrumental in bolstering talent retention. As an indispensable part of global HR strategies, Mirro not only simplifies HR administrative tasks but also offers in-depth people analytics.
The platform champions a culture of growth and feedback, supporting flexible work models and fostering continuous improvement. Whether you're focused on maintaining a dynamic workplace culture, ensuring team alignment, or retaining top-tier talent, Mirro provides comprehensive tools, including an intuitive OKR framework, to navigate these goals seamlessly.
Key Features:
Comprehensive Performance Management Tools.
Advanced People Analytics Platform.
Continuous Feedback and Growth Culture.
Flexible Work Arrangement Support.
Intuitive OKR Framework and Tracking.
15Five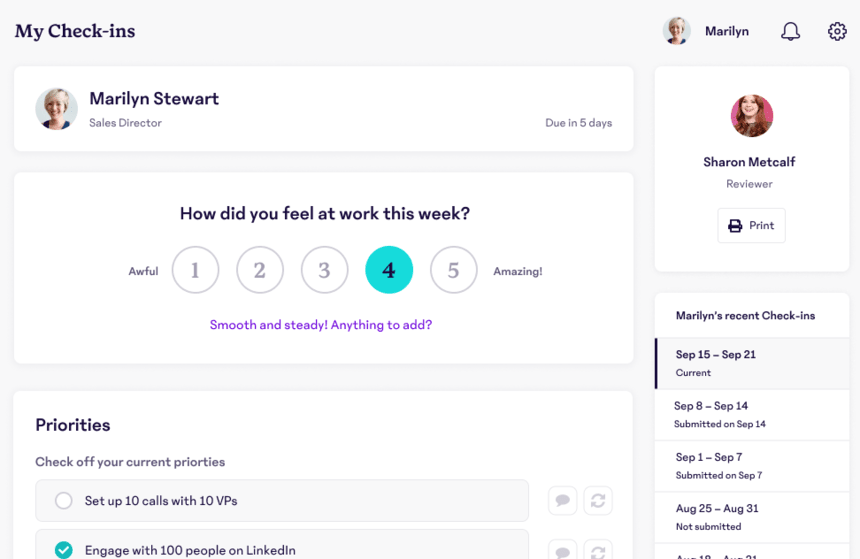 15Five stands out as a trusted Continuous Performance Management Software, optimizing team engagement, performance, and retention for over 3,500 organizations. Built on the foundations of the Positive Product Design™ method, it seamlessly merges human-centric leadership with positive psychology research. The platform not only tackles issues of turnover and ineffective management but also underscores the tangible impact HR initiatives have on vital business metrics.
Designed for data-driven insights, 15Five simplifies complex people analytics. HR professionals can swiftly identify trends, make predictions, and suggest actionable steps to enhance HR outcomes that drive business success. The platform's intuitive analytics also provide comparisons by department or manager, giving clear insights into engagement levels and managerial efficacy.
Key Features:
Continuous Performance Management Integration.
Human-Centric Leadership Tools.
Positive Product Design™ Alignment.
Comprehensive People Analytics.
Managerial Efficacy Insights.
How do you determine the best OKR software for you?
Choosing the right OKR software is akin to selecting the right ingredients for a recipe; you want each component to work well to create a successful dish. So, let's delve deeper into how you can zero in on the most appropriate OKR software for your needs:
Identify Your Specific Needs:
Begin by understanding your organization's unique requirements. What do you need from an OKR platform? Are you a startup with a lean team or a sprawling enterprise with multiple departments? Do you need advanced analytics, or are simple tracking features enough? List down everything you're looking for.
User-friendliness:
Navigate through the software. A platform might have many features, but it could slow down adoption rates if it's not intuitive or easy to understand. A straightforward, clean interface often works best.
Adaptability:
Consider how scalable the software is. As your team grows or as your objectives evolve, you'll want a platform that can effortlessly adapt to these shifts without making you overhaul everything.
Integration Capabilities:
Investigate how well the OKR platform can integrate with other tools you're using, be it communication platforms like Slack, project management tools like Trello, or any other software. Seamless integration can save a lot of time and prevent data silos.
Comprehensive Reporting:
Check if the software can generate insightful reports. Having a clear, visual representation of progress, be it through graphs, pie charts, or progress bars, can offer a more unambiguous understanding of where you stand with your objectives.
Feedback and Collaboration Tools:
Engage with the software's feedback mechanisms. Effective OKR platforms encourage team interactions, allowing members to give feedback, suggest changes, or even alert about potential roadblocks. Collaboration is the key to achieving objectives together. This encourages interactions between team members.
Cost Effectiveness:
While you shouldn't compromise on essential features, balancing what you need and are willing to pay for is vital. Different software solutions offer pricing models, including tiered subscriptions, freemium versions, or trial periods.
Community and Reviews:
Dive into reviews on software comparison platforms, participate in forums, or engage with peers in similar industries to gather insights. Real-world experiences and recommendations can shed light on aspects of the software that might not be immediately evident from a sales page.
Training and Support:
A responsive support team can be invaluable, especially during the initial stages. Check if the OKR tool offers training resources, webinars, or a knowledge base. Prompt customer support can make the transition smoother.
Security:
Especially if you're in a sector that deals with sensitive data, ensure the software meets the necessary security standards. Check for encryption, data protection policies, and other security features.
Why do you need OKR software?
Many organizations and teams find it invaluable for the following reasons and key features:
Precise Goal Setting: OKR software provides a structured platform for setting clear and measurable objectives. It ensures that everyone understands the big-picture goals and how they tie into daily tasks.
Alignment: With OKR software, teams can ensure that their individual and departmental goals align with the organization's objectives. This ensures everyone is rowing in the same direction.
Real-time Tracking: One of the significant advantages of OKR software is the ability to monitor progress in real-time. This helps identify any roadblocks or challenges early, allowing for timely interventions.
Collaboration: Many OKR platforms offer features that foster collaboration among team members. Team members can provide feedback, ask questions, and offer support, ensuring a cohesive approach to goal attainment.
Reporting & Analytics: OKR software often comes with built-in analytics tools, offering insights into performance metrics. This data-driven approach can be invaluable for decision-making.
Transparency: With OKR software, goals and progress are often visible to all relevant stakeholders, fostering a culture of transparency and accountability.
Integration with Other Tools: Many OKR platforms can integrate with other business tools, streamlining workflows and ensuring consistency across platforms.
Scalability: As your organization grows, manually tracking OKRs can become cumbersome. OKR software allows for scalability, accommodating growth and changes with ease.
Who is the target audience for an OKR software tool?
The target audience for an OKR (Objectives and Key Results) software tool spans various fields and industries, emphasizing its adaptability and broad utility. Some of these fields include:
Tech Companies: Many tech startups and established firms use OKR software to align their teams, especially when working on multiple projects or when groups are distributed across different locations.
Financial Institutions: Banks, insurance companies, and other financial institutions use OKRs to streamline operations, ensure compliance, and align various departments with overarching business goals.
Healthcare: Hospitals, clinics, and other healthcare entities might employ OKR software to improve patient care, streamline administrative tasks, or launch new services.
Education: Educational institutions and e-learning platforms can utilize OKRs to set academic goals, align curricula, and manage institutional objectives.
Retail and E-commerce: These businesses can set sales targets, customer service benchmarks, and KPIs using OKR tools.
Manufacturing: Manufacturing companies can deploy OKR software to optimize production lines, improve supply chain efficiency, or launch new products.
Marketing Agencies: Such agencies often have multiple clients and campaigns running simultaneously. OKR software can help align team efforts, set clear client deliverables, and track campaign success.
Non-profits: Charities and non-governmental organizations can use OKRs to set fundraising goals, track project outcomes, and ensure alignment with their mission and vision.
Real Estate: Real estate firms can set sales targets, launch new development projects, or improve tenant relationships using OKR tools.
Government Departments: Public sector units can employ OKRs to set and monitor goals related to public service, infrastructure development, and more.
Final thoughts on OKR software.
Think of OKR management software as a GPS for businesses. It shows the destination (goals) and the best routes (how to achieve them). Big or small, many companies find it handy.
An OKR platform acts as a lighthouse, guiding businesses toward their goals. Whether your team members are in one office or scattered globally, this performance management platform ensures alignment, clarity, and efficient progress tracking. Just like a GPS ensures you reach your destination, an OKR tool ensures businesses achieve their objectives.