Taking notes has been transformed in an era characterized by rapid technological progress and information at our fingertips. Gone are the days when jotting down thoughts was restricted to the margins of physical notebooks. The contemporary landscape is brimming with digital note-taking tools, each designed to boost productivity, foster creativity, and seamlessly fit into our increasingly interconnected lives. As 2023 unfolds, the vast ocean of these apps can be overwhelming, with each promising all the features and experiences. This article aims to navigate these waters, spotlighting the ten most promising note-taking apps this year and guiding users in their quest for the perfect digital companion.
Understanding the Basics: What is a Note-Taking App?
Let's start simple: A free note-taking app is your digital diary, a pocket-sized secretary, and sometimes, even a canvas for your wildest ideas. Picture your old-school notebook, but now, it's been sprinkled with tech magic. Within these apps, words merge with photos, voice recordings intertwine with web links, and videos find their home beside your text.
But the wonders don't stop at multimedia integrations. The beauty of these digital tools lies in their omnipresence. Working on a report at your desk? Jot down points on your computer. Just had a brainwave while walking? Your smartphone is there for a quick note. With cloud synchronization, these digital scribbles effortlessly dance across devices, ensuring they're always within reach.
The charm of these apps lies in their adaptability. They morph to cater to students, professionals, writers, and even the everyday individual looking to capture fleeting thoughts or daily tasks. The apps become what you need them to be.
As we venture further into this article, we'll uncover the top ten note-taking prodigies of 2023, illuminating their standout features and carving out a path for you in this digital jungle….
Exploring the Options: The top ten Note-Taking Apps in 2023
Evernote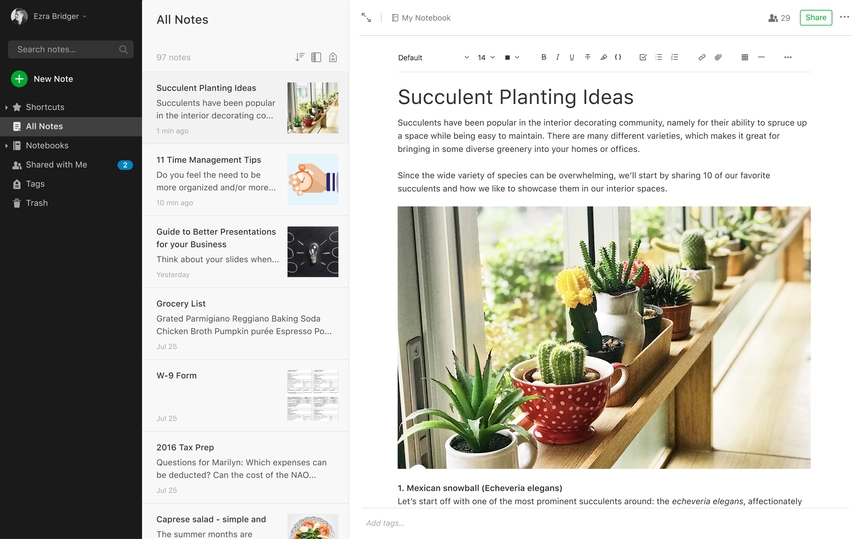 Evernote seamlessly integrates notes, tasks, and schedules, ensuring you're always on top of both work and personal life. Its cross-device syncing means crucial information is always at your fingertips, whether you're jotting down ideas, capturing web pages, or scheduling meetings via Google Calendar integration. Enhanced features like scanning documents, clipping the web, and adding rich media make note-taking dynamic and comprehensive.
Navigating through your notes is a breeze with Evernote's powerful search, which can even detect words in images and handwritten entries. Customize your organizational style with tags or trust the app's smart suggestions. And if you're off the grid, offline access ensures you're never without your notes. Evernote is more than a note-taking app—it's a daily companion for streamlined productivity.
Key Features:
Cross-device syncing and accessibility.
Rich media note enhancement.
Powerful, flexible search capabilities.
Web clipping and annotation tools.
Integrated Google Calendar synchronization.
NoteLedge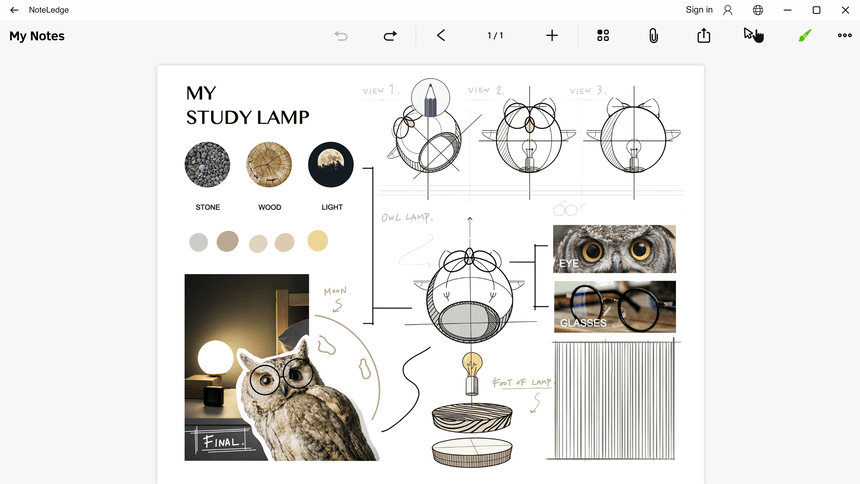 NoteLedge is a note-taking app designed with creatives in mind. It offers a range of powerful creative tools and multimedia features, making it the go-to choice for capturing ideas and staying organized. With NoteLedge, you can easily create visual idea boards, mood boards, design sketches, and sketchnotes, allowing you to express your creativity effortlessly. Whether you're planning a project or brainstorming new concepts, NoteLedge provides a centralized platform to gather all your materials in one place, ensuring easy access and enhanced productivity.
With its intuitive interface and customizable options, NoteLedge is the ultimate companion for creative thinking and project proposals. Its advanced sketching tools enable you to sketch, annotate, and illustrate your thoughts with ease. You can also incorporate various multimedia elements such as images, videos, and audio recordings, making NoteLedge a versatile tool for bringing your creative visions to life. Experience the power of NoteLedge and discover a new level of organization and inspiration in your creative endeavors.
Key Features:
Low-code/No-code: users with no coding experience can design and build business applications with minimal effort.
BPM and Workflow Automation: BPMN2.0 compliant workflow engine with a set of tools to map out business processes visually using drag-and-drop interface
Intelligent Automation: integrates with Robotic Process Automation (RPA), Artificial Intelligence (AI) and Machine Learning (ML) technologies
Application Marketplace: out-of-the-box business apps for CRM, People Management, Project Management, Document Automation, Accounting and Finance
Digital Workplace: provides a digital business environment, productivity, and collaborative tools.
Microsoft OneNote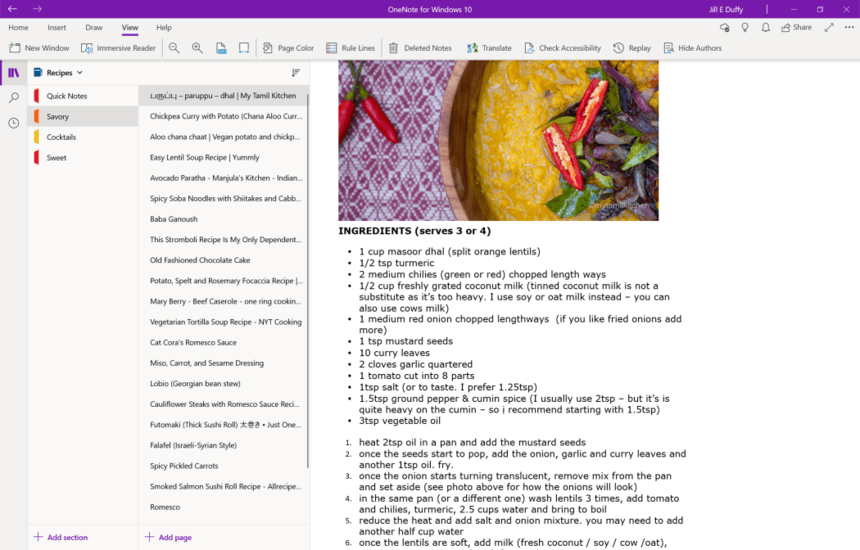 Microsoft OneNote is more than just a note-taking app; it's a dynamic digital notebook. Users can effortlessly categorize their content into distinct notebooks, further segmented into sections and pages. With its intuitive navigation and robust search capabilities, accessing your saved thoughts or important information has never been easier. As your thoughts evolve, OneNote is right there with you, offering tools for typing, highlighting, and ink annotations. Plus, its seamless synchronization across multiple devices ensures your notes are always at your fingertips, capturing every insightful moment.
Beyond personal note-taking, OneNote excels in fostering collaboration. Its features allow multiple users to come together, share insights, and co-create in real-time. This collaborative spirit is especially evident in educational settings. Educators can digitize and organize lesson plans, making them easily searchable and accessible. Meanwhile, students can engage with the content more interactively, combining the tactile experience of handwriting with the versatility of a digital platform, bridging the traditional with the modern for a comprehensive learning experience.
Key Features:
Digital Notebook Structure with sections and pages.
Cross-Device Synchronization for any device access.
Ink Annotations to handwrite and sketch ideas.
Collaborative Editing for real-time co-creation.
Advanced Search to quickly find content.
Zoho Notebook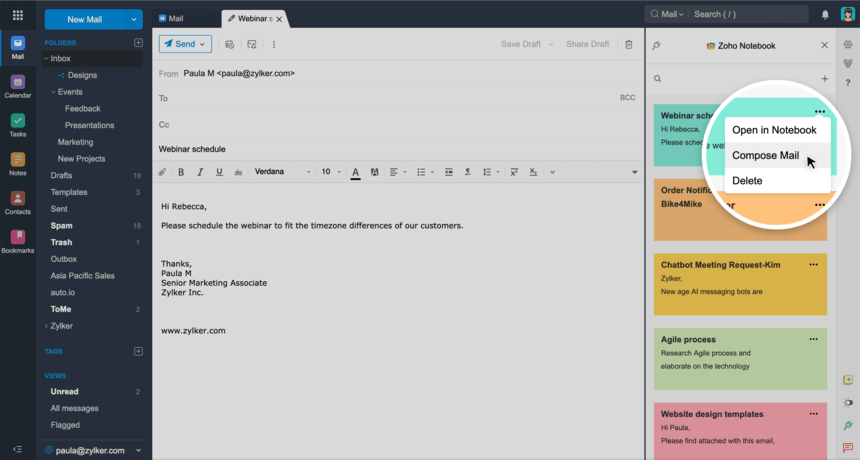 Zoho Notebook stands apart with its visually appealing interface tailored to diverse note-taking needs. Each Note Card type is specifically designed, ensuring that whether you're jotting, listing, or sketching, your content shines. With seamless cloud synchronization, you'll always have your notes at your fingertips across all devices, ensuring they're consistently backed up and current.
What truly distinguishes Zoho Notebook is its user-centric approach. The app is entirely ad-free, offering a smooth, uninterrupted experience. More than just being free to download, Zoho prioritizes user privacy, refraining from selling user data or embedding ads. Their transparent business model underscores their commitment to user trust and convenience.
Key Features:
Beautiful interface across all devices.
Unique Note Card design system.
Seamless cloud synchronization.
Completely ad-free experience.
Unwavering commitment to user privacy.
Notion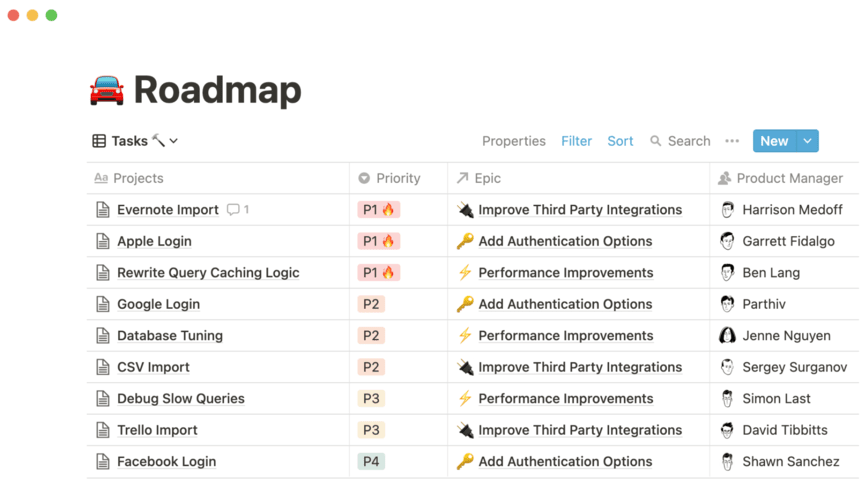 Notion is revolutionizing the way we work, providing an integrated workspace that blends simplicity with power. Catering to both emerging startups and established enterprises, millions rely on Notion daily for its next-generation documentation capabilities. It stands as a beacon for teams striving for efficient communication and streamlined project management. By centralizing knowledge, Notion ensures everything you need is just a click away, eliminating the hassle of navigating through fragmented systems.
What truly elevates Notion is its incorporation of cutting-edge AI. This advanced feature, housed right within the platform, offers users an unparalleled advantage, amplifying their productivity and decision-making processes. In a world where speed and efficiency are paramount, Notion emerges as a frontrunner, providing tools that are not just functional but also elegantly designed, making work not just faster but also more enjoyable.
Key Features:
Integrated workspace for enhanced productivity.
Centralizes knowledge for easy access.
Next-generation documentation tools.
Streamlined project management capabilities.
Embedded advanced AI for smarter work.
SimpleNote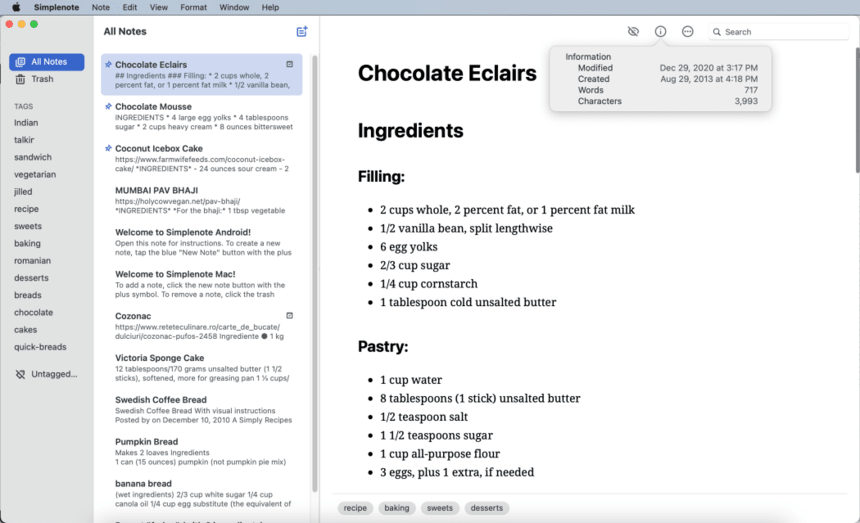 SimpleNote exemplifies the beauty of simplicity combined with efficiency. It offers users a seamless experience, with notes that automatically and instantly update across all devices, from iOS to Android, and desktop platforms like Mac, Windows, and Linux. There's no fumbling for a "sync" button; SimpleNote just intuitively does the job. The app's user-friendly design is further complemented by features like instant searching through tags, making it easy to retrieve the information you need swiftly.
Beyond its core note-taking functionalities, SimpleNote stands out with its collaborative and version-control capabilities. Sharing instructions, to-do lists, or even publishing notes online is made straightforward. A noteworthy feature is its ability to back up notes at every change, allowing users to revisit previous versions, be it from a week or a month ago. For those who appreciate the Markdown format, SimpleNote supports writing, previewing, and publishing in this format. The cherry on top? All these robust features, from backups to sharing and syncing, come at no cost, truly embodying the spirit of providing a comprehensive yet entirely free note-taking solution for every device.
Key Features:
Automatic real-time syncing across devices.
Instant searching with tags.
Collaborative sharing and publishing options.
Notes backed up at every change.
Markdown format support.
Typora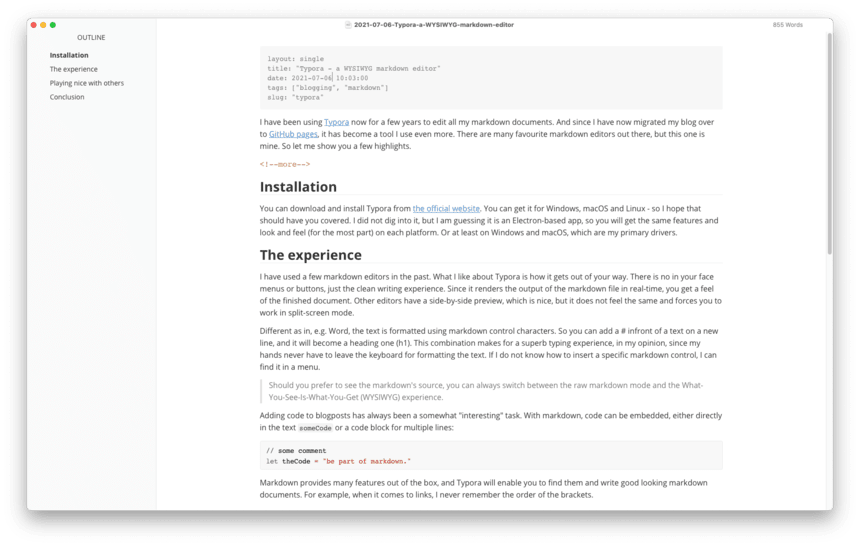 Typora revolutionizes the note-taking experience by creating a seamless interface that caters to both readers and writers. Ditching the traditional markdown preview window and unnecessary syntax symbols, Typora presents a live preview feature, allowing users to immerse themselves in their content without any distractions. This intuitive design means that as you type and format your content, you see the results instantly, ensuring an uninterrupted flow of ideas and a focus purely on the content's essence.
Beyond its pristine writing experience, Typora excels in document management and customization. Users are granted the autonomy to organize files in a manner that best suits their needs, including syncing with services like Dropbox or iCloud. The in-built outline panel offers a quick glance at a document's structure, facilitating easy navigation through sections. With thoughtful features like word and character count, reading minutes estimation, and innovative writing modes like Focus and Typewriter, Typora ensures that the writing process is as streamlined and efficient as possible.
Key Features:
Live preview without markdown distractions.
Versatile file organization and syncing.
In-built document outline panel.
Broad import/export format compatibility.
Focus and Typewriter writing modes.
Milanote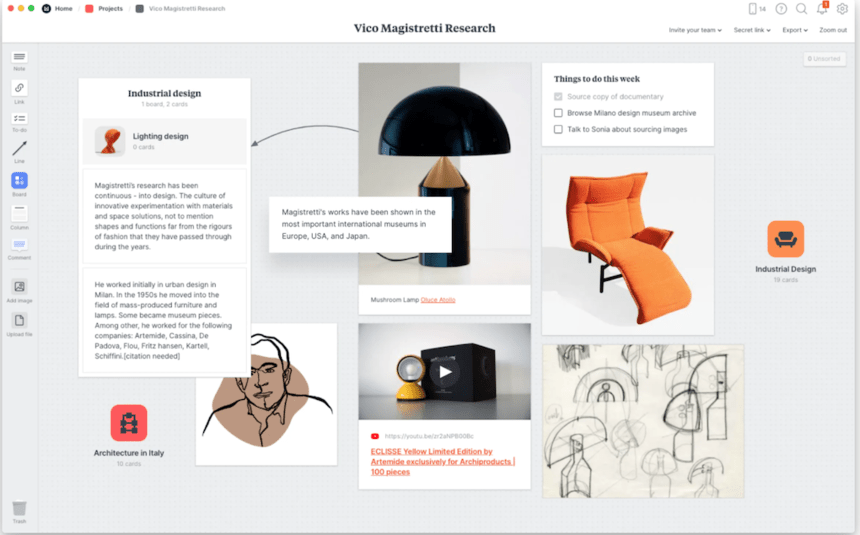 Milanote stands out as a dynamic tool that transforms the way ideas and projects are visualized and organized. Designed to encapsulate and display thoughts fluidly, users can effortlessly jot down notes, manage tasks, and curate to-do lists within their visual boards. Beyond text, Milanote showcases versatility by supporting a multitude of file types, from commonly used formats like JPGs and PDFs to design-specific files. Its unique Web Clipper feature is a game-changer, enabling users to capture and save content directly from websites, ensuring no spark of inspiration goes amiss.
But where Milanote truly shines is in its commitment to visual organization. Its intuitive drag-and-drop interface provides users with the freedom to tailor their boards according to the specific demands of their projects. Beyond personal organization, Milanote fosters collaboration. Emulating the feel of an online whiteboard, it provides teams, regardless of their geographic locations, a unified space to brainstorm, discuss, and bring ideas to fruition collectively. Whether you're a solo planner or part of a diverse team, Milanote serves as a canvas that adapts and evolves with your needs.
Key Features:
Organization of ideas into visual boards.
Support of diverse file uploads.
Innovative Web Clipper for content.
Intuitive drag-and-drop interface.
Online collaborative whiteboard capabilities.
Nimbus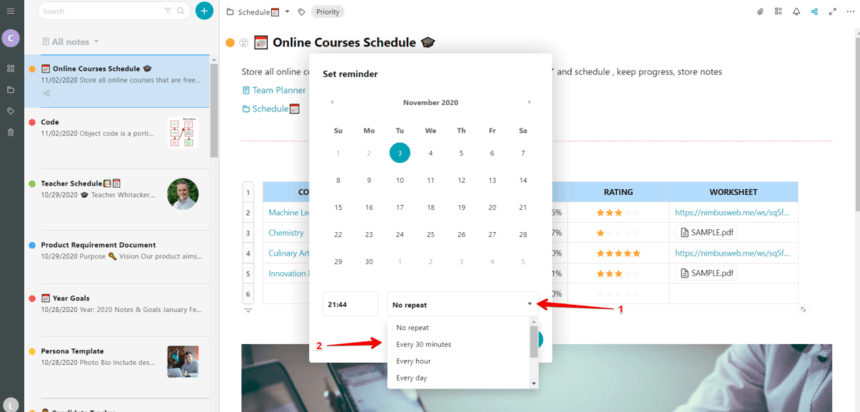 Nimbus emerges as a one-stop solution for those tired of juggling multiple platforms, offering an all-in-one space designed to save time and enhance productivity. Specifically tailored for remote teams, Nimbus cultivates an efficient, collaborative environment that fosters deep work. By centralizing information management and online collaboration, Nimbus eradicates the need for constant switching between tools. Its intuitive design ensures that clients, despite not utilizing the myriad of tools a company might, can effortlessly access and interact with all necessary information by simply opening Nimbus in their browser.
Moreover, the platform places a significant emphasis on feedback-driven development. The in-built collaboration tool in Nimbus refines the feedback process, allowing stakeholders to pinpoint and comment on any specific element. This feedback is then seamlessly transformed into actionable items, streamlining project management tasks. Another standout feature is the client portal, where emails can be directly sent, ensuring all relevant communication and data reside in a singular, easily accessible location. This unified approach not only simplifies the process for teams but also offers clients a hassle-free experience.
Key Features:
All-in-one collaboration and information platform.
Tailored for remote team efficiency.
One-link browser access for clients.
Direct feedback on specific elements.
Centralized client portal for communication.
Boostnote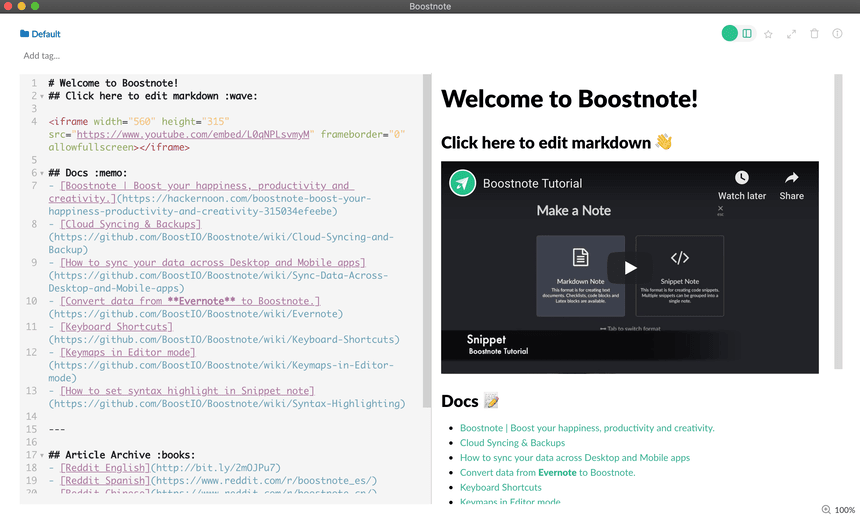 Boostnote stands out as a potent project management tool tailored specifically for the needs of remote DevOps teams. In the bustling world of development and operations, Boostnote emphasizes a document-centric approach, ensuring that developer teams can streamline their workflow and accelerate their pace. Its real-time editing capabilities foster seamless collaboration, allowing teammates to simultaneously work and ideate within a single document. This, combined with its powerful Markdown editor, empowers users to draft technical specifications with tools like Charts.js, Mermaid, Latex, and PlantUML, among others.
Beyond its robust editor, Boostnote shines with its adaptability, offering multiple viewing options like Kanban, Table, and Calendar to suit varying project requirements. While there's no dearth of management tools available today, many fall short when it comes to meeting the unique demands of developers. Boostnote bridges this gap by providing a customizable workspace attuned to a developer's specific needs, fostering efficiency and alignment among team members. This inclusivity extends beyond just developers—designers and other team peers can also collaborate, making Boostnote a holistic tool for project management and collaboration.
Key Features:
Document-centric DevOps workflow.
Real-time collaborative editing.
Powerful Markdown with tech tools.
Multiple adaptable view options.
Customizable workspace for developers.
How to Select the Best Note-Taking App for Your Needs
Like shopping for anything else, selecting a note-taking app should be about what fits you best. Reflect on your needs, try out a few, and find your digital notepad companion. Remember, the best app for you is the one that feels just right.
Platform Compatibility:
What's the point? You want an app that works seamlessly across all your devices.
In human terms, It's like having a favorite coffee mug. You'd want to use it at home, work, or on-the-go. Similarly, pick an app accessible wherever you are – your phone, tablet, or computer.
Simplicity vs. Features:
What's the point? While some people need advanced tools and features, others want a basic digital notepad.
In human terms, Think of it as picking shoes. Some need the latest sneakers with all the tech for a marathon, while others want comfy flip-flops for the beach. Choose the app that fits your walk of life.
Search Capabilities:
What's the point? As you accumulate notes, you'll want to retrieve specific ones effortlessly.
In human terms, Remember trying to find that one sock in a huge laundry pile? A good search function is like having your clothes neatly organized to find what you need easily.
Security:
What's the point? Your notes might contain personal or sensitive information.
In human terms, It's like locking your diary. Make sure your app has robust security features so your secrets stay safe.
Integration with Other Apps:
What's the point? The best apps play well with others, enhancing overall productivity.
In human terms, have you Ever tried to make two of your friends become buddies, too? That's integration. You'd want your note app to easily cooperate with your calendar, reminders, or other tools.
Offline Access:
What's the point? Sometimes, you need access to your notes without the internet.
In human terms, Think of it like having snacks ready for a long road trip. You don't want to rely on stopping at a store. Similarly, choose an app that's there for you, even without Wi-Fi.
Customizability:
What's the point? Personalizing your note-taking experience can boost productivity and comfort.
In human terms, It's like decorating your room. You want the freedom to make it yours with your colors, fonts, and layouts.
Price:
What's the point? While many great apps are free, some premium features might require payment.
In human terms: Imagine going to an ice cream shop. You can enjoy the primary flavors without extra cost, but you might have to pay more if you want those fancy toppings. Decide on your budget and needs before committing.
Why Do You Need a Digital Note-Taking App?
In our increasingly digital world, it's essential to streamline and digitize our daily processes wherever possible. One such strategy that has seen a significant evolution is taking notes.
Gone are the days when the only options were to jot down notes on a paper pad or scribble on sticky notes. Enter the era of digital note-taking apps, where convenience and versatility meet.
Convenience on the Go: Digital note-taking apps are easily accessible on multiple devices—smartphones, tablets, or laptops. This means you can jot down thoughts, ideas, or reminders whenever inspiration strikes without hunting for a pen or paper.
Search and Find with Ease: Gone are the days of flipping through pages to locate specific information. With digital apps, a quick keyword search instantly pulls up every related Note, saving precious time.
Organize without Hassle: Digital apps offer many organizational tools, such as folders, tags, and categories. These features enable you to group related notes, color-code for priority, and archive old data.
Ever-Evolving Space: Unlike physical notebooks with space constraints, digital note-taking apps give you almost infinite space. As your thoughts expand, your digital notebook can effortlessly accommodate them.
Seamless Compatibility: Numerous digital note-taking platforms effortlessly merge with other applications and software, streamlining the process of information sharing, real-time collaboration, or transitioning data into different formats.
A Greener Choice: Opting for digital instead of paper conserves trees and diminishes the environmental impact of paper production, distribution, and waste management.
Enhanced Note-taking Features: You're not limited to text with digital apps. Incorporate images, voice notes, videos, links, and even doodles. Some apps even allow you to scan and digitize hand-written notes or documents.
Safe and Secure: Fear of losing your notebook? Digital note-taking apps often come with cloud storage, automatic backups, and encryption, ensuring your notes are safe from loss and unauthorized access.
Adaptable to Your Needs: Whether you prefer a simple, clutter-free interface or a suite of features for advanced note-taking, there's likely a digital app tailored to your needs.
Efficient Review and Editing: Mistakes are a natural part of the process. Editing, highlighting, or annotating with digital notes is painless. Plus, some apps come with revision histories, allowing you to revisit earlier versions of your messages.
Cost-Effective: Many powerful note-taking apps are available for free or at a nominal price. Over time, the savings from not buying physical notebooks, pens, and other stationery can add up!
Who is the Ideal User for a Note-Taking App?
But who stands to benefit from these apps?
Here, we'll explore eight fields where professionals and enthusiasts might find a note-taking app invaluable.
Students and Academics
From scribbling lecture notes to brainstorming for the next big research paper, students and academics are perhaps the most obvious beneficiaries. With classes, seminars, and mountains of information to process, a note-taking app helps keep everything organized and readily accessible.
Writers and Journalists
Have you ever had a story idea in the middle of the night or a sudden inspiration while commuting? For writers and journalists, note-taking apps serve as a digital jotter, enabling them to capture fleeting ideas, interview details, or write drafts on the go.
Business Professionals
Meetings, conferences, and brainstorming sessions are regular events in the fast-paced corporate world. Business professionals need a quick way to take down minutes, action items, or even jot down innovative ideas during elevator pitches. Note-taking apps ensure that these snippets of vital information aren't lost.
Medical and Healthcare Workers
Doctors, nurses, and other healthcare workers often need to keep track of patient histories, medications, or research findings. A note-taking app can streamline this, making patient care more efficient and informed.
Creatives
Whether you're a designer brainstorming for a new project, a photographer planning shots, or a filmmaker sketching a scene, note-taking apps allow for a mix of text, sketches, and images. This fusion helps in visualizing and realizing creative visions.
Research Scientists and Engineers
Recording observations, results, and modifications is crucial for those in fields that rely on experimentation and iterative design. With note-taking apps, they can maintain organized digital lab notebooks or engineering logs that are easily searchable and shareable.
Travelers and Bloggers
Capturing the essence of a new place, jotting down experiences, or simply making a checklist for the next adventure becomes simpler with a note-taking app. For bloggers, it provides a platform to draft posts on the move.
Event Planners
Organizing an event requires multiple tasks, from keeping track of vendors and guest lists to brainstorming themes and decor ideas. Event planners can ensure nothing slips through the cracks with a note-taking app.
Final thoughts on Note Taking apps
The transition from traditional scribbles on paper to the dynamic realm of digital note apps signifies more than just technological progression. It embodies our evolving needs in an interconnected age. As we've traversed, these apps are more than digital canvases for our thoughts. They're gateways to enhanced organization, fostering creativity, and ensuring no big or small idea is ever forgotten.
For every individual, from the diligent student to the wandering traveler, these apps reflect modern needs – a blend of convenience, efficiency, and personalization. The magic lies in their adaptability. They're like digital chameleons, adjusting and evolving based on user requirements. Imagine having a tool that stores thoughts and effortlessly syncs them across devices, integrates with other platforms, and offers customization at your fingertips.
In conclusion, having a reliable digital note taking companion becomes paramount as we journey deeper into this digital age. It's not just about staying organized or productive or having good task management; it's about embracing digital evolution, making eco-friendly choices, and ensuring our ideas and memories are preserved most efficiently. As we scribble, type, or voice-record, these note apps stand by us, echoing the rhythm of our modern lives.