Imagine building a complicated LEGO structure without instructions or baking a cake without knowing the recipe. Pretty challenging, suitable?
Similarly, managing a business's finances without the right tools can be complex and messy. Enter modern accounting software programs: the secret ingredient that's simplifying life for businesses everywhere. Just as a good recipe can make baking a breeze, today's best accounting software streamlines the often intricate world of business finance, making it more understandable and manageable.
Let's explore the significance of digital transformation and how it's transforming the way businesses manage their finances.
What is accounting software truly about?
Imagine you've got this unique digital wallet where you can see every detail about your money: where it comes from, where it goes, and what it's spent.
Now, accounting software programs act just like that wallet, but for businesses. It's a tool that lets companies keep a clear record of their cash flow, making everything tidy and clear.
Accounting software gives businesses a clear picture of their finances, income, and expense tracking, with many accounting features that help businesses optimize their cash flow. Many companies even opt for an online accounting service to ensure continuous accessibility and real-time updates, which traditional software might not always offer. It's like having a financial GPS that shows your earnings and spending journey!
Top 8 Accounting Software Solutions of 2023
Xero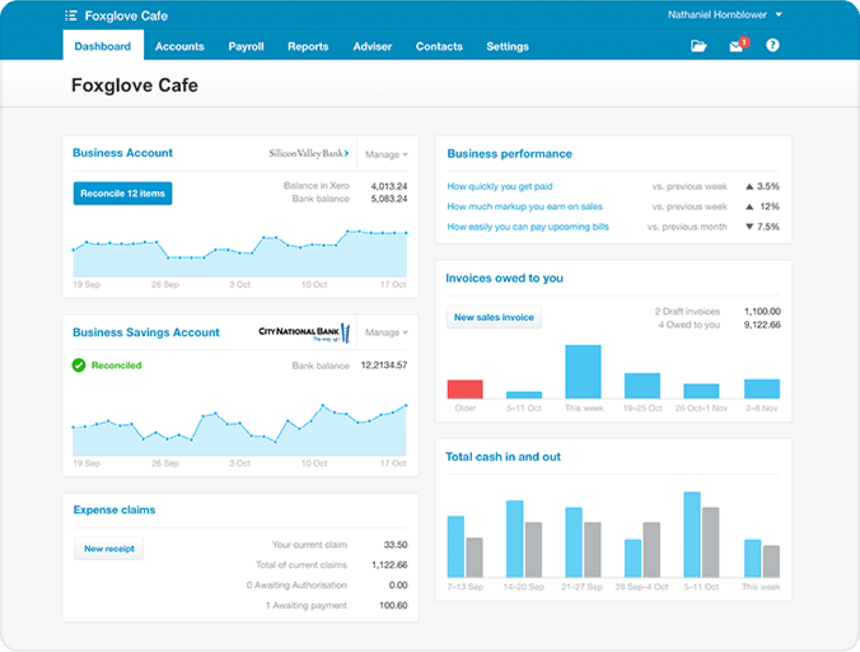 Xero is a leading accounting software designed to streamline financial tasks for small businesses, accountants, and bookkeepers. With a range of essential features, Xero simplifies everyday financial management. Users can effortlessly pay bills, claim expenses, and establish bank connections, making it easier than ever to stay on top of financial transactions.
One of Xero's standout features is its accessibility, allowing users to track their business on the go and gain confidence in their financial numbers from anywhere. The Xero accounting app provides real-time insights into bank accounts, sales, purchases, and cash flow, ensuring that businesses are always in the know. Whether you're a sole trader, a growing small business, or an established enterprise, Xero offers pricing plans to suit your needs, starting at just $25 per month.
Key Features:
Seamless Expense Tracking
Real-Time Financial Insights
Bank Integration
Mobile Accessibility
Flexible Pricing Plans
TaxDome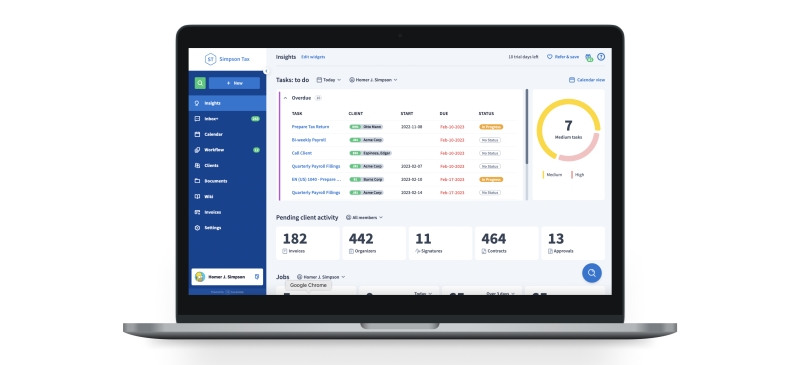 TaxDome is an all-in-one practice management software for tax, bookkeeping and accounting firms. You shoud probably use project tools for planning and team tracking software to keep work in control. It allows firms of all sizes to optimize their practice by using a single platform for back-office operations (workflow, CRM, reporting) and client-facing tools (documents, e-signatures, invoicing, messages). Every client, every email, every job, every invoice, all in one shared place for your team.
Automated workflows, signatures, client onboarding and client communication integrated with user-friendly client portal & customizable CRM.
Key Features:
Workflow Automation
Client Portal
CRM
E-signatures
Invoicing
Patriot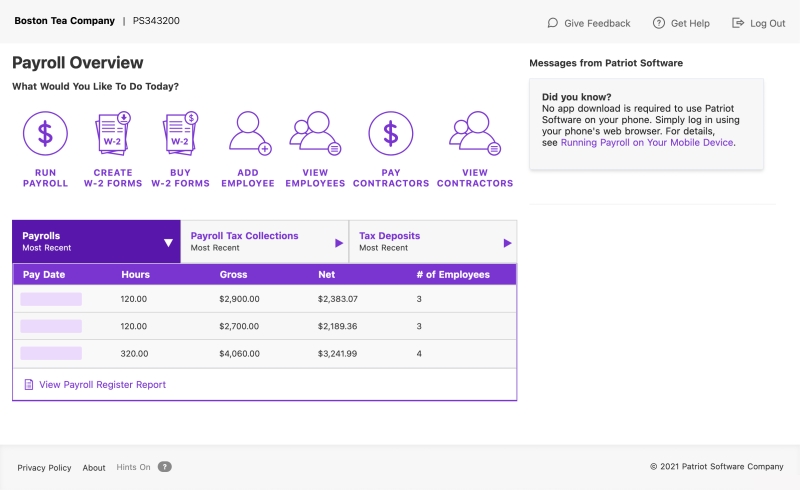 Patriot Software is a cloud-based accounting and payroll software designed for American businesses with up to 500 employees and their accountants. Patriot Software has online payroll with payroll tax filing services, time and attendance tracking, accounting software, and HR software. All products seamlessly integrate under one login. Patriot is developed and supported in the USA. Patriot Software is known for its affordability and ease of use, making it a popular choice for those wanting powerful features at a fraction of the cost. According to users, Patriot Software ranks #1 in customer satisfaction, ease of use, value for the money, and features compared to big-named competitors.
Key Features:
Payroll, accounting, time and attendance, and HR software all under one login
Free US-based support and setup
Customizable payroll
Patriot guaranteed accurate tax calculations
Accurate tax filings for Full Service Payroll customers
Zervant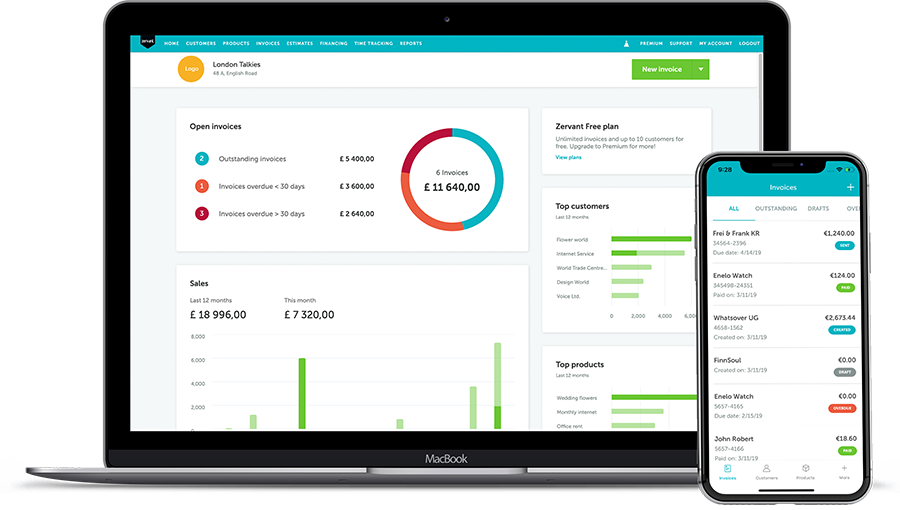 Zervant is an invoicing software designed for entrepreneurs, small businesses and freelancers. Our goal is to simplify invoicing for small businesses, saving them time and effort so that they can focus on growing their business instead of spending time on admin tasks.
Zervant serves customers across Europe and is available in multiple languages and currencies. Zervant offers a range of features like invoicing, product and customers database, expense tracking, payment reminders, bank feeds, etc.
Key Features:
Online card payments
Support in 6 languages
Mobile app
Time tracking
Convert estimates to invoices
Bonsai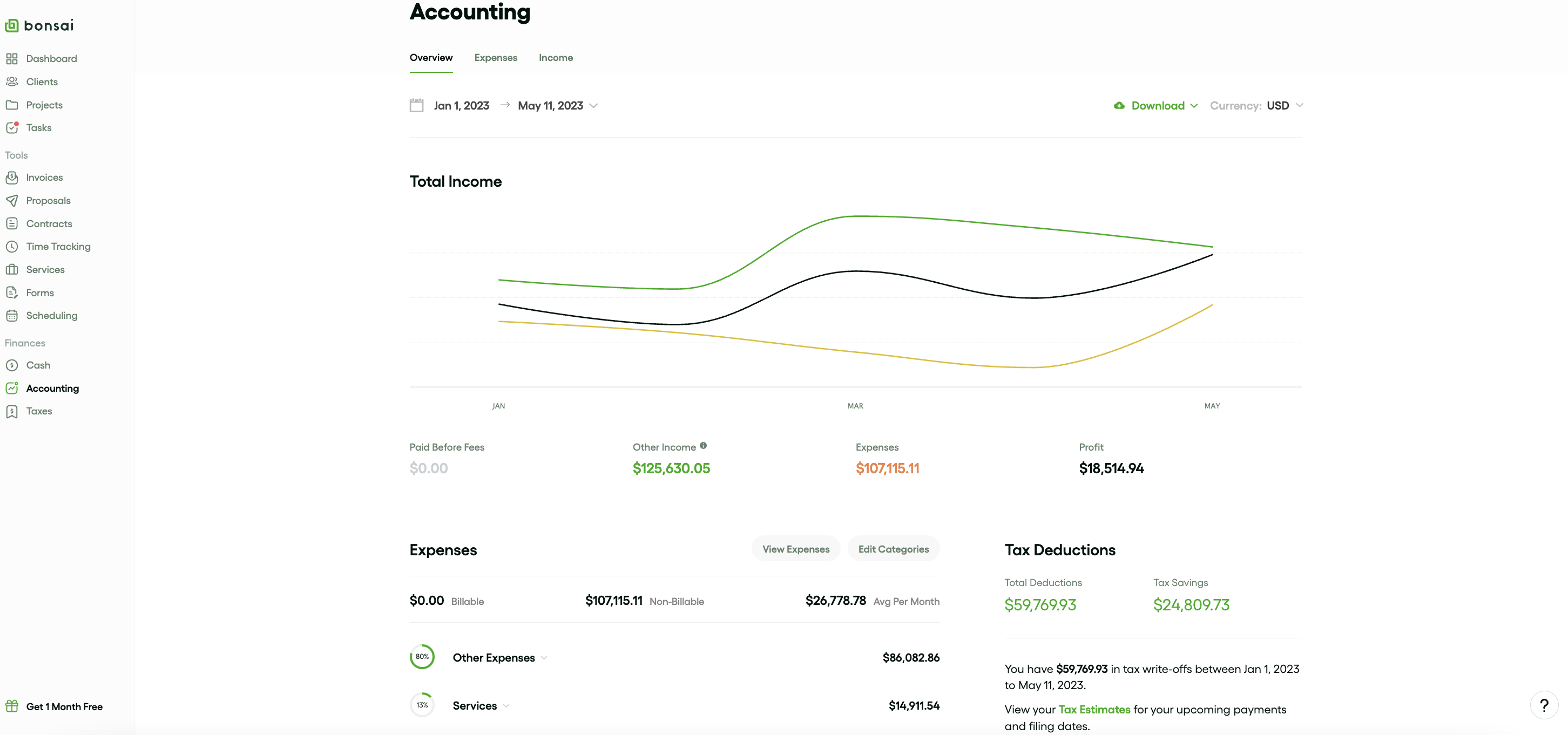 Bonsai accounting software is part of a powerful suite of business management software designed to streamline and simplify your business finances. With Bonsai, you can easily manage your invoices, proposals, contracts, track expenses, prepare taxes, and monitor your cash flow in real-time. With Bonsai accounting you can connect your bank account and automatically scan for transactions.
The average Bonsai user saves $5,600 on their annual tax bill! Bonsai's user-friendly software is perfect for freelancers, small business owners, and anyone else who needs to keep a close eye on their business finances. Whether you're on-the-go or working from home, Bonsai makes it easy to automate your invoicing, proposals, and finances while focusing on growing your business. With its intuitive interface and robust features, Bonsai is the ideal choice for anyone looking to take control of their finances and achieve long-term success.
Key Features:
Convenient Client Portal
Proposals, Contracts, Invoicing
Taxes
Time Tracking
Scheduling Software
FreshBooks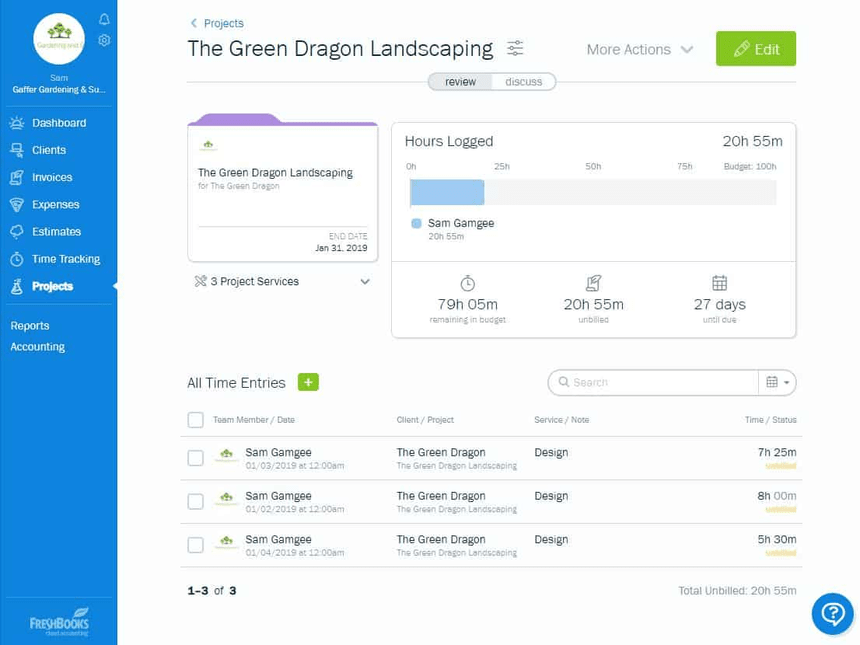 FreshBooks is a versatile accounting software tailor-made for both business owners and accountants, offering a user-friendly suite of accounting and bookkeeping features. With FreshBooks, you can effortlessly handle essential tasks such as invoicing, accounting, payments, expenses, time tracking, and project management. Impress your clients with professional invoices that clearly detail your work, and use automated payment reminders to ensure timely payments.
With over 30 million satisfied users worldwide, FreshBooks has earned its reputation as an efficient and stress-reducing accounting solution. Customers appreciate its intuitive design, automation capabilities, and the time and money it helps them save. Plus, FreshBooks integrates seamlessly with over 100 other apps to streamline various business processes and keep teams and clients connected.
Key Features:
Professional Invoicing
Time Tracking and Billing
Expense Management
Automated Payment Reminders
Seamless Accounting Integration
Odoo Accounting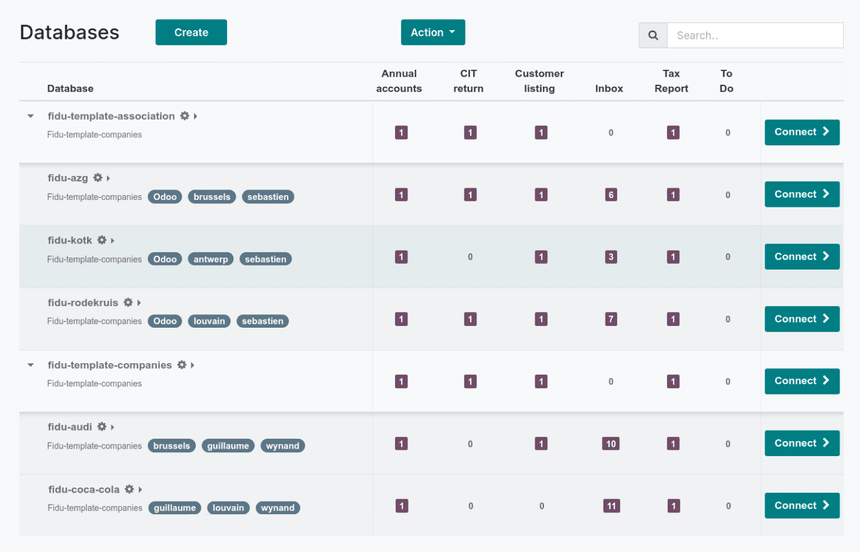 Odoo Accounting is a versatile and accessible online accounting application designed to simplify financial management for businesses of all sizes. With a user-friendly dashboard, it provides easy access to essential accounting tools, including bank feed synchronization, recurring invoice management, customizable invoicing with online payment options, and a convenient customer portal for quick payments. The software also offers automated follow-ups to collect late payments and supports multi-currency transactions, making it ideal for businesses with international operations.
What sets Odoo Accounting apart are its intuitive features, such as a smart reconciliation tool, asset management with depreciation tracking, and AI-powered invoice digitization. It provides comprehensive fiscal localization packages to meet country-specific requirements and offers a wide range of reports, including government-compliant tax reports. Odoo Accounting seamlessly integrates with other Odoo apps, streamlining processes like invoicing, inventory management, expenses tracking, and sales, allowing businesses to save time, reduce manual work, and enhance accuracy in financial operations.
Key Features:
Automated Reconciliation
Multi-Currency Support
AI-Powered Invoice Digitization
Fiscal Localization Packages
Seamless App Integration
Quickbooks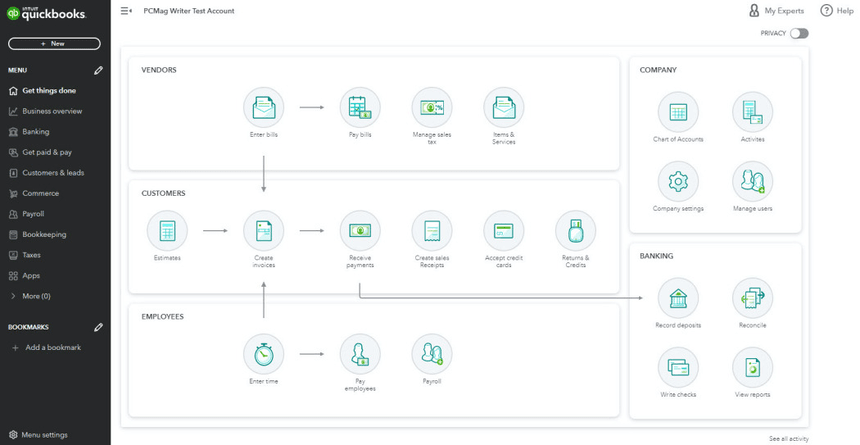 QuickBooks by Intuit is a smart and user-friendly online accounting software designed to empower small businesses with powerful financial tools. With QuickBooks, you can efficiently manage your business finances all in one place, from tracking expenses and customizing invoices to running insightful reports. The software also offers a free 30-day trial, allowing you to explore its features and capabilities risk-free.
QuickBooks simplifies financial management by providing features that save you time and reduce errors. You can connect your bank accounts to automate transaction recording, link premium apps for seamless task management, create professional invoices with custom templates and automated reminders, and even organize and store receipts digitally for tax purposes.
Key Features:
Expense Tracking and Management
Automated Bank Feeds
App Integration
Professional Invoicing
Receipts Organization
How can you determine the right accounting software for your needs?
Picking the right online accounting software is like choosing a backpack for a long journey. You want something comfortable, fits all your stuff, and can endure the trip. Let's break down how to find that perfect "backpack" for your accounting journey:
Determine Your Essentials:
Understand the accounting features necessary for your business size and type. Before exploring brands or styles, know what you'll be carrying. Are you a small shop owner or managing a bigger team? Understand what specific features you'll need. For someone who has a large team, remote worker management software is great – especially if I work remotely. And you can also use work management platforms to control the team in the office.
User-Friendliness:
While there are many options available, choosing the easiest accounting software ensures that your team can quickly adapt and maximize its features without a steep learning curve. One example of such a user-friendly platform is time management software from Bordio.
Price Point:
While there are free accounting software options, ascertain that the one you choose offers value for its cost.
Compatibility:
Can the software seamlessly connect with other apps or tools you're using? It's like having pockets in your backpack that fit your water bottle and other essentials.
Safety Measures:
Protecting your financial data is paramount. Ensure the software has robust security features, like having a secure zipper on your backpack.
Help & Guidance:
Now and then, we all need help adjusting the backpack straps or navigating software features. Look for tools with solid customer support.
Adaptability:
Some backpacks can expand or adjust based on what you're carrying. Similarly, the best software can be tailored to your unique business needs.
Growth Potential:
Choose a software that can adapt as your business grows. It's like picking a backpack that can handle both short-day trips and longer adventures.
What's the importance of having an accounting software?
Imagine you're building a puzzle. Without the picture on the box, it's hard to know where each piece goes, right?
The importance of accounting software programs cannot be understated. It's analogous to the image on a puzzle box – guiding businesses to piece together their financial landscape.
Here's why having accounting software is like having that puzzle box picture:
Clear Financial Picture: Just as our puzzle picture shows how each piece fits, accounting software helps you see where your money comes from and goes, giving you a comprehensive view of your finances.
Time-Saver:Remember those puzzles that took forever? With accounting software, tasks like invoicing, tax calculations, and expense tracking become quicker, freeing up valuable time.
Accuracy: Hand-counting puzzle pieces might lead to errors, but with software, financial calculations are accurate, reducing the risk of costly mistakes.
Insights and Reports: Imagine being able to predict which corner of your puzzle you should start with. Accounting software provides insights and reports, helping businesses make informed decisions.
Safe and Secure: As you'd protect a rare puzzle in a safe box, accounting software protects your financial data against threats or unauthorized access.
Integration with Other Tools: Allows businesses to merge most accounting software tools with other business tools, fostering a harmonious workflow.
Scalability: Remember outgrowing kiddie puzzles? As your business grows, your accounting software can adapt and scale with you, handling more complex financial scenarios.
Ease of Compliance: Like having the edge pieces of a puzzle already sorted out, accounting software makes it easier to comply with tax regulations and financial standards, preventing legal complications.
Who can benefit most from using accounting software?
Think of accounting software as a Swiss Army knife for finances. While it's designed to be useful for multiple businesses, some will find specific tools especially handy.
Here's a look at those who'd benefit the most from it:
Small Business Owners:
They often operate without a full accounting department and can harness most accounting software to manage their finances effectively.
Freelancers:
Imagine solo travelers navigating terrains. Freelancers, being on their own, can streamline invoicing, payments, and tax deductions with the software.
Start-ups:
Much like campers setting up tents for the first time, start-ups are building their financial foundations. Accounting software aids in setting things right from the get-go.
Non-profits:
These are like community-driven expeditions. Non-profits, while not seeking profit, still need to manage donations, grants, and expenses transparently.
Accountants:
The seasoned trail guides of the finance world. While skilled, they can optimize their workflow and accounting processes and manage multiple clients more efficiently with the right software.
E-commerce Platforms:
Think of bustling marketplaces. With multiple transactions, returns, and discounts, accounting software keeps everything in check.
Educational Institutions:
Like established base camps, schools and colleges have multifaceted financial needs, from fees to salaries to maintenance. Accounting software helps in meticulous management.
Retailers:
Picture shopkeepers in busy bazaars. With daily sales, inventory costs, and customer transactions, the software ensures they don't miss a beat.
Here's a list of additional professions that can benefit from accounting software:
Real Estate Agents: Handling property sales and purchases, agents can benefit from software that tracks commissions, expenses, and client transactions.
Photographers: With fluctuating incomes from projects, shoots, and image sales, they can manage invoices, expenses on equipment, and studio rentals.
Consultants: Often working on multiple projects simultaneously, consultants can track billable hours and expenses and send invoices accordingly.
Event Planners: Organizing various events, planners need to keep tabs on vendor payments, ticket sales, and overhead costs.
Restaurant Owners: Juggling between supplier payments, daily sales, staff salaries, and overhead costs, software helps streamline their complex financial operations.
Graphic Designers: Managing design projects, software purchases, and client invoices becomes more manageable with an accounting system.
Travel Agents: They can track bookings, commissions from various operators, and client payments in one place.
Contractors and Builders: With expenses on materials, labor, and permits, they benefit from software that provides an overview of project finances.
Fitness Instructors: Whether for gym contracts or personal training sessions, they can track their income and expenses on equipment or venue rentals.
Musicians and Artists: Managing earnings from gigs, art sales, or streaming while tracking expenses on equipment and promotions.
Authors and Writers: Accounting for royalties, advances, and expenses related to research or promotional events become more organized.
Digital Marketers: Handling multiple client projects, ad spends, and tool subscriptions, they can gain a clear financial picture using accounting software.
Online Course Creators: Tracking sales from courses, expenses on hosting or marketing, and managing affiliate commissions. Also for those who are looking for help with marketing can be advised to use saas marketing companies.
Agriculture and Farm Owners: Monitoring produce sales, cultivation costs, machinery expenses, and labor payments.
Wholesalers and Distributors: Managing bulk sales, returns, payments to manufacturers, and expenses on logistics and storage.
Final Thoughts on Accounting Software.
Accounting software emerges as a beacon of clarity and efficiency in business tools and technology. Much like a trusted compass in a traveler's hand, it ensures businesses navigate the intricate pathways of finances with precision and foresight.
More than just a tool, it's a digital partner. It streamlines operations, minimizes human errors, and provides insights. As businesses change and financial landscapes evolve, the importance of accounting software programs grows. Investing in one isn't just about handling numbers; it's about future-proofing a business.
Accounting software is every business's treasure chest in a world where time is money and accuracy is gold.