Hey there, numbers enthusiasts! Have you ever found yourself drowning in a sea of receipts, invoices, and spreadsheets, wishing for a lifeboat to rescue you? Well, today's your lucky day, because we're talking about the best accounting software that'll turn your financial chaos into a smooth-sailing experience. It's like having your very own accounting superhero, minus the cape and spandex.
So, whether you're running a small business or just trying to keep track of your personal finances, we've got some fantastic options for you. Let's dive into the world of accounting software that's so user-friendly, it'll have you wondering if it was designed by a secret society of stand-up comedians with a passion for bookkeeping. Say goodbye to calculator-induced headaches, and hello to a world where balancing your books is as fun as a game of Monopoly (minus the family arguments, of course).
List of best accounting software
TaxDome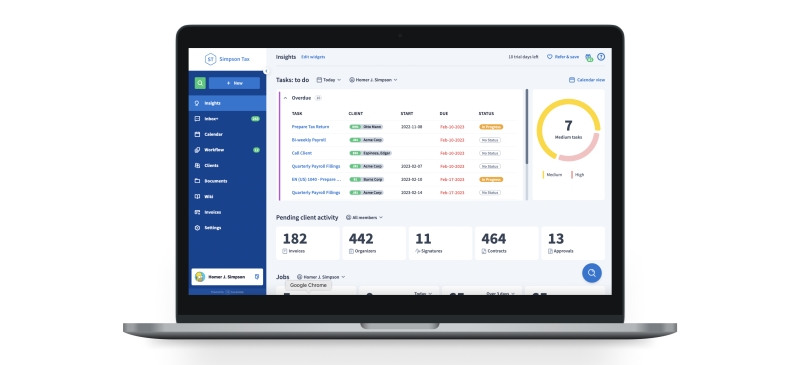 TaxDome is an all-in-one practice management software for tax, bookkeeping and accounting firms. It allows firms of all sizes to optimize their practice by using a single platform for back-office operations (workflow, CRM, reporting) and client-facing tools (documents, e-signatures, invoicing, messages). Every client, every email, every job, every invoice, all in one shared place for your team.
Automated workflows, signatures, client onboarding and client communication integrated with user-friendly client portal & customizable CRM.
Key Features:
Workflow Automation
Client Portal
CRM
E-signatures
Billing & Invoicing
Patriot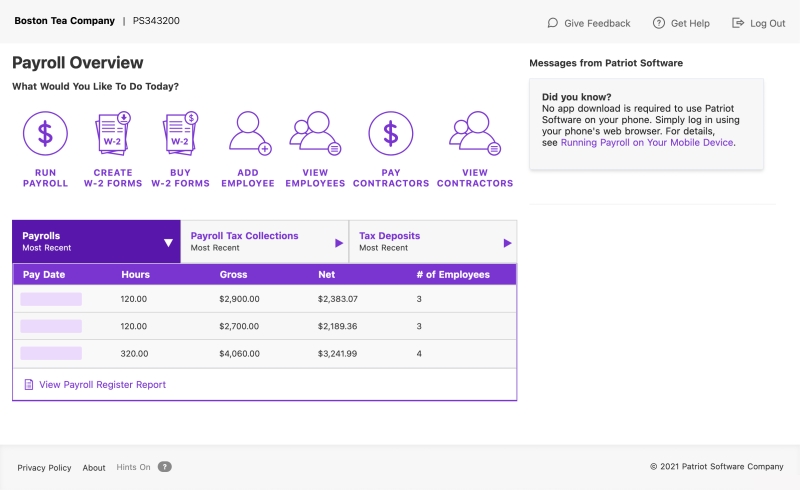 Patriot Software is a cloud-based accounting and payroll software designed for American businesses with up to 500 employees and their accountants. Patriot Software has online payroll with payroll tax filing services, time and attendance tracking, accounting software, and HR software. All products seamlessly integrate under one login. Patriot is developed and supported in the USA. Patriot Software is known for its affordability and ease of use, making it a popular choice for those wanting powerful features at a fraction of the cost. According to users, Patriot Software ranks #1 in customer satisfaction, ease of use, value for the money, and features compared to big-named competitors.
Key Features:
Payroll, accounting, time and attendance, and HR software all under one login
Free US-based support and setup
Customizable payroll
Patriot guaranteed accurate tax calculations
Accurate tax filings for Full Service Payroll customers
Zervant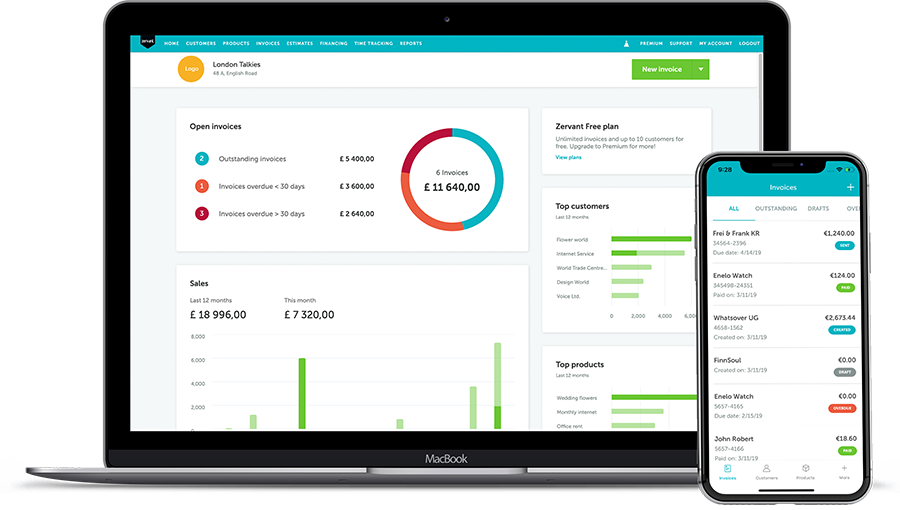 Zervant is an invoicing software designed for entrepreneurs, small businesses and freelancers. Our goal is to simplify invoicing for small businesses, saving them time and effort so that they can focus on growing their business instead of spending time on admin tasks.
Zervant serves customers across Europe and is available in multiple languages and currencies. Zervant offers a range of features like invoicing, product and customers database, expense tracking, payment reminders, bank feeds, etc.
Key Features:
Online card payments
Support in 6 languages
Mobile app
Time tracking
Convert estimates to invoices
Bonsai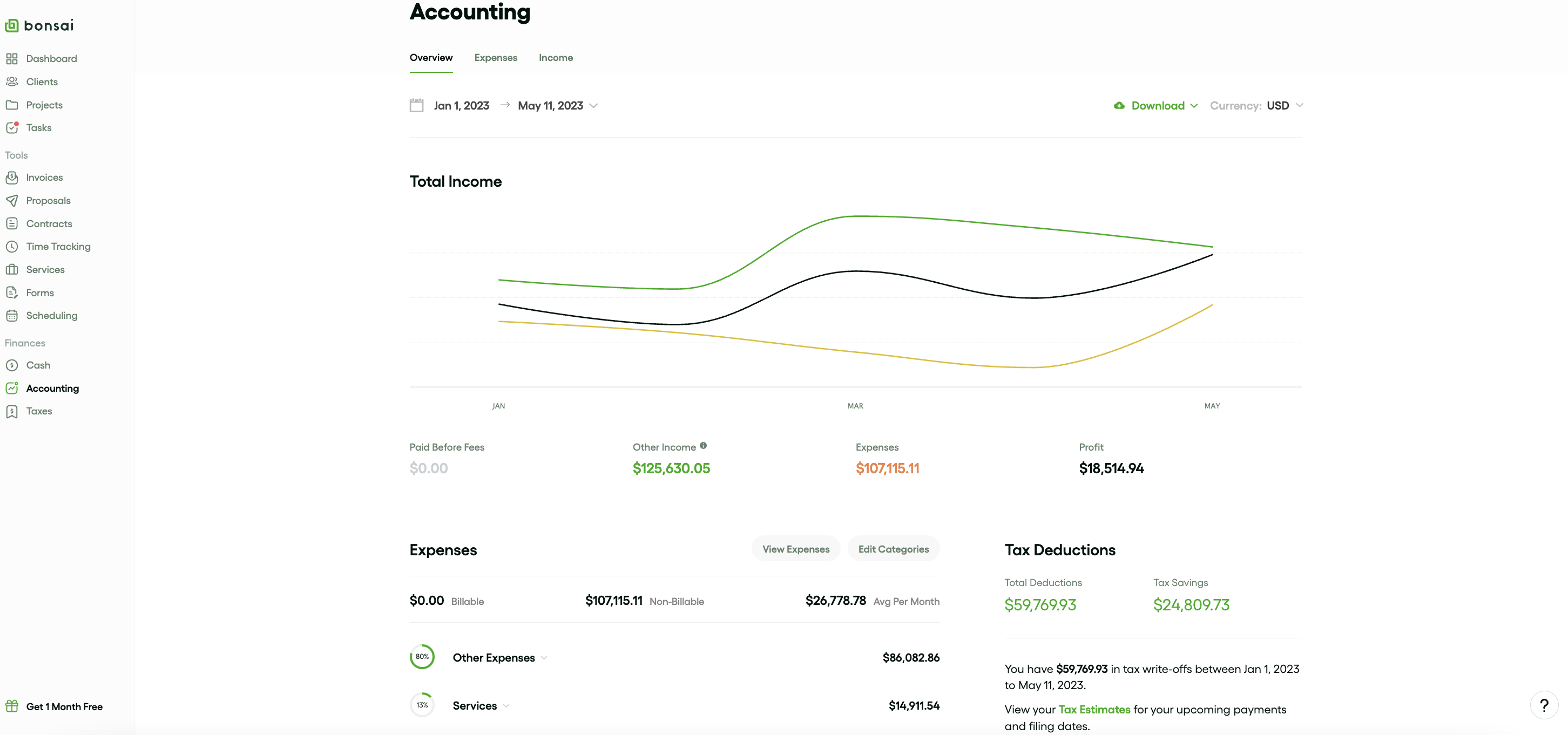 Bonsai accounting software is part of a powerful suite of business management software designed to streamline and simplify your business finances. With Bonsai, you can easily manage your invoices, proposals, contracts, track expenses, prepare taxes, and monitor your cash flow in real-time. With Bonsai accounting you can connect your bank account and automatically scan for transactions.
The average Bonsai user saves $5,600 on their annual tax bill! Bonsai's user-friendly software is perfect for freelancers, small business owners, and anyone else who needs to keep a close eye on their business finances. Whether you're on-the-go or working from home, Bonsai makes it easy to automate your invoicing, proposals, and finances while focusing on growing your business. With its intuitive interface and robust features, Bonsai is the ideal choice for anyone looking to take control of their finances and achieve long-term success.
Key Features:
CRM & Client Portal
Proposals, Contracts, Invoicing
Business Banking & Taxes
Time Tracking
Scheduling Software