Navigating the marketing world in 2023 is akin to navigating a vast digital ocean. With various channels, strategies, and metrics to consider, it can quickly become overwhelming.
Enter the marketing automation tool, the unsung hero of the modern marketing era. These tools are designed not just to simplify tasks but to enhance and fine-tune your entire marketing process.
Imagine having a trusty sidekick that ensures you're always on point, every campaign is spot-on, and you're constantly in tune with your audience's needs. Intrigued? Let's focus on more details!
What exactly is marketing automation software?
Marketing automation software is your digital ally in the vast realm of marketing. It simplifies and automates repetitive tasks such as sending emails, tracking web visits, and segmenting audiences.
Doing so helps businesses engage with their audience more effectively, ensuring timely and relevant messages.
This software also offers insights into customer behaviors, enabling marketing teams to refine and adapt their strategies. In short, it's a tool that amplifies efficiency, ensuring that seasoned and novice marketers can achieve their goals precisely and efficiently.
Top 10 Leading Marketing Automation Software Platforms of 2023
HubSpot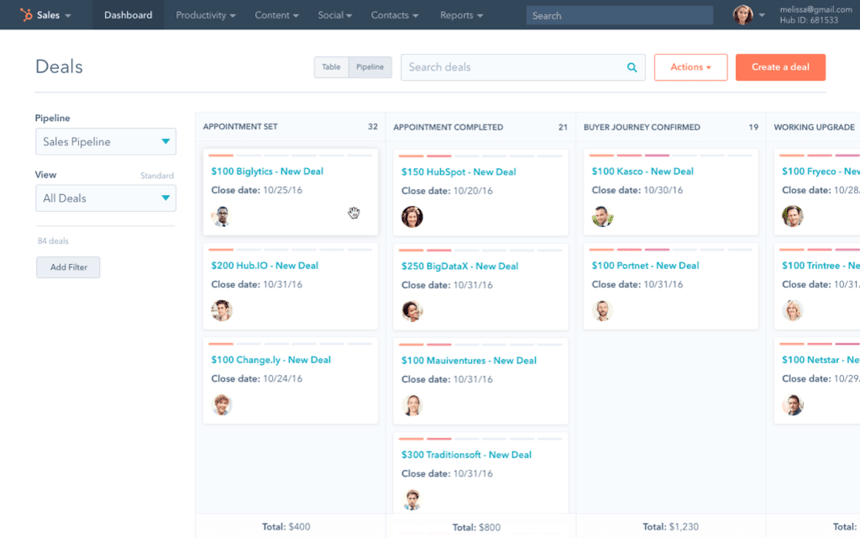 HubSpot stands out as a comprehensive CRM platform, seamlessly integrating marketing, sales, content management, and customer service. Tailored to enhance the customer experience, this platform not only manages data but also redefines team operations with tools that grow with your business. Each tool delves deep into a contact's journey, offering unparalleled insights that streamline engagements and processes.
Furthermore, HubSpot's dedication to business growth is evident. Beyond its robust tools, it offers solutions for the unique challenges businesses face. From automating marketing campaigns to equipping sales teams for efficient connections, HubSpot is the key to holistic, customer-centric growth in today's digital landscape.
Key Features:
Cross-device syncing and accessibility.
Rich media note enhancement.
Powerful, flexible search capabilities.
Web clipping and annotation tools.
Integrated Google Calendar synchronization.
EngageBay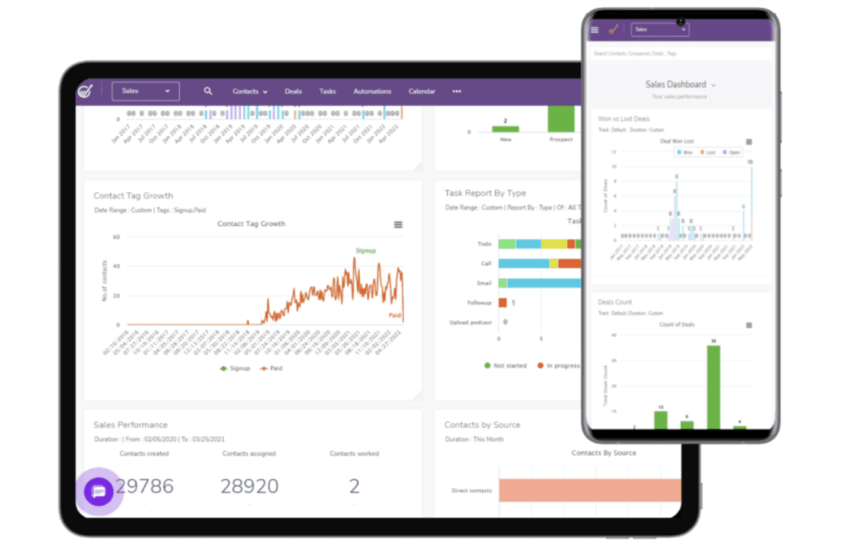 EngageBay is an all-in-one marketing automation software for small businesses and startups. It offers a multistep, visual marketing automation builder with drag-and-drop functionality.
In addition, the software offers omnichannel marketing across email, phone, SMS, social media, mobile, and the web. Users can automate campaigns and collect customer data across all touchpoints throughout the customer journey. The easy-to-use interface, along with clean dashboards, allows for smooth management.
Key Features:
Multistep, visual, drag-and-drop marketing automation builder
Free CRM and free-forever plan
One of the most affordable
All-in-one automation software lets users automate marketing, sales, and customer support
Advanced marketing features, including landing pages, reports, dashboards, A/B testing, web analytics, and more
LeadSquared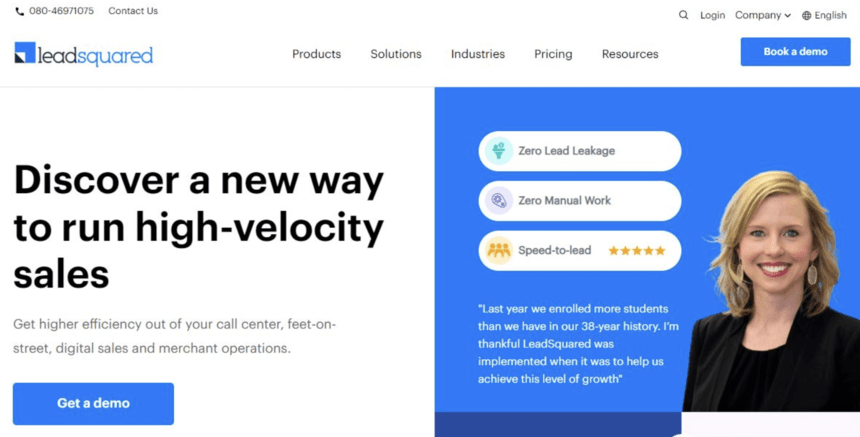 LeadSquared is a cutting-edge marketing automation platform designed to enable marketing teams to work more efficiently, target the right audience, and deliver personalized experiences. It is an indispensable platform for businesses looking to achieve marketing success in today's competitive landscape.
LeadSquared focuses on bridging sales and marketing teams for seamless collaboration and a smoother customer journey from lead generation to conversion.Whether you are a small startup or a large enterprise, LeadSquared offers a comprehensive suite of features to capture and manage leads, nurture customer relationships, and drive revenue growth.
Key Features:
Marketing Reports and ROI Tracking
Precise Lead Tracking and Targeting
No-Coding Customization
Automated Marketing Workflows
Integration with 100+ Tools
GetResponse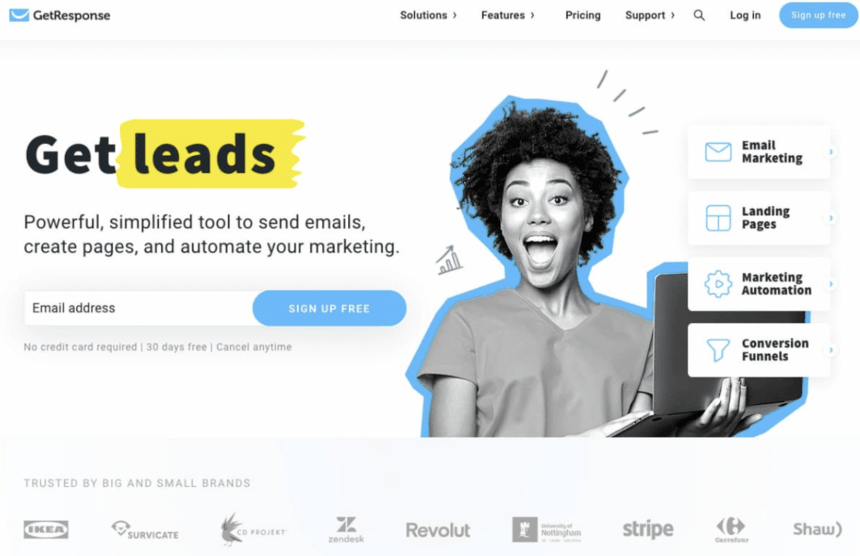 GetResponse is a comprehensive email marketing solution that is designed to help you every step on the way. It includes a landing page creator, conversion funnels, webinars, ecommerce solutions and 150+ integrations, making it a great choice for solopreneurs and SMBs. With GetResponse's robust suite of tools, businesses can effectively manage and optimize their email marketing, delivering more personalized and impactful communications.
GetResponse's free account includes access to essential marketing tools and popups, website builder, and landing page creator. It also comes with limited-time access to the platform's premium features like marketing automation, paid ads, or conversion funnels.
Key Features:
150+ beautifully designed email templates and AI-powered email generator
Landing page and website builder with 100+ pre-built templates and AI creator
Ready-made, automated sales funnel creator
Built-in no-download, easy to use webinar solution
Meta and Google ads creator
Ortto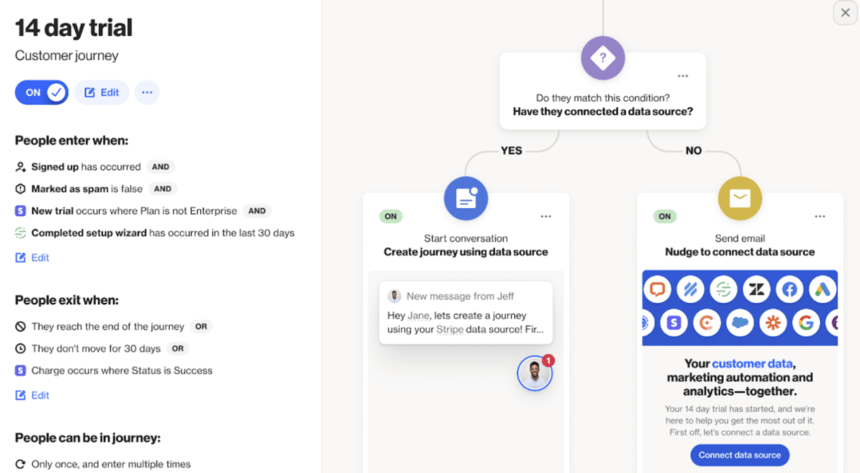 Ortto is a complete marketing automation and analytics platform. It's powerful yet intuitive to use, and will remove data or design bottlenecks so marketing teams can launch campaigns faster – and ultimately drive business growth.
The visual journey builder makes it easy to orchestrate messages across channels and trigger actions in connected tools. Plus, it's built on top of a CDP that was created specifically for marketers so they can access complete demographic and event-based customer data for more timely, relevant and personalized messages.
Key Features:
Journey builder to automate omnichannel campaigns
Customer data platform (CDP) to power your campaigns with complete customer data
Reports & dashboards to understand how campaigns are performing and their impact on key metrics
Talk, an omnichannel engagement solution with shared inboxes and AI-powered live chat
Capture, a suite of tools including popups, surveys and forms to convert users
Insider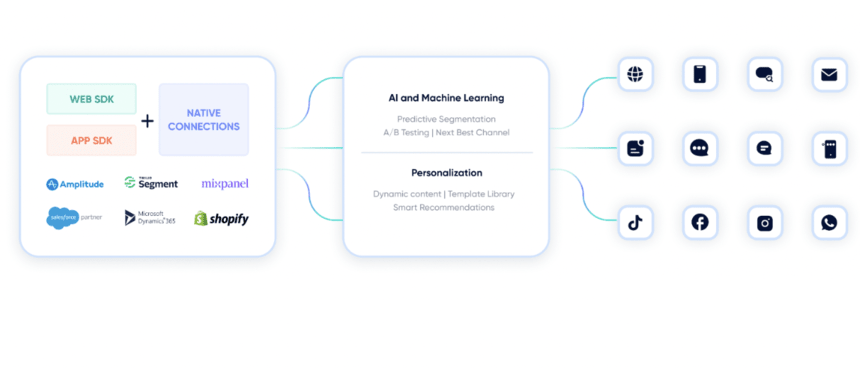 Insider —a single platform for building individualized, cross-channel experiences—enables enterprise marketers to connect customer data across channels and systems, predict their future behavior with an AI intent engine, and build individualized customer experiences. Marketers use Insider's platform to deliver consistent and engaging experiences across Web, App, Web Push, Email, SMS, WhatsApp Commerce, and more.
One-third of Fortune 500 companies and top brands across retail, automotive, and travel choose Insider to deliver AI-led personalized experiences that exceed customer expectations. Insider is trusted by over 1,200 global businesses, including Singapore Airlines, Estée Lauder, Virgin, Toyota, New Balance, IKEA, GAP, L'Oreal, Samsung, Vodafone, Allianz, Santander, BBVA, Pizza Hut, Newsweek, MediaMarkt, Nissan, AVIS, MAC, Marks & Spencer, Madeira Madeira, Avon, and CNN.
Key Features:
Unmatched channel breadth
Fastest time to value
Unbeatable support
100+ seamless integrations
Smooth implementation
ManyChat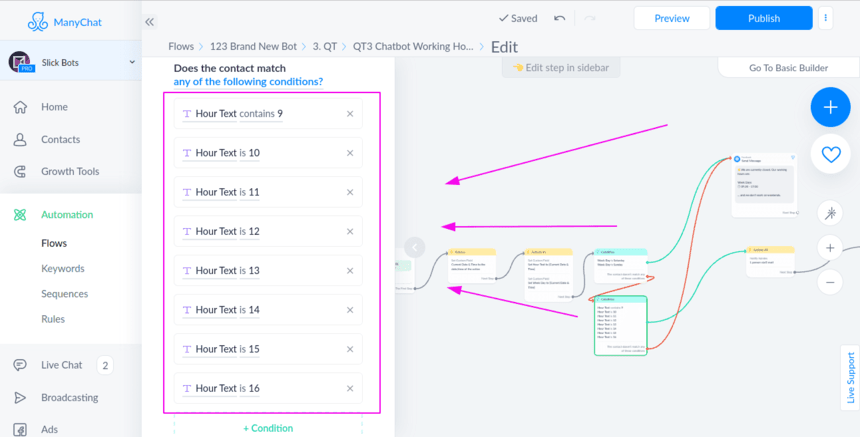 ManyChat is at the forefront of the marketing automation revolution, offering businesses an unparalleled platform to automate interactive conversations across Instagram Direct Messages, Facebook Messenger, and SMS. With results that speak volumes, brands leveraging ManyChat witness a remarkable 130% higher CTR than the industry average. Its power lies in its ability to drive sales, deepen customer engagement, and generate top-tier leads, all while providing real-time support. The platform's user-friendly drag-and-drop interface ensures that even those without coding expertise can craft engaging conversational flows with ease.
But the magic of ManyChat doesn't stop at messaging. Its versatile design allows brands to seamlessly transition from conversations to capturing vital information, such as phone numbers or emails. This paves the way for multi-faceted promotional strategies, including SMS and email campaigns. Further enhancing its utility, ManyChat boasts impressive integration capabilities, syncing effortlessly with popular tools like Google Sheets, MailChimp, and HubSpot. Simply put, ManyChat redefines holistic marketing automation for the modern brand.
Key Features:
Interactive Conversation Automation
Exceptional CTR Performance
User-friendly Drag-and-Drop Interface
Versatile Data Capture
Seamless Integration
Optimove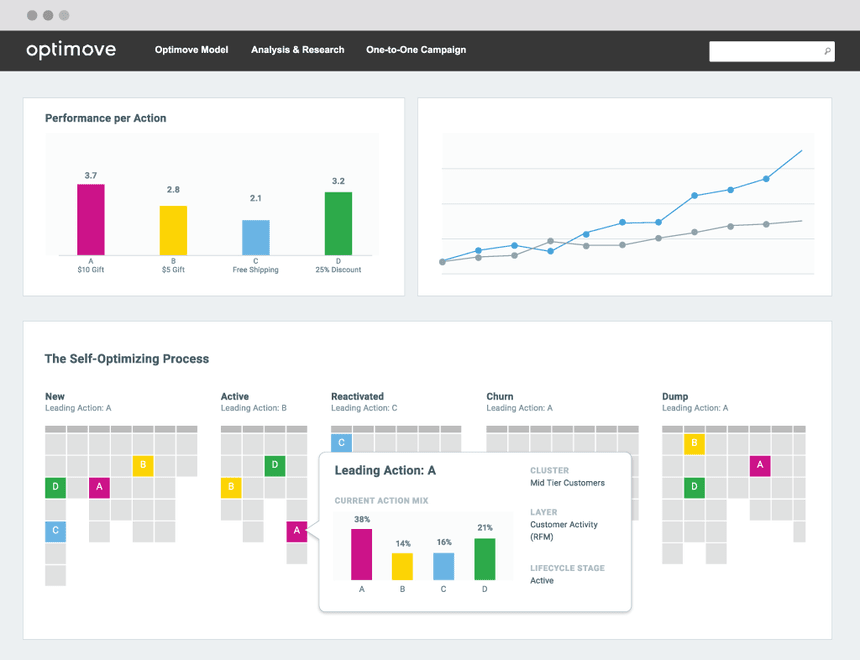 Optimove stands as a distinctive force in marketing automation, driving growth through its relationship marketing tools. At its core, the Real-Time Customer Data Platform (CDP) consolidates customer data into a single, insightful view, streamlining access for all users. This is complemented by its multi-channel decisioning feature, enabling brands to craft resonant customer communications across various platforms.
The platform's AI, Optibot, offers a new dimension of optimization, unveiling insights to continually refine customer interactions. Additionally, Optimove seamlessly integrates a range of native marketing channels, from emails to mobile notifications. This comprehensive approach ensures emotionally intelligent communications at an unprecedented scale, setting a new benchmark in CRM marketing technology.
Key Features:
Relationship Marketing Tools
Real-Time Customer Data Platform
Multi-channel Communication Orchestration
AI-Driven Insights with Optibot
Integrated Native Marketing Channels
Salesforce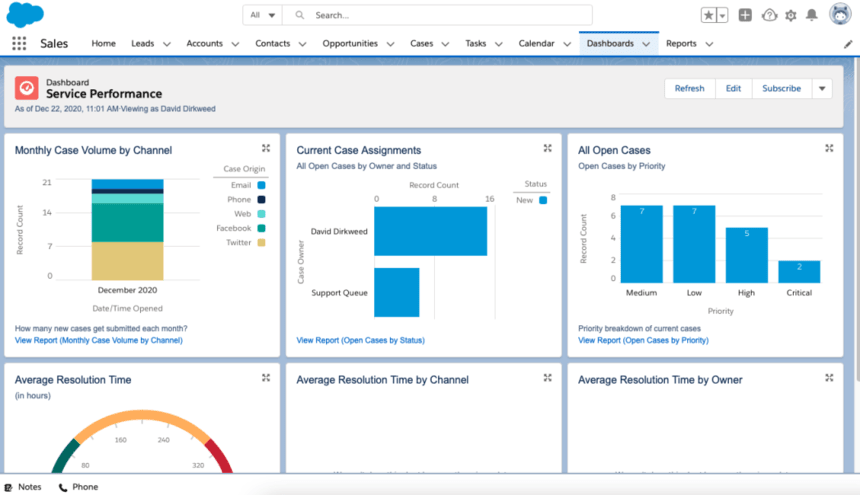 From its outset, Salesforce has championed its role as the definitive "Customer Company," meticulously crafting services and technologies to help businesses forge lasting relationships with their clientele. Despite evolving tech trends, Salesforce's commitment to customer-centricity remains unwavering, ensuring businesses consistently offer standout experiences to an ever-discerning audience.
Embracing the importance of genuine business relationships, Salesforce's "Customer 360" stands as a premier CRM solution, seamlessly unifying departments and promoting efficient collaboration. Beyond traditional CRM scopes, it integrates marketing, sales, and digital commerce, while tools like Tableau enable data-driven decision-making. Moreover, Salesforce's 1-1-1 model underscores a broader commitment, pledging resources to societal advancements, epitomizing their holistic approach to business and community.
Key Features:
Comprehensive Customer Relationship Management
Unified Departmental Collaboration
Data-Driven Insights with Tableau
Multifaceted Marketing and Sales Integration
Societal Commitment with 1-1-1 Model
Bloomreach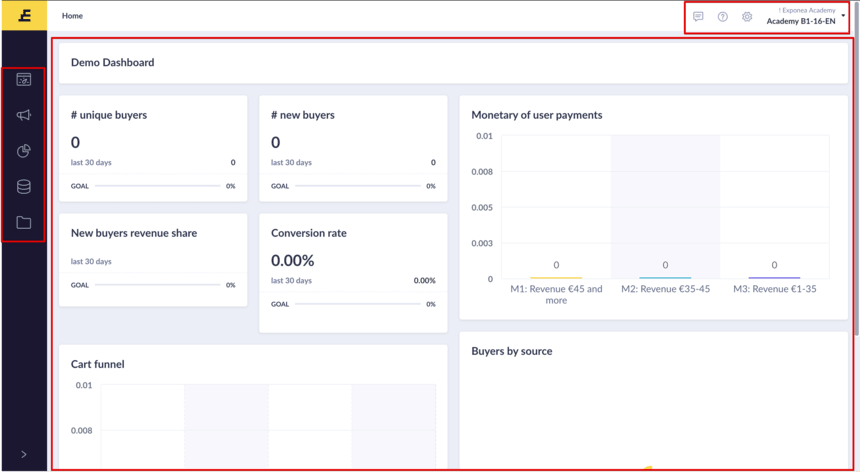 Bloomreach is reshaping e-commerce with its advanced AI, offering tailored and unforgettable shopping experiences. Using the industry's richest real-time customer and product data, Bloomreach's commerce-centric AI intuitively understands customer intent, allowing brands to deliver relevant interactions and strengthen trust.
Designed for rapid commerce growth, Bloomreach provides marketers a streamlined platform to launch omnichannel campaigns. Its evolving e-commerce search feature ensures optimal performance, and with the upcoming Bloomreach Clarity, it promises to pioneer the next wave of AI innovations in e-commerce.
Key Features:
Limitless AI-Powered Personalization
Rich Real-Time Customer Data
Commerce-Centric AI Understanding
Unified Omnichannel Campaign Platform
Evolving E-commerce Search Capability
How To Choose Appropriate Marketing Automation Software?
The right marketing automation platform can transform your strategy in the evolving digital landscape. With many automation tools available, pinpointing the one that enhances your marketing efforts can be a challenge.
The perfect marketing management tool isn't a one-size-fits-all but is specific to a business's unique needs due to its special marketing automation features.
Here's a roadmap with some recommendations, ensuring you harness the full potential of marketing automation tools.
Define Your Needs:
Before diving in, outline what you specifically need from automation tools. Are you focusing on email campaigns, lead scoring, or multi-channel strategies? Your unique needs will guide your choice.
Integration Capabilities:
Ensure the marketing management platform integrates seamlessly with your existing tools and platforms, like CRM systems, e-commerce platforms, and other marketing tools.
Ease of Use:
An intuitive interface can significantly elevate your marketing efforts. Seek user-centric software, eliminating the steep learning curve.
Budget Constraints:
While you shouldn't compromise on essential features, be mindful of your budget. Compare different pricing models and check for hidden costs.
Customer Support:
Top-notch customer service can be invaluable, especially when encountering issues or needing guidance. Check reviews to see how each platform fares in this area.
Reporting and Analytics:
Data-driven decisions are key in marketing. Opt for software that provides detailed analytics and reporting features to measure the effectiveness of your campaigns.
Customization:
Every business is unique. Choose software that allows for customization of campaign designs, workflows, and automation sequences.
Security and Compliance:
Especially if you handle sensitive customer data, ensure that the software meets industry standards for security. Additionally, check for features that help with GDPR and other compliance regulations.
Testimonials and Reviews:
Lastly, seek feedback from other businesses, especially those in your industry. Reviews and case studies can provide real-world insights into the software's strengths and weaknesses.
Why You Need Marketing Automation Software
Marketing Automation Software has become an indispensable part of modern marketing strategy.
At its core, it's like having a digital sidekick that manages, optimizes, and streamlines various marketing tasks, helping companies engage better with their customers.
From saving time to personalizing communication, the benefits are vast and game-changing.
Let's dive deeper into why these marketing automation tools are necessary for contemporary businesses.
Key Features:
Save Time: Imagine having to email every new customer by hand or post on social media at specific times daily. Marketing automation platforms can do these tasks automatically, giving you more time to focus on other things.
Consistency: Consistent communication is vital in marketing strategy. With automation, you can ensure that messages, emails, or campaigns are sent out regularly without missing a beat.
Personalization: Everyone likes feeling special! Marketing automation tools can tailor messages to individual users. For example, it can send a "Happy Birthday" email with a special offer, making the customer feel valued.
Data Collection: It's like a digital detective. Marketing automation platforms can track customer behaviors, like which emails they open and which products they look at. This helps businesses understand their customers better.
Efficiency: Reduce errors. Sometimes, humans make mistakes, like sending the wrong email. Automation can help reduce those errors by following the set rules you provide.
Scale Your Efforts: If you're a growing business, you must integrate a solid marketing strategy. Marketing automation tools allow you to reach more people without hiring extra staff.
Segmentation: Not all customers are the same. Automation can group (or "segment") customers based on behaviors, interests, or other factors. This way, you can send more relevant messages to each group.
Testing and Optimization: Wondering if Email A is better than Email B? Marketing automation tools often have testing features. Marketing automation platforms let you experiment with different messages to see which works best.
Lead Management: Imagine juggling many potential customers (or "leads") at different stages of buying. Automation can help track and manage these leads, guiding them from "just looking" to "ready to buy."
Integrated Marketing: It's like having all your marketing tools talk to each other. Maybe someone signs up for an email newsletter and then visits your website. Marketing automation software can see that and perhaps send them a special offer based on what they looked at.
Who is the Ideal User of Marketing Management Software?
So, who's the ideal user of marketing automation software?
Well, think of someone constantly juggling many tasks at once, trying to connect the dots between what their customers like, what they're saying on social media, and how best to reach out to them.
Sales Teams:
These dynamos are all about connecting with potential customers. With marketing automation software, they can effortlessly track interactions, understand customer behavior, and tailor their sales pitches, making every connection more personal and practical.
Content Marketers:
The masterminds behind engaging articles and blog posts. With this tool, they can schedule content releases, analyze readers' behavior, and even automate social media posts promoting their content.
Email Marketers:
The wizards of the inbox. They can use marketing automation to segment their audience, personalize email content based on user behavior, and even test which email version gets more clicks.
Social Media Managers:
Those at the helm of Facebook, Twitter, Instagram, and more. They can schedule social media posts, monitor engagement metrics, and even auto-respond to specific user interactions.
Event Coordinators:
Organizing webinars or live events? Automation software can manage invites, RSVPs, and post-event follow-ups, ensuring no one slips through the cracks.
Customer Service Teams:
While primarily focused on addressing customer issues, they can use the software to send follow-up emails, gather feedback, and monitor customer behavior post-interaction.
Lead Generation Specialists:
The scouts are looking for potential customers. They can use the tool to nurture leads, automatically sending relevant content based on where the leader is in the sales and marketing funnel.
Digital Advertising Managers:
Steering the ship of online ads. With automation, they can retarget ads based on user behavior, automate ad placements, and even adjust campaigns based on real-time performance.
Final Thoughts on Marketing Automation Software
Marketing automation software can be your secret weapon for streamlining and optimizing your marketing efforts. Imagine trying to keep up with all the bustling activity in a busy marketplace – it's like trying to catch confetti in the wind! That's where these platforms come into play.
Managing marketing campaigns can be like juggling flaming torches while riding a unicycle. It requires coordination, timing, and a bit of flair. With the best marketing automation tools in your arsenal, you get an extra set of hands (well, digitally speaking!) and insights, analytics, and automation that ensure each campaign hits its mark.
In simple terms, think of a marketing automation platform as that super-organized friend who always has everything planned, remembers every birthday, and still has time to bake cookies for the neighborhood. It ensures you shine in your marketing endeavors without getting overwhelmed.