In our fast-moving world, managing time effectively has become essential for both personal and professional accomplishments. The capacity to sort tasks, distribute resources, and optimize available time can significantly influence productivity, stress, and overall life satisfaction. As life grows increasingly complicated, juggling numerous responsibilities and commitments, the necessity for proficient time management tools has become more evident than ever.
Time management software is a valuable resource for individuals and businesses, simplifying the process of planning, tracking, and organizing tasks, projects, and schedules. It's like having a punctual personal assistant who never misses a beat (or a deadline)! By presenting a thorough picture of daily, weekly, and monthly tasks, it allows users to concentrate on their priorities, allocate resources, and make smart decisions about how to spend their time and effort. Ultimately, time management software not only increases productivity and eases stress but also supports a balanced work-life dynamic, all while efficiently managing various responsibilities and commitments
List of the best time management software
Bordio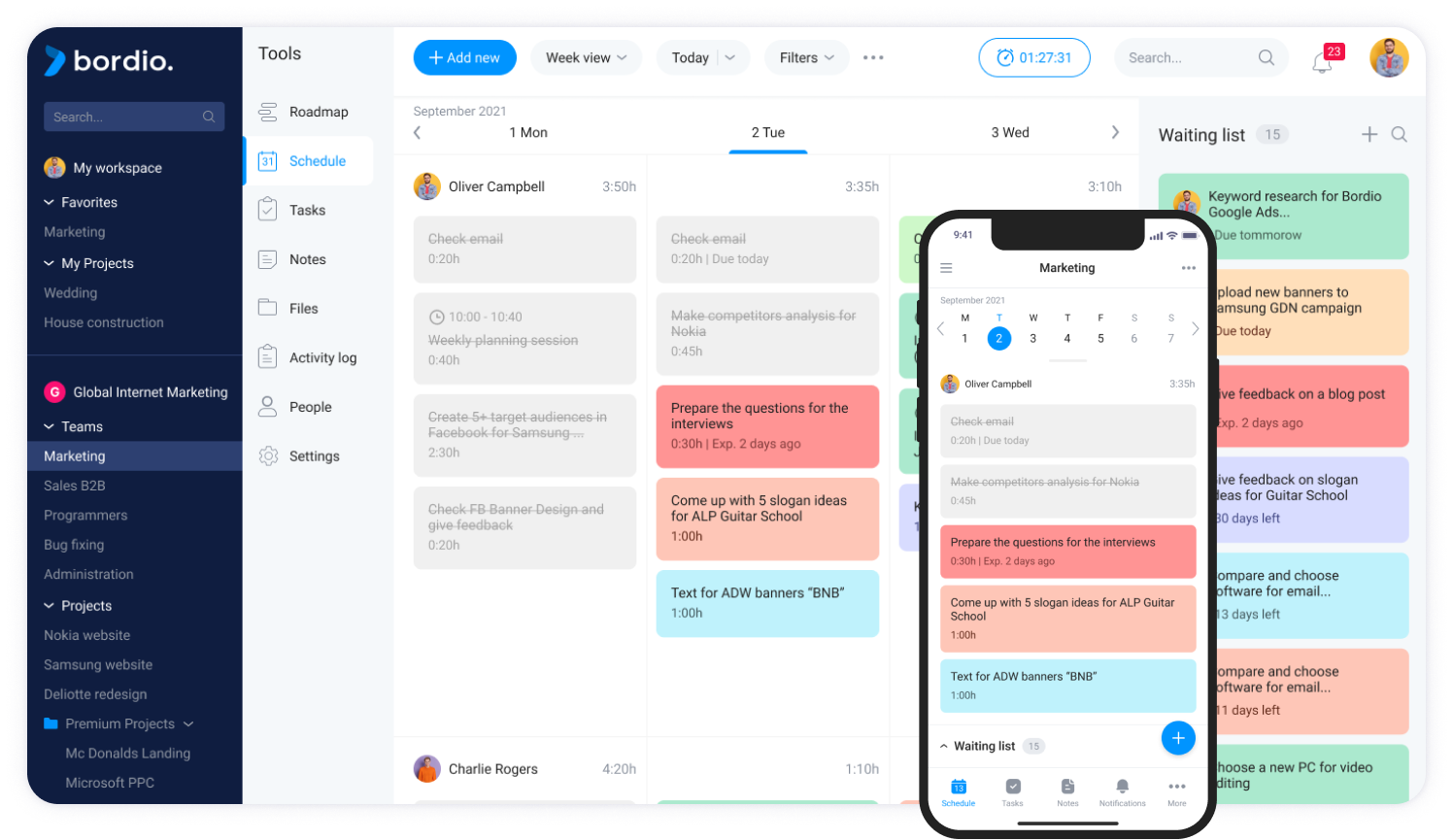 Bordio is an awesome time management software perfect for anyone looking to get their life in order. It's packed with super helpful features like scheduling tasks, setting reminders, and managing projects, all in a user-friendly interface that's easy to navigate. Whether you're a busy professional or just trying to keep up with daily life, Bordio has got you covered.
And hey, who says productivity can't be fun? With Bordio's color-coding system, your calendar will look like a rainbow of accomplishment. Plus, their smart notifications are like that little nudge from a friend, reminding you about that task you almost forgot. Bordio helps you get things done without the stress, so you'll have more time for the things that matter – like finally binging that new TV show everyone's talking about. Give Bordio a try and watch your productivity skyrocket!
Key Features:
Intuitive task and event scheduling
Time blocking for efficient planning
Waiting list for not yet scheduled tasks
Accessible on desktop and mobile
Integration with Google Calendar
Apploye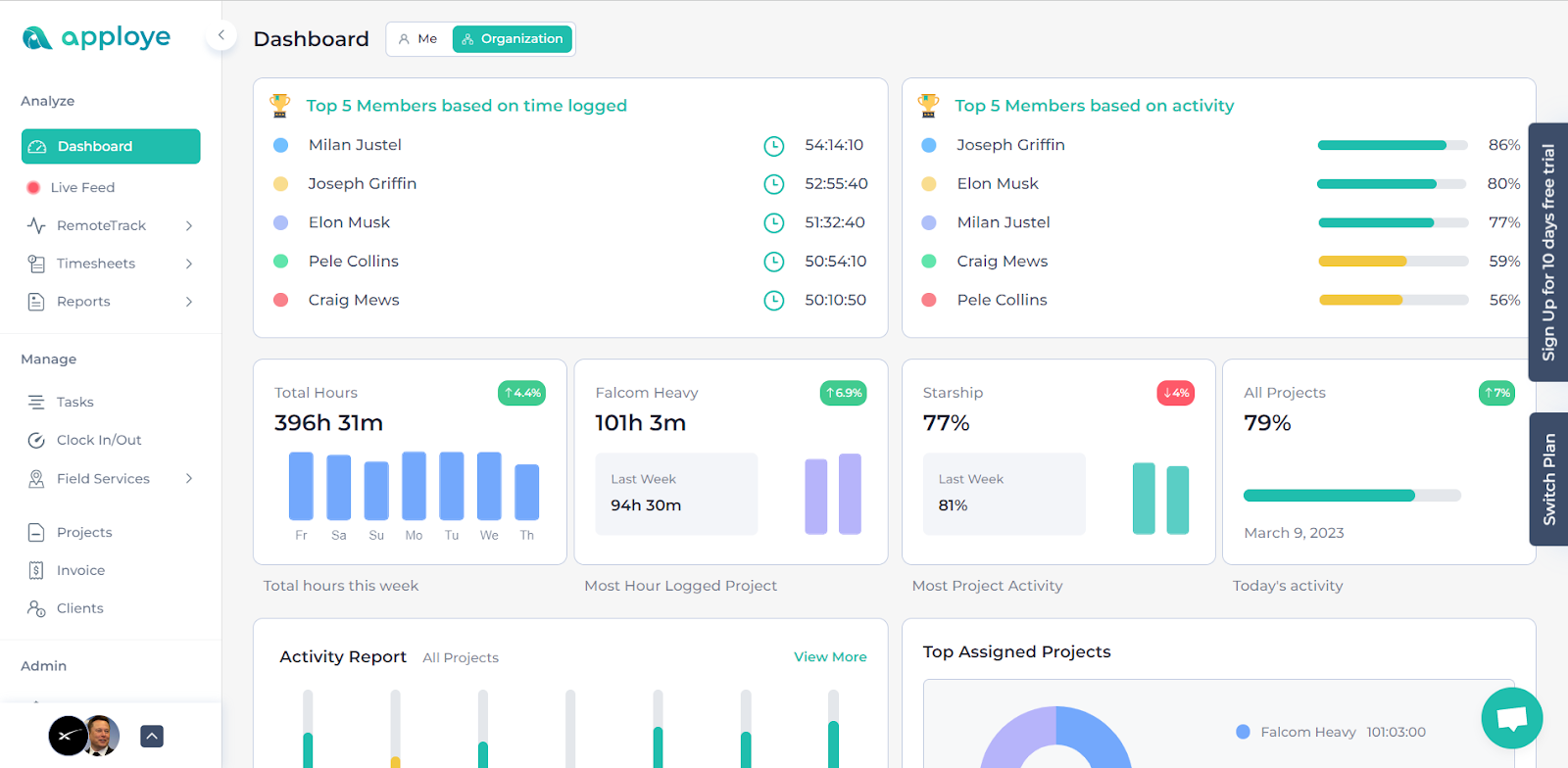 Apploye is an employee monitoring and time tracking software. It is meant to help businesses become more productive and efficient. With Apploye, businesses can keep track of their employees' work hours, monitor their productivity, and manage their tasks all in one place. This lets them quickly figure out where their employees might be wasting time or not working as well as they could, and then take the necessary steps to fix the problem.
One thing that sets Apploye apart from its competitors is that you can change the way reports look. Apploye also has advanced features like geolocation tracking, project time tracking, clock in clock out, screenshot monitoring, geofence attendance and many more features. This makes it a powerful and flexible tool for businesses of all sizes.
Key Features:
Time Tracking- daily, weekly, monthly & custom timesheets
Remote Employee Monitoring- Screenshots, apps & urls tracking
Task Management- Create & Assign Task & Task-wise time log
Attendance & Leaves- Shift Clock In – Clock out & Monthly report
Projects & Budgeting- Project Billing, Project Budget, Hourly & Fixed fee billing
WebWork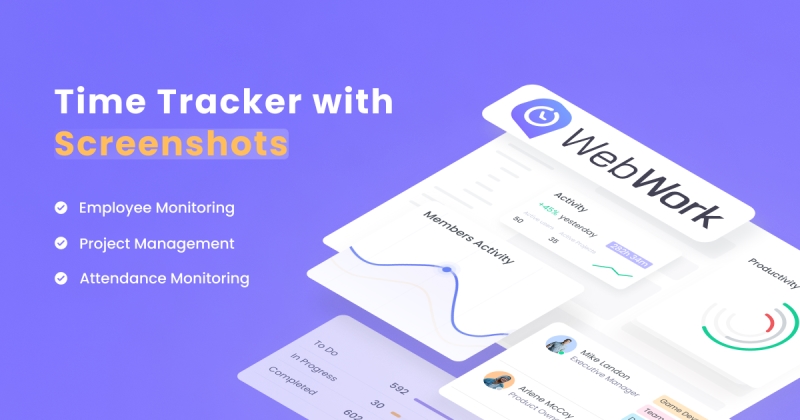 WebWork is a time-tracking and productivity-monitoring software for remote teams. To make remote work management easier, WebWork enables tracking the time and productivity level of employees. This way it helps the employer see how much employees work, how productive they are, and the whole process of the workflow.
Other than improving time and productivity, WebWork also helps with remote task management and communication. Teams can organize their tasks and projects in one place, on WebWork, and track the progress on them. Meanwhile, they can stay in touch through WebWork's built-in team chat and video calls.
Key Features:
Time tracking with screenshots (4 modes)
App and website usage
Productivity monitoring
Billing and invoice creation
Task management and communication
Timeular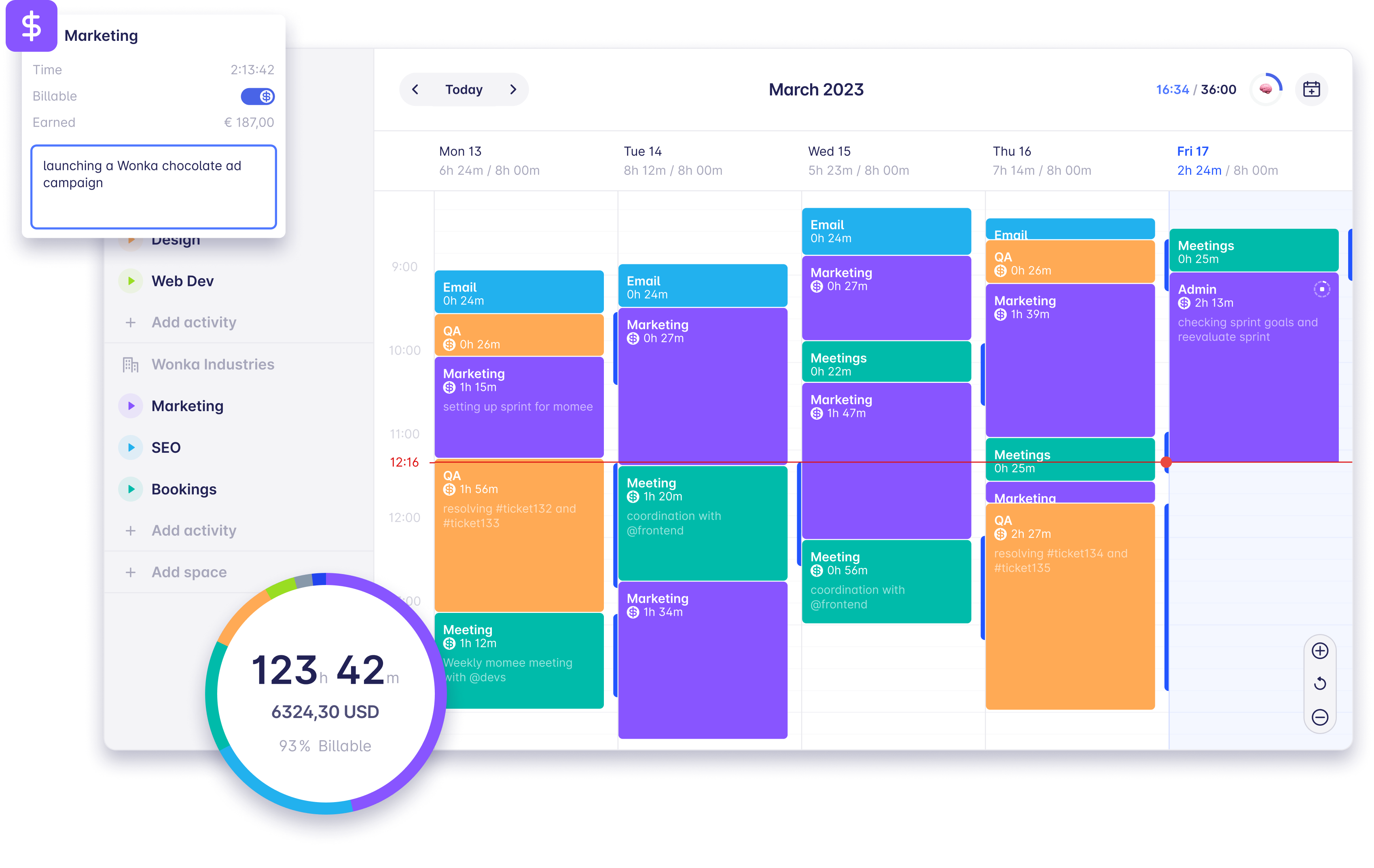 Timeular is the preferred tool for tracking team time and billable hours due to its user-friendly interface, enabling users to track time offline and online without distraction or needing to open the application. Several ways to track time include a calendar view, keyboard shortcuts, and a physical device. Using Timeular facilitates the development of a time-tracking routine and provides an array of reporting insights that can be exported in PDF, XLSX, and CSV. Timeular helps teams to identify time-wasting activities and maximize billable hours.
Moreover, Timeular offers a physical time-tracking gadget that links to application tasks via Bluetooth. The device features eight sides, with each representing a different activity. The software also incorporates functionalities like billable time, adding notes to time entries, reporting, timesheets, budgets, and integration with other tools, including Zapier, Jira, and Toggl. It supports Windows, Mac, Linux, and mobile devices. Timeular is ideal for both individual and collaborative work settings. Its intuitive software, exceptional customer support, and adaptable time entry options distinguish Timeular from others.
Key Features:
Track time with the physical tracker
Infinite Shared Spaces: Track time together with your team for multiple projects
Calendar integrations: See your Calendars in Timeular
Add Notes, Tags, and mentions to time entries: Make time-tracking even more accurate
Set Time budgets: allocate time towards different clients and projects and monitor it in real-time
MyLifeOrganized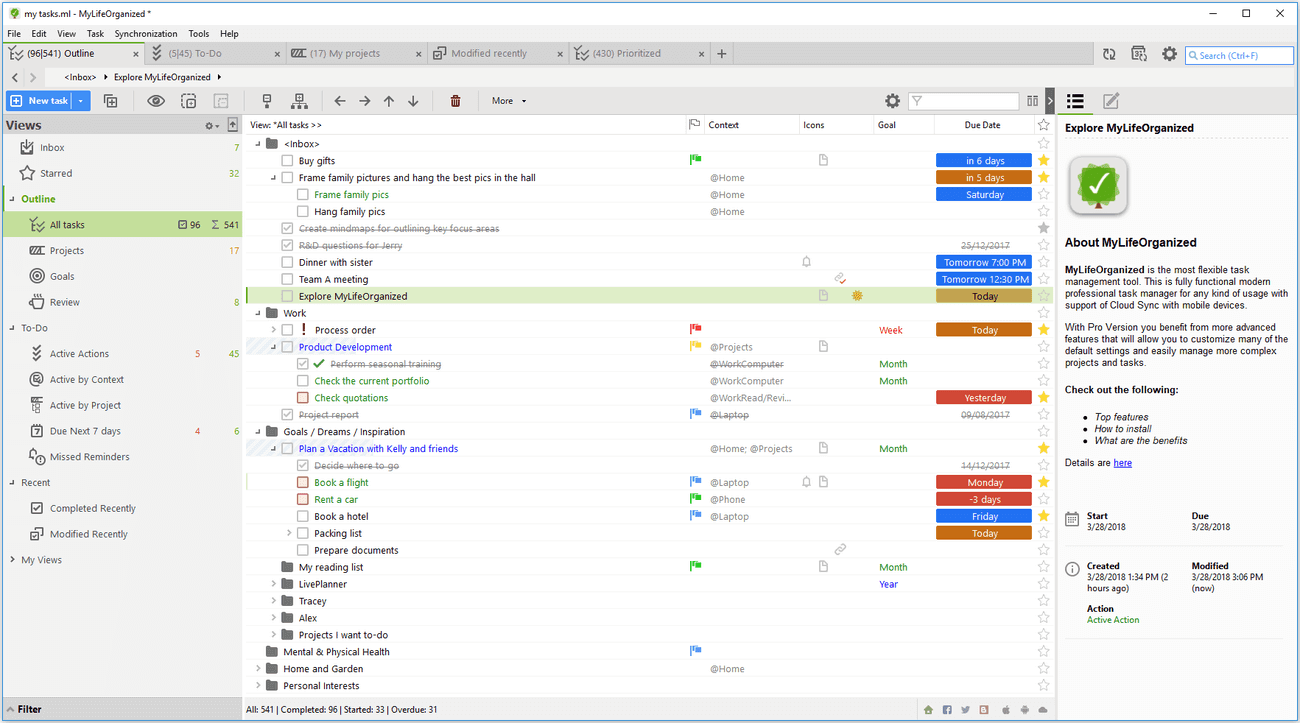 MyLifeOrganized (MLO) is a powerful personal task management software that can help you achieve your goals. It was one of the first to-do list applications to feature an unlimited hierarchy of tasks, and has since evolved into a highly flexible planning tool with rich customization options, an auto-generated to-do list, support for the GTD concept, and the ability to adapt to any task management system.
MLO helps you stay focused on relevant tasks. With a variety of filters and options it lets you pull up lists of tasks that really matter. Regular and location-based reminders ensure that you won't miss a thing no matter where you are.
MLO is a planner that can grow with you over time without feeling constrained by its capabilities. If you've grown frustrated with the limitations of other to-do apps, MLO is definitely worth a try.
Key Features:
Highly customizable and flexible drag&drop interface
Outline: All tasks can be organized into an infinite hierarchical tree
Smart to-do list: a list automatically generated based on user input
Dashboards: Display multiple views at once
Sync with Google Calendar