Launching into the world of presentations, startups and professionals alike are looking for tools that can set them apart from the mundane. After in-depth analysis, we've unearthed 2023's top 10 presentation apps and software alternatives to PowerPoint. Here's our handpicked list to elevate your content and captivate your audience. Let these innovative platforms transform your ideas into compelling visual stories.
What Exactly is Presentation Software?
Presentation software is a digital tool designed to showcase information and ideas visually, turning complex data and concepts into easily digestible slides and graphics. It's about conveying messages effectively, engaging audiences, and transforming ordinary meetings into compelling storytelling sessions.
These programs typically offer features such as slide templates, animated transitions, interactive elements, multimedia embedding, and design customization. This ensures every presentation not only captivates the audience but is also tailored to the presenter's unique presentation style and objectives. They provide an essential platform for educators, businesses, and professionals to communicate complex ideas, share insights, and collaborate on projects, all while making the experience dynamic and memorable.
10 Premier Presentation Tools Dominating 2023: Beyond PowerPoint
Google Slides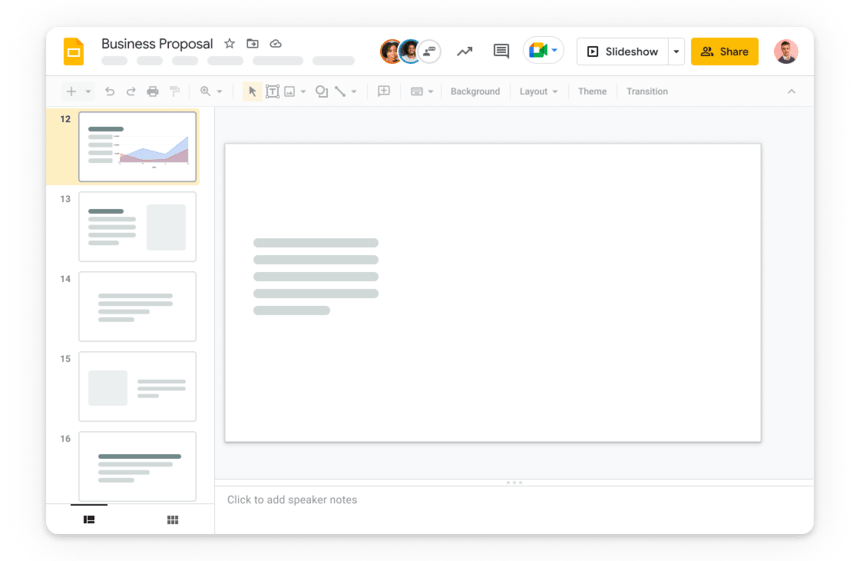 Google Slides is a dynamic presentation tool that's part of the Google Workspace suite. It offers users the ability to create, edit, and collaborate on presentations directly in their web browsers, eliminating the need for specialized software. With its user-friendly interface, real-time collaborative features, and a variety of customizable templates, it has become a favorite for individuals and teams aiming for seamless, cloud-based presentations.
Moreover, Google Slides is not just restricted to creating slide decks. Its integration with other Google services like Google Drive, Google Photos, and Google Drawings ensures that users have a holistic experience. Whether you're crafting a presentation for work, school, or personal projects, Google Slides offers the flexibility and tools to bring your ideas to life.
Key Features:
Real-time Collaborative Editing
Cloud-based Presentation Storage
Customizable Slide Templates
Integrated with Google Workspace
Interactive Slide Transitions/Effects
Prezi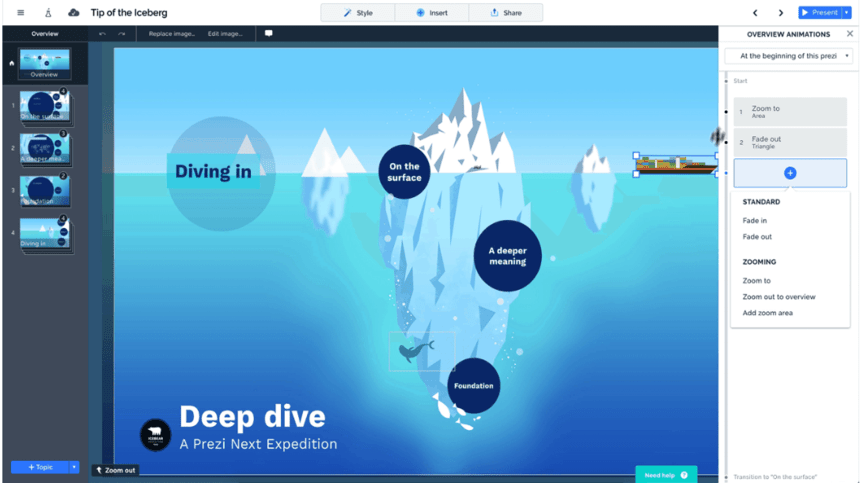 Prezi is revolutionizing the art of presentation. Forget the static slides; Prezi's open canvas allows users to organize, visualize, and move seamlessly through their content, creating an engaging, dynamic experience for audiences. With Prezi, you can collaborate with other users in real-time, no matter where they are located.
Whether in business or education, Prezi is trusted globally. Known for turning any presentation into an unforgettable storytelling experience, it's been the go-to tool for over 15 years. From classrooms to TED talks, creators in over 180 countries rely on Prezi to craft presentations that are 25% more effective and 40% more memorable than traditional slides.
Key Features:
Dynamic Open Canvas Design
Collaboration Features
Extensive Template & Asset Libraries
Engaging Video Conference Integration
Personalized Presenter Notes & Downloadables
Venngage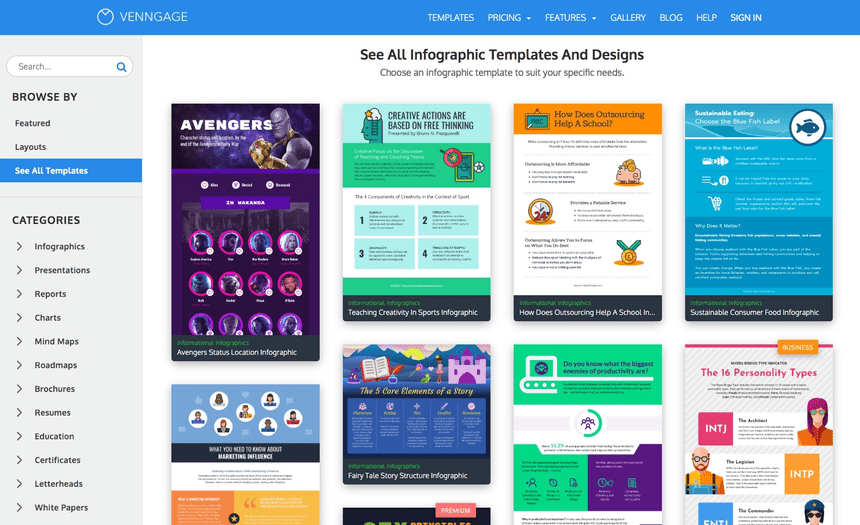 Venngage stands out as an intuitive platform tailored for individuals without a design background, enabling them to craft professional and visually appealing infographics. Users are provided with an expansive library of customizable templates, designed to effortlessly transform mundane data and documents into engaging visuals. The platform's capabilities extend beyond just infographics; it offers robust tools for creating reports, presentations, diagrams, and charts.
Promoting collaboration is at the heart of Venngage. The platform facilitates team synergy, allowing multiple users to contribute and refine projects seamlessly. Furthermore, to make the sharing and distribution process straightforward, Venngage offers a plethora of export options. Whether you're aiming to keep your audience engaged, present data in a memorable way, or enhance team collaboration, Venngage proves to be an indispensable tool.
Key Features:
Intuitive Infographic Creation Tools
Expansive Customizable Template Library
Collaborative Design and Editing
Multiple Export Options
Diverse Report and Chart Capabilities
Powtoon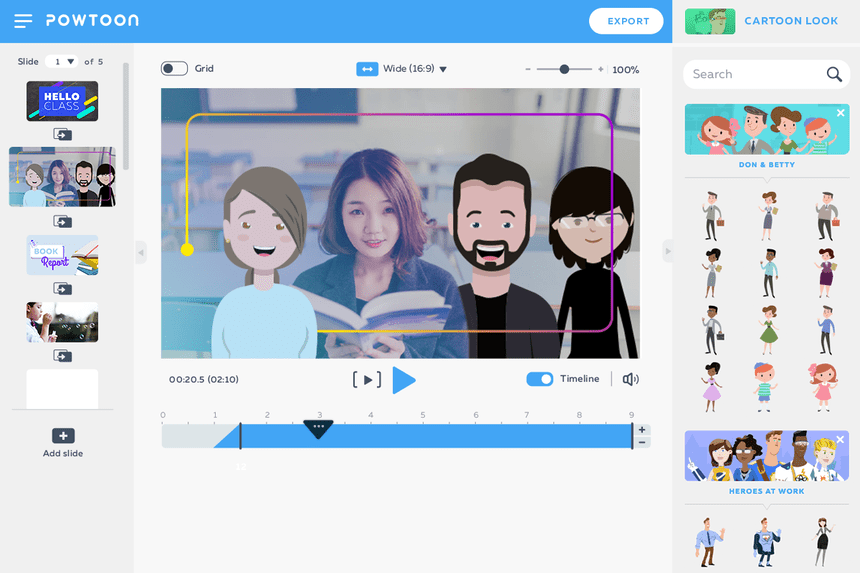 Powtoon is the ultimate platform for crafting dynamic and engaging videos and presentations that truly captivate your audience. Whether you're in HR looking to recruit top talent, a marketer aiming for lead generation, or an educator wanting to inspire creativity, Powtoon provides the tools to convey your message with a powerful visual punch. Trusted by 96% of Fortune 500 companies, it ensures your content resonates effectively with your audience.
Dive into a world of animated characters, vast templates, mesmerizing video backgrounds, and evocative soundtracks with Powtoon's intuitive interface that requires no design or technical expertise. With over 40 million satisfied customers, step up your presentation game and make sure your content stands out in the crowd.
Key Features:
Dynamic Video and Presentation Maker
Intuitive No-Skill-Required Interface
Extensive Library of Animated Characters
Customizable Templates and Backgrounds
Trusted by 96% of Fortune 500
Renderforest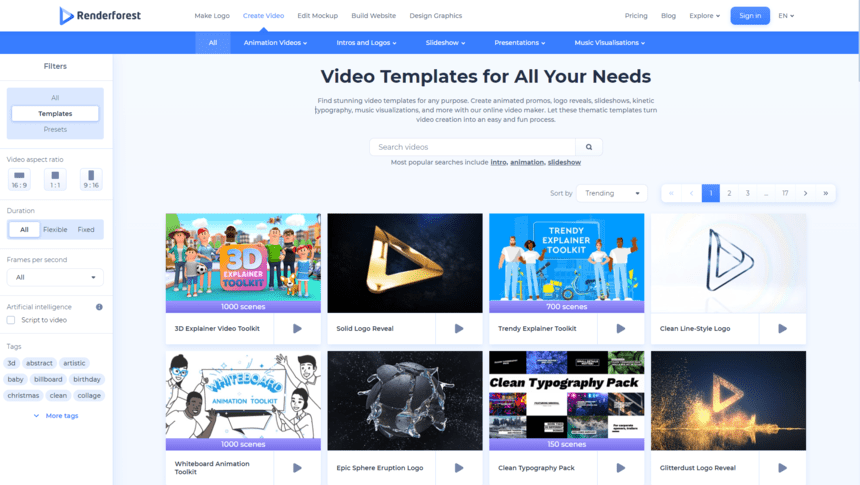 Renderforest is a comprehensive design platform that centralizes a multitude of creative tools to cater to your business's marketing and branding needs. Whether you're seeking to produce captivating videos, animations, and graphics, or you want to design standout logos, mockups, and professional websites, Renderforest is equipped to bring your visions to life. Trusted by over 20 million users and 100,000 high-end companies, this platform empowers both novices and professionals to craft visually compelling content with ease, ensuring your brand resonates with your target audience.
From crafting powerful explainer videos, creating elegant logo templates, to designing high-end presentations, every tool within Renderforest is designed to elevate your brand's presence in the market. The platform replaces traditional video creation tools, website subscriptions, and design software, streamlining your creative process under one roof. Feedback from CEOs to freelancers highlights Renderforest's impact in the field, praising its efficiency, professional results, and ease of use. Dive into Renderforest today and redefine how you communicate your brand's story.
Key Features:
Comprehensive Video and Animation Toolkit
High-End Logo and Branding Designs
Professional Website Creation and Hosting
Advanced Presentation and Mockup Tools
Streamlined Design and Marketing Integration
Pitch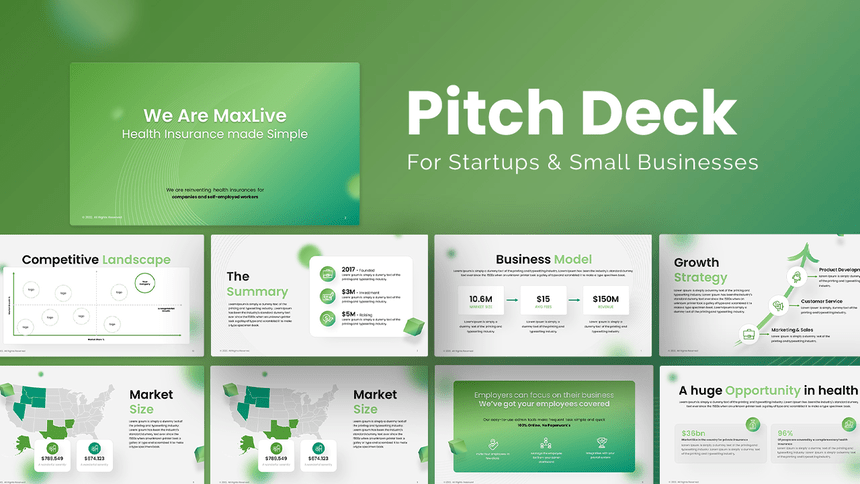 Pitch is transforming the realm of presentations, merging swift functionality with impeccable aesthetics. Tailored for the modern professional, this platform streamlines the process of crafting compelling slides, without compromising on design or detail. What's notable is its collaborative feature — allowing teams to work in tandem, thus ensuring each deck embodies a collective vision. Renowned brands such as Grammarly, Notion, and Unsplash stand testament to its capabilities, having integrated Pitch into their workflow.
But Pitch isn't just about creating; it's about understanding your audience. The platform offers a suite of analytics tools that shed light on viewer interaction and engagement, ensuring creators can fine-tune their content for maximum impact. With the ability to share, edit, and embed presentations seamlessly, coupled with real-time insights, Pitch is not just a tool, but a comprehensive solution for anyone aiming to elevate their presentation game.
Key Features:
Swift Collaborative Slide Creation
Real-time Audience Engagement Analytics
Seamless Team Collaboration Tools
Dynamic Template & Brand Integration
Embed Anywhere Web Presentations
Visme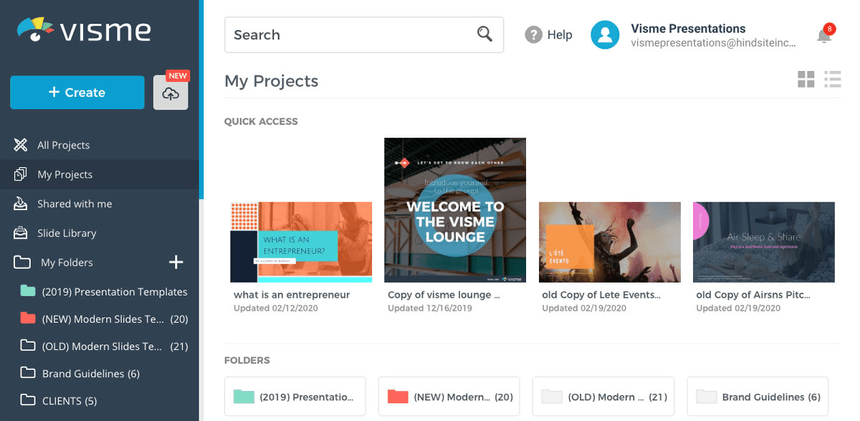 Visme is a dynamic all-in-one platform designed for creating a broad range of visual content, from presentations and documents to data visualizations, videos, and more. Emphasizing interactivity and rich design capabilities, this platform is not just about creating visuals but transforming statistics and figures into compelling, impactful stories.
With its effortless ease-of-use, users can choose from thousands of customizable templates, integrate millions of unique photos and icons, and even bring their content to life with engaging animations. Serving over 23 million users from 133 countries, Visme goes beyond mere design; it's about creating, scheduling, and publishing all from one place while ensuring brand consistency across teams.
Key Features:
Interactive Content Creation
Data-Driven Visualizations
Thousands of Customizable Templates
Collaborative Team Features
Comprehensive Brand Consistency Tools
Slidebean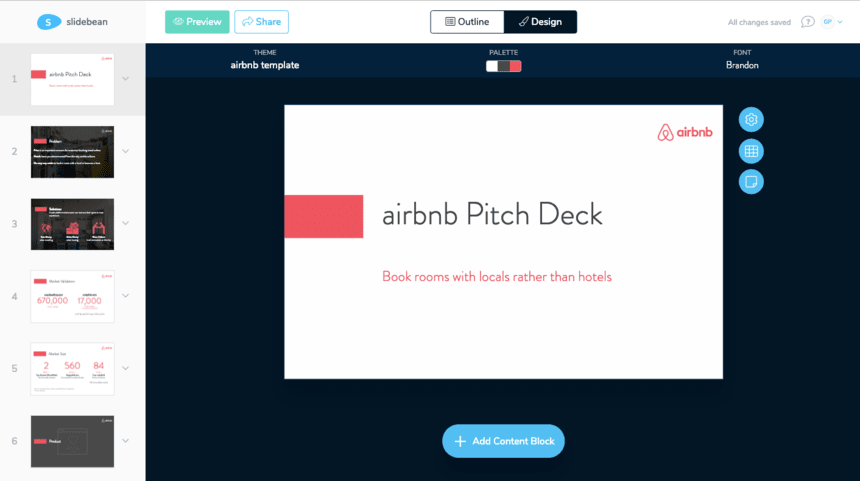 Slidebean is the ultimate tool for founders looking to elevate their business presentations. Designed with the modern entrepreneur in mind, this platform simplifies the process of creating captivating pitch decks. With its intuitive presentation software, users can swiftly construct impactful decks, while those looking for a more tailored approach can leverage Slidebean's specialized Pitch Deck Services.
Here, founders are assisted by a team of seasoned analysts, storytellers, and designers to craft the perfect narrative for their startups. This proven formula has led to over $300M in funds raised in just 18 months. Whether you're an emerging startup or an established business, Slidebean's robust features, from automated design to slide analytics, are geared to set you on a trajectory of success.
Key Features:
Intuitive Pitch Deck Creation
Collaborative Teamwork Features
Automated Design Assistance
In-depth Slide Analytics
Expert Business Analysis Support
HeyGen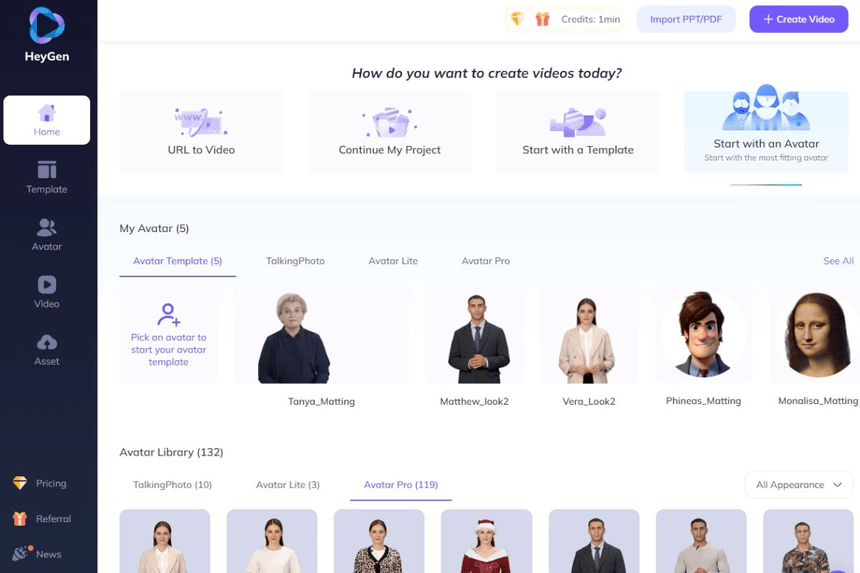 HeyGen revolutionizes the video production game, allowing you to craft engaging videos in mere minutes without the hassle of cameras, actors, or complex editing processes. By leveraging AI-generated avatars and voices, users can efficiently produce high-quality content tailored to their needs.
From startups to established enterprises, teams globally are ditching traditional video production constraints and embracing HeyGen's intuitive system. Whether it's for product marketing, sales outreach, or learning development, HeyGen's extensive avatar options and multilingual voices ensure your content resonates with your target audience, all at a fraction of the traditional cost and time.
Key Features:
AI-generated Avatars and Voices
Instant Video Production in Minutes
Comprehensive Avatar Customization Options
High-quality Voices in 40+ Languages
Seamless Platform Integrations
Relayto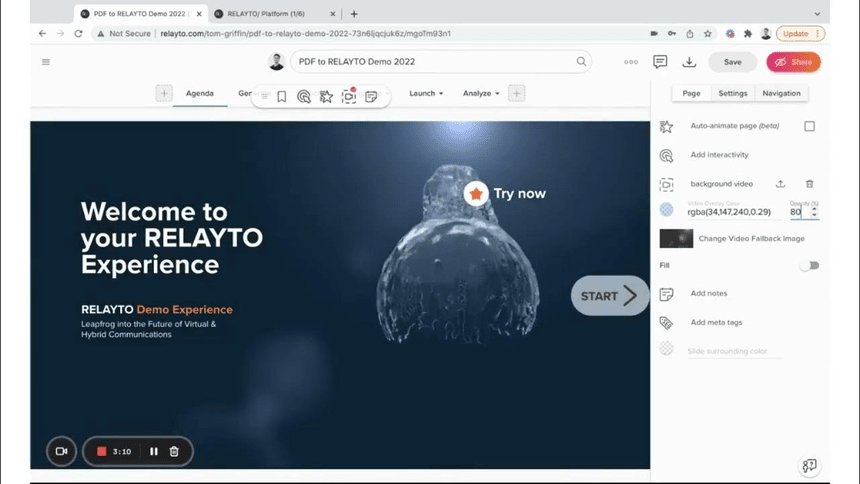 Relayto is revolutionizing digital content creation by empowering businesses to transform PDFs and presentations into captivating content hubs. From auto-animations to no-code rich media embeds, Relayto ensures every content piece stands out. Personalized multimedia journeys and robust distribution options make it a top choice for content marketers, sales teams, and other professionals.
Beyond creation, Relayto offers AI-powered tools to turn files into animated digital microsites. It doesn't stop at content sharing; the platform provides flexible sharing options, be it public, gated, or private. Combined with in-depth document analytics, Relayto ensures businesses not only distribute content but also gain actionable insights from audience engagement.
Key Features:
Convert PDFs to Digital Hubs
AI-Powered Content Transformation
Personalized Multimedia Journeys
Smart Content Sharing Options
Deep Document Analytics
How did we pick the top presentation software alternatives to PowerPoint?
Diverse Feature Set:
The presentation landscape has diversified, with tools now offering a variety of features, from animation to interactivity. We prioritized software that presented a comprehensive suite of innovative features, allowing users to craft presentations that stand out.
User-Friendly Interface:
The best tools should enhance creativity, not hinder it. We evaluated software based on user-friendliness, ensuring that even those new to presentation design could easily navigate and utilize its features.
Client Showcase:
A software's reputation often lies in its users' creations. We critically examined user showcases, searching for software that enabled users to produce exceptional, engaging presentations beyond the standard slide format.
Cost-Effectiveness:
While many professionals and startups seek high-quality tools, budget constraints are real. We ensure our selections offer value for money, delivering outstanding functionality at prices that cater to a range of budgets.
How to choose the right presentation software alternative to PowerPoint for you?
Clarify Your Needs:
Understand the nature of your presentations. Are they for educational purposes, corporate pitches social media presentations, or interactive webinars? Recognizing your specific needs will help you select software with features tailored to your requirements.
Identify Your Audience:
The demographics and preferences of your audience can greatly influence your software choice. Tools that engage millennials might differ from those that resonate with a more mature audience. Understanding your audience ensures you can create presentations that are both relevant and engaging.
Seek Recommendations:
Leverage your network. Ask colleagues, peers, or industry connections about the software they use and why. Personal recommendations can provide insights into ease of use, effectiveness, and any potential challenges they've encountered.
Take Advantage of Trials:
Most software providers offer free trials or limited versions. Before committing, try out a free version of a few options to get a feel for their interfaces, features, and any limitations they might have.
Check Compatibility:
Consider where and how your presentation will be viewed. Ensure your chosen software is compatible with various devices and operating systems, especially if presenting to a remote or diverse audience.
Understand Pricing Structures:
While some tools offer one-time purchase options, others may have monthly or yearly subscriptions. Additionally, consider any add-ons or premium features you might need. It's essential to find a tool that offers the features you need within your budget while also providing good value for the cost.
How much does it cost to invest in top presentation software alternatives to PowerPoint?
Venturing into the world of presentations, startups, and professionals often grapple with budget considerations. Leading presentation software alternatives in the US or EU can range between $10 to $50 per month for individual licenses, reflecting their advanced features and dynamic designs. However, more cost-effective alternatives are available from various global sources, although these might occasionally compromise on certain advanced functionalities. Users must balance their financial capacities with desired features when choosing a presentation program.
When is the right time to transition to a new presentation software?
For companies, startups, and professionals alike, discerning the right moment to switch or adopt a new presentation platform is paramount. The ideal time often arises when the presenter feels limited by their current tool, needing more advanced features or a fresher design palette. However, just feeling the need isn't sufficient; it's also essential to ensure that transitioning won't disrupt ongoing projects or presentations. Most professionals consider making a shift during a lull in their presentation schedule or when starting a fresh project. Such periods allow them ample time to acquaint themselves with new features and design nuances. Once a presenter recognizes the need for elevated aesthetics and functionality and has the time to adapt, transitioning to one of the best presentation software alternatives can significantly enhance their storytelling prowess.
Interactive presentation tools vs. in-house development
Every forward-thinking company or individual presenter grapples with the choice: invest in the best presentation software or build an in-house presentation app. On the surface, a monthly subscription of $10 to $50 for a leading presentation software might appear more than reasonable. Yet, this fee unlocks a world of features, from seamless animations to intuitive design interfaces, crafted by experts with years dedicated to perfecting the user experience. Conversely, if you were to develop a proprietary in-house presentation app, the costs of hiring experienced developers, designers, and testers would likely far exceed those monthly fees, without the guarantee of achieving similar sophisticated features or reliability.
Furthermore, established interactive presentation tools benefit from continuous feedback from a vast user base. This means their features and functionalities are regularly updated and refined, ensuring you're always working with cutting-edge tools. An in-house team might not have this breadth of exposure, potentially leading to a more narrow toolset.
Most common presentation tools
PowerPoint Presentations: A staple in the presentation arena, PowerPoint offers a comprehensive suite of slide design and animation tools. Companies often turn to this Microsoft product for its familiarity and robust features, ensuring their ideas are conveyed clearly and effectively.
Interactive Presentations: With the evolving need for dynamic and engaging content, interactive presentations have surged in popularity. Tools that offer features like clickable elements, embedded videos, and real-time audience polls can significantly enhance audience engagement and retention.
Slide Design Templates: Companies looking for consistency and brand alignment often invest in slide design templates. These pre-designed layouts ensure every presentation adheres to the branding, enhancing recognition and professionalism.
Webinar Platforms: As remote collaboration becomes more prevalent, companies are leveraging webinar platforms. These tools allow for live PowerPoint presentations, interactive Q&A sessions, and real-time audience engagement, ensuring a more immersive presentation experience.
How do you select the best presentation software alternative to PowerPoint?
Competitor Usage: Explore the presentation tools your competitors prefer. Understand their choices to gauge which platforms might give you a competitive edge.
Industry Trends: Survey the broader presentation landscape, pinpointing emerging trends and software functionalities that resonate with contemporary audiences.
Integration Capabilities: Determine which software integrates seamlessly with other tools you use, ensuring a streamlined workflow and enhancing efficiency.
Audience Engagement Features: Assess how different software options facilitate audience interaction. Consider features like real-time polling, Q&A modules, and interactive animations to ensure your presentations captivate and engage.
6 things to discuss with a presentation software provider before making the switch
1. Preferred Communication Channels:
In our connected era, there's a plethora of ways to stay in touch, ranging from traditional emails to more advanced collaborative platforms. Before committing to a presentation app, ascertain the primary mode of communication for support or queries. Is it through direct emails, platforms like Discord, or a ticketing system within the software itself? A consistent mode of interaction ensures prompt support, clarity, and efficient problem resolution. Moreover, have contingencies in place for pressing issues or if there are any technological disruptions.
2. Primary Point of Contact:
It's vital to know who you'll be communicating with when you have queries or need assistance. Will it be a dedicated customer success manager, a support team, or a community forum? Identifying the primary source of help ensures swift solutions and a deeper understanding of how to harness the best presentation software's full potential. Your point of contact should be knowledgeable, reachable, and have an in-depth comprehension of the software's functionalities.
3. Frequency of Software Updates:
Regular updates are crucial for software applications to stay relevant and bug-free. Clarify how often the software receives updates—are they monthly, quarterly, or based on user feedback? Frequent updates reflect the provider's commitment to offering the latest presentation templates, tools, and features. It's also a chance to discuss the inclusion of new features or any bugs that might affect your future presentations.
4. Transparency in Pricing Structure:
While you may have a grasp of the basic costs, probe deeper into any additional or hidden fees. Are there extra charges for premium presentation templates, additional user licenses, or specific integrations? Being fully aware of the cost structure ensures there are no unwelcome financial surprises later on. A transparent financial discussion fosters trust and sets the stage for a seamless partnership.
5. Metrics for Presentation Success:
It's essential to understand the metrics the software provides to gauge the effectiveness of your presentations. Discuss available analytics: does the software offer insights into slide engagement, viewer retention, or interactive element usage? Having a shared perspective on what metrics are essential ensures your presentations can be optimized for maximum impact.
6. Software's Scalability and Adaptability:
As your presentation needs evolve, the software should be able to keep pace. Address how the software adapts to changing trends in the presentation world. Can it handle more extensive audiences, integrate with newer platforms, or offer advanced interactive features down the line? Ensuring the software is future-proof and can scale with your requirements guarantees a lasting and fruitful relationship.
Digital tools that presentation creators use
Slidebean & Visme: These are foundational tools that offer templates video presentations and designs optimized for impactful presentations.
Prezi & Keynote: These platforms stand out for their dynamic and animated presentation capabilities, offering a fresh twist on traditional slide formats.
Canva & Crello: Offer invaluable design templates and elements to refine presentation aesthetics.
Grammarly & Hemingway Editor: Essential tools to ensure content clarity and grammar accuracy, they scan the text to enhance readability and coherence.
Sketch & Illustrator: Design-centric tools pivotal for crafting bespoke illustrations and graphics tailored for slide decks.
Filmora & iMovie: Robust video editing software that enables creators to incorporate compelling video segments within presentations.
Pexels & Unsplash: Both platforms provide a vast collection of high-quality, royalty-free images, enhancing the visual appeal of slides.
Icons8 & Noun Project: Repositories of varied icons, assist presenters in adding concise visual representations to their content.
The Role of Presentation Software in Driving Growth
Presentation software plays a crucial role in propelling businesses forward, acting as an essential tool for effective communication. By utilizing their advanced features and design capabilities, businesses can craft compelling narratives that align with their unique goals. With a dynamic and interactive platform, presentation software can highlight data and insights in ways that captivate audiences. Their adaptability across diverse scenarios ensures that presentations remain engaging and impactful. In tandem with a company's vision, the best presentation software works diligently to enhance storytelling, driving meaningful engagement and bolstering business growth.
Final Thoughts on Presentation Software.
Think of presentation software as the visual storyteller of today's digital age. It's the nexus between the traditional lecture methods of yesteryear and the interactive engagement of modern times.
A presentation tool serves as a digital canvas, allowing ideas and information to come alive in a visually captivating manner. Whether you're a solo entrepreneur or a multinational enterprise, this software empowers your audience members and narratives with clarity and dynamism. Just as a canvas transforms mere colors into art, presentation software elevates simple data into compelling visuals and stories. In a world dominated by screens and short attention spans, the significance of a versatile, intuitive, and captivating presentation platform is paramount.